Found September 19, 2012 on Fox Sports Wisconsin:
MADISON, Wis. Scan Wisconsin's entire 113-man football roster, and not one player comes close to matching the diminutive stature of 5-foot-8, 170-pound wide receiver Kenzel Doe. Backup defensive backs stand 5-11. Even the team's starting place kicker is 6-1, 193 pounds. But Doe possesses several qualities that make him stand out in a crowd. "Small guy but big heart," Badgers running back Montee Ball said. "He brings it every day in practice. I kept telling him, 'Keep doing what you're doing in practice and it'll show up in the game.' And it has." Indeed. Doe, a sophomore, was responsible for perhaps the biggest play of last Saturday's game against Utah State, returning a third-quarter punt 82 yards for a touchdown. The play trimmed Wisconsin's deficit to 14-10 and swung momentum back in the Badgers' favor. Wisconsin went on to snatch a 16-14 come-from-behind victory. "It was really good for his confidence to kind of keep building him up, and it was a shot in the arm that we needed to win that game," Badgers wide receivers coach Zach Azzanni said. "If he doesn't do that, we probably don't win that game." Doe's presence at Wisconsin is a testament to his hard work and unwavering desire to earn a Division I scholarship. He was a solid receiver at Reidsville High School in North Carolina and helped guide the team to three state championships. During his senior season, Doe caught 56 passes for 980 yards and 15 total touchdowns. He also was named the defensive player of the game during the state finals that year. Despite Doe's talent, every college program in the country overlooked him -- Division I or otherwise -- and Doe believes his lack of size was a contributing factor. "When I graduated high school, I didn't have one scholarship offer," Doe said. "That's when I was like, 'I don't know if I'm going to go to even a D-II or a D-III or anything.' I was just going to walk on probably at a school back at home." Undeterred, Doe set out to find a prep school that might offer him another year to develop and gain national attention. During that time, Doe's stepfather read an article about Otis Yelverton, the head coach at Oak Ridge Military School, located in Oak Ridge, N.C. Yelverton had a history of producing Division I players off his team, and Doe soon became a part of the program. Yelverton passed along a highlight tape to former Wisconsin running backs coach John Settle, who hailed from the same area as Doe and played football at Rockingham County in Reidsville. While at Oak Ridge, Doe received his only scholarship offers from Oregon State and Wisconsin. He initially picked Oregon State, but after a visit to Wisconsin and dozens of letters from the coaching staff, he changed his mind. "I knew they saw something in me," Doe said. "So I'm like 'OK, once I get there, I've got to prove myself because of the fact that I'm short. Since Day 1, I've been trying to come out here and prove myself. Just because I'm small, I can still do things that other people can't do. They gave me an opportunity and I'm blessed to have it." Since coming to Wisconsin a semester early in January 2011, Doe's game has taken off. He was one of three true freshmen to earn a letter last season, although he played sparingly. This season, with a young crop of wide receivers, Doe has emerged as the team's speedy slot receiver, primarily entering the game in third-down situations. Through three games, he has four catches for 30 yards. "When I get the ball, I try to get up the field vertical or make somebody miss to get to the chains, try to finish each and every time I get the ball in my hands," Doe said. "I feel like I've improved by knowing the plays. I know all three receiver positions, even if I'm just playing the slot." Azzanni noted that while Doe is aware of his size, he sees himself as a football player above all else. "He knows what he is," Azzanni said. "If he wasn't fast, yeah, he'd be in trouble. But he's quick, so he knows his strengths." Speed, coupled with Doe's improved decision-making skills, have now made him a serious threat as a punt returner as well. His touchdown runback against Utah State was just the second punt return of Doe's college career. As a result of his success, Doe is listed as the starting punt return man for Wisconsin's game against Texas-El Paso on Saturday. He continues to fill in for Jared Abbrederis, who missed last week's game after suffering a mild concussion. Considering Abbrederis ranked third in the country last season in punt return average (15.8 yards), it's a big step for Doe. And Abbrederis has continued to offer encouragement. "He did a great job making a big play on that punt return," Abbrederis said. "He came off on the sideline, and I hit him in the head and congratulated him. I was excited about what he did on the punt return." Doe doesn't know how long he'll be on punt return duty, but he's trying to cherish each moment and realize just how far he's come. "It's crazy," Doe said. "Me and my mom were talking about that the other day. I called her after the game and she was crying because of the fact that she saw me score. It's just crazy how I went from nothing to making a big play on Saturday. She was very proud. I was very proud. "Everybody back home was like 'Kenzel, I can't believe it. You didn't have anything and now look at you.' I've just got to keep working. I can't just settle for that. I've got to do more." Follow Jesse Temple on Twitter.
Original Story:
http://www.foxsportswisconsin.com/09/...
THE BACKYARD
BEST OF MAXIM
RELATED ARTICLES
JUSTICE BEING SERVED
Three Wisconsin students were arrested Monday for a summer assault on running back Montee Ball, which occurred in a retaliation to a previous fight.
MADISON, Wis. (AP) -- Three University of Wisconsin students have been charged in attack on Badgers' running back Montee Ball. Wendell Venerable, Robert Wilks and Deonte Wilson appeared in Dane County Circuit Court on Monday where a judge continued their signature bonds. A criminal complaint says Ball was kicked and punched Aug. 1 as he walked in Madison. The complaint says...
Three University of Wisconsin students have been charged for attacking Badgers' running back Montee Ball.  The Associated Press says: Wendell Venerable, Robert Wilks and Deonte Wilson appeared in Dane County Circuit Court on Monday where a judge continued their signature bonds. A criminal complaint says Ball was kicked and punched Aug. 1 as he walked in Madison. The complaint...
MADISON, Wis. The verdict is in as to which quarterback will start Wisconsin's next football game on Saturday. Problem is, Badgers coach Bret Bielema isn't saying who will take the snaps. "They already know," Bielema said during his weekly Monday press conference. "They know what's going on. You won't talk to them, but they know." Bielema'...
Three University of Wisconsin students have been charged in attack on Badgers' running back Montee Ball.
Georgia Tech has announced that starting wide receiver Jeremy Moore has left the team, but will stay enrolled in school.Missiouri quarterback James Franklin is expected to be able to return to practice this week following a shoulder injury.  Texas Christian's leading rusher, Waymon James, will miss the rest of the season due to a knee injury, meaning Matthew Tucker has a big...
So, how did your weekend go?  If you were relying on John White or Charles Sims to help you pull out a big fantasy win, chances are you're about as disgruntled as an Arkansas Razorbacks fan right about now.It was a typical Saturday of college fantasy football ups and downs.  Here's a quick look at 22 things we learned:1.  It's safe to say that the Arkansas football...
The list of candidates just keeps getting smaller in the race to crash college football's Bowl Championship Series party, and after a Week 3 that served as something of a reality check for many teams that thought they had a chance, the field of viable candidates hoping to become the next Boise State or TCU has been cut in half. There's still plenty of season left to be played...
Ladies and Gentleman, I'm proud to say that Gray Robertson is back! And just in time for buy or sell…   Buy: Wisconsin's Issues Are For Real This is the team that I, along with many, thought would win the Big  Ten?!?! What? Never has a team heralding so much preseason hype come out so flat to begin a year. The Badgers have beaten Northern Iowa and Utah State by all of seven...
The struggles of the Wisconsin offensive line early in the 2012 season have been well documented. It appears that, despite the struggles of the big men up front, the approach of the running game is that of an old-school Badgers' squad. Here is a brief, unofficial, look at the direction of Wisconsin's 43 run plays (not including the two sacks) against Utah State...
It's the classic trick - put an object in one hand and keep everyone looking at it while the other is doing something completely different. For Wisconsin, Ball is the object everyone has been paying attention to and that was allowing a wide receiver by the name of Jared Abbrederis to flourish, but last week despite a running game that got going at times with Ball something...
Badgers News

Delivered to your inbox

You'll also receive Yardbarker's daily Top 10, featuring the best sports stories from around the web. Customize your newsletter to get articles on your favorite sports and teams. And the best part? It's free!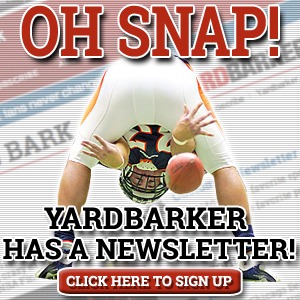 Latest Rumors
The Backyard

Today's Best Stuff

For Bloggers

Join the Yardbarker Network for more promotion, traffic, and money.

Company Info

Help

What is Yardbarker?

Yardbarker is the largest network of sports blogs and pro athlete blogs on the web. This site is the hub of the Yardbarker Network, where our editors and algorithms curate the best sports content from our network and beyond.