Found April 10, 2013 on Bush League Chronicle:
The debate about whether or not college athletes should get paid beyond what the description of their scholarship entails has been a hot one recently.Count Oklahoma's Bob Stoops as one person who doesn't believe college athletes should share the whopping revenue generated by the NCAA system.From the Sporting News:"I don't get why people say these guys don't get paid. It's simple, they are paid quite often, quite a bit and quite handsomely."What Stoops is (hopefully) referring to is the current compensation scholarship athletes receive in the form of free tuition, room, board, and books, among other things. According to the report, that can add up to nearly $150,000 for an out-of-state player who stays five seasons in the football program.Stoops also added that these athletes usually are treated far better that their fellow classmates and are faced with less debt upon leaving school, as well."Ask the kids who have to pay it back over 10-15 years with student loans," Stoops said. "You get room and board, and we'll give you the best nutritionist, the best strength coach to develop you, the best tutors to hep you academically, and coaches to teach you and help you develop. How much do you think it would cost to hire a personal trainer and tutor for 4-5 years?"It may be important to note that the 51-year-old coach is a huge beneficiary of the current model. Stoops receives an annual salary of more than $4 million to coach the Sooners. So, it's unclear how well his message will be received by his players, who according to him, go hungry on the weekends sometimes, presumably from a of cash."I tell my guys all the time," Stoops says, "you're not the first one to spend a hungry Sunday without any money."What do you think? Do you agree or disagree with Stoops' view?Via Sporting News
Original Story:
http://www.theblcblog.com/2013/04/bob...
THE BACKYARD
BEST OF MAXIM
RELATED ARTICLES
DEAL WITH IT
Oklahoma Sooners head football coach Bob Stoops says he isn't about to begin to feel too sorry for college football players because they are not paid.
The idea of paying college athletes for their services has grown a great deal within the last couple of years. To make it simple, the argument is that the term "student-athlete" was created by the NCAA a long time ago as a way of ducking labor laws, and it should no longer be able to get away with that because in reality all it's doing is keeping the most valuable laborers...
Bob Stoops or "Big game Bob" if you're from the state of Texas, was asked his opinion on whether or not college athletes should be paid.It must be stated that Stoops takes home an annual salary of nearly $5 million for coaching players that take home an annual salary of $0. But Stoops is perfectly fine with this fact. And even contends that college athletes shouldn't be paid...
Tweet The biggest debate in college football over the last few years has been whether or not the student athletes deserve more monetary compensation from all the revenue they generate for the universities and NCAA as a whole. Well apparently Oklahoma Sooners head coach Bob Stoops is on the side of not paying players, according [...]
No matter what Bob Stoops says, the status quo is not a solution for college athletics. Oklahoma's head football coach, a man I like and respect, recycled a well-worn defense of the shamateurism status quo in an interview with Sporting News columnist Mike Hayes. "You know what school would cost here for non-state guy?" Stoops rhetorically asked Hayes. "Over $200...
Oklahoma football coach Bob Stoops is one of the highest-paid coaches in sports — not just collegiate athletics. His roughly $5 million-per-season salary ranks him among some of the most legendary coaches in NCAA, NFL, MLB and NBA history. He has brought a lot of money to the university, but so have the players. The topic of collegiate athletes being compensated for their work...
Freshman defensive end D.J. Ward practiced for the first time at Oklahoma on Tuesday after being declared eligible by the NCAA. Coach Bob Stoops said Ward was able to start working on his fundamentals and learning the Sooners' defense, but his participation was limited under NCAA rules. Ward was required to practice without shoulder pads and in a helmet only, limiting what he...
Oklahoma coach Bob Stoops gave a candid interview this week with Matt Hayes of SportingNews.com that touched off a national debate of compensation for college football players. NCAA expert John Infante of athleticscholarships.net's Bylaw Blog joins CBR's Allen Kenney for a podcast to discuss the compensation issue from all sides. John and Allen touch on: *The status...
NORMAN, Okla. (AP) -- Freshman defensive end D.J. Ward, one of the top prospects in Oklahoma's recruiting class and ranked the top in-state player by recruiting services, practiced with the Sooners for the first time Tuesday after being declared eligible by the NCAA. Coach Bob Stoops said NCAA rules require Ward to go through his first two practices in a helmet only, without...
Dancing in the Ruins - the new Big 12 emerging from the ruins of the old.  Communication Breakdown. Allen Kenney points out how Oklahoma head football coach Bob Stoops' habit of blocking access to his team from both the media and the Sooner fanbase hurts the team when it comes to areas like recruiting and creating a buzz around the program. (Blatant Homerism) Beck and...
CBR's tour around spring camps looking at some of the biggest position battles continues with a trip to Oklahoma, where the Sooners are looking for the next passer to keep their offensive machine rolling. Background Since Bob Stoops arrived at Oklahoma, prolific passers under center have become a given. None of them took more snaps for the Sooners than Landry Jones, who...
Sooners News

Delivered to your inbox

You'll also receive Yardbarker's daily Top 10, featuring the best sports stories from around the web. Customize your newsletter to get articles on your favorite sports and teams. And the best part? It's free!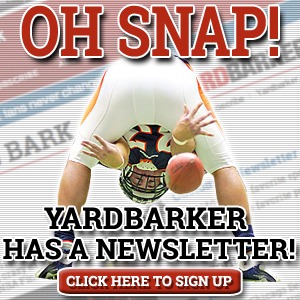 Latest Rumors
Best of Yardbarker

Today's Best Stuff

For Bloggers

Join the Yardbarker Network for more promotion, traffic, and money.

Company Info

Help

What is Yardbarker?

Yardbarker is the largest network of sports blogs and pro athlete blogs on the web. This site is the hub of the Yardbarker Network, where our editors and algorithms curate the best sports content from our network and beyond.