Found August 30, 2013 on Fox Sports South:
PLAYERS:
Connor Shaw
,
Dylan Thompson
,
Shaq Roland
,
Kane Whitehurst
,
Steve Spurrier
,
Jadeveon Clowney
,
Bryn Renner
,
Quinshad Davis
,
Mario Williams
,
Reggie Bush
,
Vince Young
,
A.J. Hawk
,
Jay Cutler
,
Haloti Ngata
,
Tamba Hali
,
Bruce Smith
,
Courtney Brown
,
Jim Mcmahon
,
Matt Leinart
,
Teddy Bridgewater
,
Tajh Boyd
,
Aaron Murray
,
Taylor Lewan
,
Cyrus Kouandjio
,
Mike Davis
TEAMS:
Buffalo Bills
,
Detroit Lions
,
Green Bay Packers
,
Chicago Bears
,
Baltimore Ravens
,
Kansas City Chiefs
,
South Carolina Gamecocks
,
North Carolina Tar Heels
,
Mississippi State Bulldogs
,
Clemson Tigers
,
Michigan Wolverines
,
Alabama Crimson Tide
,
Florida State Seminoles
COLUMBIA, S.C. It's easy for Connor Shaw and Dylan Thompson to share the wealth and notoriety that goes with guiding a top-10 program when they're great friends away from football ... and mirroring one another on the field. In South Carolina's 27-10 home thumping of North Carolina on Thursday, which was halted by a 1 hour-, 44-minute rainlightning delay, the quarterbacks had the dual distinction of registering touchdowns on their first passes of the evening with Shaw hitting Shaq Roland for a 65-yard rainbow score just 79 seconds into the game and Thompson finding tight end Kane Whitehurst for an easy 29-yard TD, with just 44 seconds left in the opening quarter. After that, the No. 6 Gamecocks methodically dispatched of the rival Tar Heels, keeping their border-state neighbors out of the end zone for the final 33 minutes. "I appreciate you hanging around for those uneventful eight minutes (post-delay)," Gamecocks coach Steve Spurrier said after the game, upon entering a full media room. Spurrier was noticeably upbeat about the victory; but he also found time to lament his offense's ineffectiveness on third down (5 of 14) and defense's lack of overall conditioning in terms of handling North Carolina's frenzied, high-tempo attack. "There were a lot of good plays, and a lot of bad plays," he said. Spurrier even answered a specific question about star defensive end Jadeveon Clowney's conditioning in the heat (low 90s) and high humidity of Williams-Brice Stadium, without actually saying anything concrete. "I don't have to say it: You write what you see," Spurrier stealthily told a reporter, just seconds after joking about Clowney nearly getting a sack late in the fourth quarter, after the long and unplanned weather intermission. "I told (Clowney), 'You oughta be well-rested now.'" Spurrier said. Clowney's post-game assessment was rather direct: "I was pretty tired, but you have to play through that. I was still coming off the ball, and that's what matters. I might be bent over sometimes, but when that ball snaps, I was getting off. "(The UNC players) were tired," Clowney continued. "They were telling me at the end of the game they were tired, too. It's just one of those games, you have to push yourself." All told, UNC collected 293 total yards off 79 plays. Heels quarterback Bryn Renner passed for 194 yards and one touchdown (to Quinshad Davis). He was sacked three times ... likely the result of extra attention being paid to Clowney. As for Shaw (149 yards passing) and Thompson, they combined for only 12 of 21 completions for 178 yards. But their first impressions in the form of TD passes to Roland (two catches, 75 yards, one TD) and Whitehurst were enough to carry the freight in the hard-fought win over UNC. For Shaw's touchdown, he immediately noticed the Tar Heels safeties biting on the play-option fake, borne out of an under-center snap. He also reveled in the precision of Roland's skinny-post pattern, against 1-on-1 coverage. "It was a great route by Shaq, and he was able to run through the ball" for the touchdown, said Shaw. In 2012, Shaw got off to a slow start, sustaining an injury in the opener against Vandy and then missing the second game against East Carolina. He posted decent numbers against UAB the following week, but everything started to take shape once SEC play resumed with Missouri. Against the Tigers, Shaw accounted for 290 total yards and two touchdowns; that outing sparked a four-game run of nine touchdowns (one rushing) and a pass-efficiency rate of 60 percent. And against Kentucky and Georgia, Shaw scampered for 70-plus yards on back-to-back Saturdays. Fast forward to the present, as Shaw is now 18-3 as the Gamecocks' starter. When reading the box score, Clowney only boasts modest stats for the evening (three tackles, no sacks). But the collateral effect of his presence was undeniable, as North Carolina ran so many plays to the right opposite the grand Gamecock that it's hard to remember any sequence of back-to-back plays in Clowney's general vicinity. Therein lies the difficulty of selling a defensive end to a national legion of Heisman Trophy voters: To capture that award, it requires a combination of elite-level team success, marketable individual statistics, TV charisma and one definitive highlight to be shown on a continuous loop similar to Clowney's instantaneous decapitation tacklefumble recovery against Michigan in last January's Outback Bowl. For all his talent and athletic gifts, Clowney can only do so much when the opposition moves heaven and earth to avoid his half of the field. Over the spring and summer months, traditionally the 'down' periods for sports talk radio, the notion of Clowney sitting out the season in favor of preserving his standing as the No. 1 prospect for the 2014 NFL Draft got a few days' traction in regional and national circles, even though the junior never entertained the idea of being a seasonal healthy scratch. At least publicly. The rationale: At 6-foot-6 and a chiseled 274 pounds, Clowney had already demonstrated enough athletic potential in his freshman and sophomore campaigns to clinch the No. 1 draft slot next April, regardless of the competition. And by playing out the 2013 season, Clowney was assuming a sizable risk of injury especially any potentially catastrophic ones that would hinder his pro-earnings capacity ... roughly five minutes after the Gamecoks' bowl ppearance. (In the fourth quarter, Clowney was clipped in the back of the leg. But the incident wasn't enough to pull him from the game for more than a play.) Never mind that Clowney has a laundry list of team goals for the 2013 season, specifically helping the Gamecocks claim the SEC East title and reach their first BCS bowl in school history. Never mind that South Carolina with home games against North Carolina, Vanderbilt, Mississippi State, Florida and Clemson fortuitously avoids LSU and Alabama this season, a recipe for genuinely contending for a national title. Never mind that Clowney reportedly took out a million-dollar insurance policy in the spring, protecting against any major injuries that might occur in the short term. Never mind that Clowney has a relentless passion for dominating every snap, regardless of the opponent. (On Thursday, he expressed his love for sacks, far exceeding the joy of a defensive touchdown.) And never mind that, in the Heisman Trophy's illustrious history, spanning 77 years, a defense-only talent has yet to win college football's most prestigious individual award. Besides, it's not like Clowney's a lock to be No. 1 come April. Clowney may be a premium talent, but even top-shelf defenders are at the mercy of quarterbacks and other offensive stars (particularly left tackles) every April. Yes, Mario Williams took No. 1 honors in the 2006 draft (Texans), trumping blue-chippers like Reggie Bush, Vince Young, D'Brickashaw Ferguson, A.J. Hawk, Vernon Davis, Jay Cutler, Haloti Ngata and Tamba Hali, among others, for the top spot. But in general, can't-miss defenders are seldom the highest priority to the NFL club holding the No. 1 pick. Since 1977, just four defensive ends (Kenneth Sims, 1982; Bruce Smith, 1985; Courtney Brown, 2000; Mario Williams, 2006) have come off the board first; and for those years, only Jim McMahon, Art Schlichter, Vince Young, Jay Cutler and Matt Leinart were subjectively viewed as franchise saviors at quarterback. (None of the five quarterbacks are likely headed for the Hall of Fame someday.) Bottom line: Clowney may have the size, speed and superlative raw talent of a No. 1 selection, but it might not matter if NFL teams like the Jaguars, Raiders, Browns, Eagles, Chiefs or Cardinals favor QBs Teddy Bridgewater (Louisville), Tajh Boyd (Clemson), Aaron Murray (Georgia), Stephen Morris (Miami) or left-tackle behemoths Jake Matthews (Texas A&M), Taylor Lewan (Michigan) or Cyrus Kouandjio (Alabama) as franchise building blocks. In the Spurrier era, the Gamecocks are now 7-0 when opening the season on a nationally televised Thursday game, with an aggregate score of 165-54. On this night, with the pregame spotlight firmly placed on Clowney, South Carolina admirably distributed the glory amongst a cluster of teammates, splitting the TD passesreceptions and then benefiting from tailback Mike Davis's 75-yard touchdown run in the third quarter a game-altering play that turned a competitive game into a largely academic result in the SEC's favor. "We worked all summer on eliminating big plays, or limiting big plays," said UNC head coach Larry Fedora. "You just can't give up big plays like (Davis's run), and you can't (fumble) a punt on the 50-yard line. You can't do a lot of things we did tonight." The SEC-ACC rivalry was a secondary storyline in the hype leading up to Thursday's opener. But it's still a hot-button topic for supporters of both conferences especially given the SEC's dynastic run of seven straight BCS national champions (Auburn, LSU, Florida twice and Alabama thrice) ... and its road "upsets" of Florida State (vs. Florida) and Clemson (vs. South Carolina) last Thanksgiving weekend. At the time, the Seminoles and Tigers were vying for realistic spots in the BCS national championship and a BCS bowl, respectively. And Thursday's victory, while expected for South Carolina, is just another spoke in the wheel for a conference that has no peer right now, from head to toe. With North Carolina in the rear-view mirror, South Carolina can now focus on the seismic task of taking on No. 5 Georgia in Athens next weekend. UGA, which travels to Clemson on Saturday, is the only school in the country to open with a pair of top-10 clashes. For the Gamecocks, though, it's a chance to get a leg up on the SEC East powers-that-be, while perhaps granting their quarterback Shaw a Georgia native a chance to post a 4-0 career mark against the Bulldogs.
Original Story:
http://www.foxsportssouth.com/college...
THE BACKYARD
BEST OF MAXIM
RELATED ARTICLES
NO WORRIES
Gamecocks defensive end Jadeveon Clowney had an average game against the Tar Heels, but downplayed any talk that it was due to a lack of conditioning.
While South Carolina easily handled UNC to kick off its 2013 season, much of the attention from the matchup has been centered around Gamecocks defensive star Jadeveon Clowney, who often looked winded between snaps. Many sportswriters and analysts have even gone as far as to remove him from the Heisman race – a move that seems a bit premature. Clowney has obviously heard the criticism...
Jadeveon Clowney may not have had a stellar night, but the Gamecocks had little trouble with Bryn Renner and UNC. Photo: USA Today Sports South Carolina jumped out to a 17-0 lead on the visiting Tar Heels and never allowed North Carolina to break in to a double-digit lead.The Gamecocks opened the year with a 27-10 victory and are off on the right foot of what could be a fun season...
One member of the UNC Tar Heels football team had a plan to shut down South Carolina's  Jadeveon Clowney on Thursday evening in Columbia, but it wasn't pretty. Or legal? Tar Heels offensive tackle Kiaro Holts delivered what appears to be one heck of a dirty hit on Clowney's knees in the second half of South Carolina's 27-10 win. Holts appeared to fall or slip, but he clearly...
Behold the awesome power and fury of Mother Nature, second only to the power and fury of Jadeveon Clowney… College football's 2013 season opener between the South Carolina Gamecocks and North Carolina Tarheels was delayed in the 4th quarter last night due to some inclement weather. That inclement weather just happened to be some crazy lightning in the vicinity of the stadium...
North Carolina and South Carolina kicked off the college football season tonight in what was pegged to be a fierce battle. We found out very quickly that the Tar Heels were outclassed, and UNC eventually fell to the Gamecocks, 27-10. If the loss wasn't bad enough, one North Carolina lineman, offensive tackle Kiaro Holts, managed to embarrass himself and his team late in the game...
Big plays on offense for No. 6 South Carolina? That's not what was supposed to happen with a defense led by All-American Jadeveon Clowney. Instead, it was a 75-yard touchdown run by Mike Davis and two long scoring passes from quarterbacks Connor Shaw and Dylan Thompson that lifted the Gamecocks to a 27-10 victory over North Carolina on Thursday night. The win was Steve Spurrier...
After what felt like an lifetime without college football, tonight brings the return of Jadeveon Clowney, Lane Kiffin, and actual college football games to watch. While the slate tonight isn't loaded with NFL talent and possible first rounders, it does feature a handful of inter-state or cross-state rivalries, leading with North Carolina and South Carolina, as Jadeveon...
Steve Spurrier has always liked the attention South Carolina gets by starting its season on a Thursday night. Having All-America Jadeveon Clowney on the sidelines, though, guarantees the Gamecocks will get plenty of attention whenever they play this season. ''I told my wife this morning, I was looking at the paper, all the NFL guys are playing this Thursday night,'...
University of North Carolina at Chapel Hill Established: December 11, 1789 Students: 29,390 (18,579 Undergrad) 2012 Record:  8-4  NCAA probabtion  Head Coach:  Larry Fedora (2nd season at UNC) All Time Record vs. USC: UNC leads series   32-17-4 Last Meeting: 2007 USC 21 UNC 15 in Chapel Hill Football season is finally here and what better way...
College Football News

Delivered to your inbox

You'll also receive Yardbarker's daily Top 10, featuring the best sports stories from around the web. Customize your newsletter to get articles on your favorite sports and teams. And the best part? It's free!
THE COLLEGE FOOTBALL HOT 10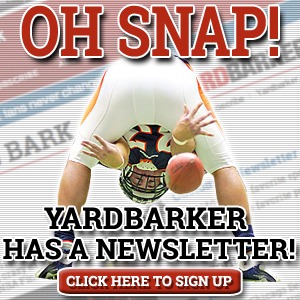 Latest Rumors
The Backyard

Today's Best Stuff

For Bloggers

Join the Yardbarker Network for more promotion, traffic, and money.

Company Info

Help

What is Yardbarker?

Yardbarker is the largest network of sports blogs and pro athlete blogs on the web. This site is the hub of the Yardbarker Network, where our editors and algorithms curate the best sports content from our network and beyond.