Found November 18, 2012 on Checkerboard Chatter:
  On July 29, 1908, Harland and Wolff (builders) presented drawings for an Olympic-class ocean liner to White Star Line Executives.  Shortly thereafter, papers were signed, and construction began on the $7.5 million (approximately $400 million today) behemoth known as the Titanic.  The world had never seen a vessel the likes of the Titanic.  From its massive size to its plush amenities, it was state-of-the-art in every detail.  After the deal was inked for construction of the Titanic, countless workers toiled for 26 months to complete the beautiful ship.   After building such an incredibly expensive vessel, the Titanic brass only wanted to hand the Sea Captain duties to someone who could successfully navigate her on her maiden voyage from Queenstown to New York City (April 10, 1912).   Enter Edward Smith, Sea Captain at your service.  We all know what happened next. the Titanic struck an iceberg four days into the crossing approximately 375 miles south of Newfoundland.  A massive jolt echoed throughout the vessel, and despite the efforts of the boiler room crew, passengers and everyone else on board, the Titanic sunk a mere two and a half hours later.  Captain Edward Smith was given the keys to one of the finest constructed vessels of all-time, and he promptly sank the ship ending the lives of 1,514 people in the process. Now I realize that it's only hyperbole to say that Derek Dooley "drowned" the Tennessee football program because there has been no loss of life or anything as horrific as what happened in those icy, North Atlantic waters 100 years ago.  However, when comparing the modern day football program at the University of Tennessee to the Titanic, you can safely say the following:  Captain Edward Smith is Head Football Coach Derek Dooley. We'll all remember Saturday, November 17, 2012 as the date Derek Dooley hit the iceberg on West End in Nashville and sunk the ship of his tenure and what is left of the pride of the University of Tennessee football program.  A demoralizing 41-18 beat down at the hands of Vanderbilt plunged the Vols into the icy waters of 0-7 in SEC play on the season.  If a bowl game were to be Dooley's life vest, that ship has sailed as the Vols will not go bowling for the second year in a row under his steady leadership.   For three seasons now, many Volunteer fans have made all of the excuses in the world for Coach Dooley.  (However, the number of fans still doing this has dwindled to almost nothing at this point.)  Dooley inherited a mess from Kiffin and Fulmer.  Attrition had decimated the roster, but here are a few things to consider.  Derek Dooley has managed to go 0-7 with an offense that features a future NFL signal caller with an absolute cannon of an arm.  He has two WR at his disposal that are probably going to be first round picks in Hunter and Patterson (Patterson is a 1st rounder for sure).  Also, he has Zach Rogers and Mychal Rivera to throw into the mix.  The Vols feature a veteran offensive line that is chock-full of future NFL players.  Defensively, the Vols are a mess as the talent level is sub-par for SEC standards, but I would like to think with proper coaching and a proper scheme, they wouldn't be the worst statistical defense in program history as they currently are under the leadership of Derek Dooley and his staff. Along the lines of the "state-of-the-art Titanic", the Vols have built their own "state-of-the-art" football complex, a $45 million football sanctuary that features everything from restaurants to a MMA cage to the latest in exercise and recovery.  Also, the Vols play in a newly renovated Neyland Stadium that has enough seating for 100,000 plus orange clad zealots clamoring for a winner.   From NFL talent on the roster to a brand new football complex that is the "gold standard" to a massive stadium dripping with football history to a rabid fan base, Derek Dooley hasn't had all rotten apples in Knoxville as some would like you to believe.  Yet, he has managed to sink the ship.  This doesn't make him a bad guy by any means.  He's just not cut out for the job.  Dooley is incredibly bright, energetic and still pretty young.  I can envision him having successes down the road.   Unlike, Captain Smith, Dooley doesn't have to go down with the ship.  He'll soon be removed from his post, and Volunteer fans can start looking out into the vast seas for a replacement.  Who better to navigate these choppy waters than a former Buccaneer?
Original Story:
http://www.checkerboardchatter.com/20...
THE BACKYARD
BEST OF MAXIM
RELATED ARTICLES
Now that Derek Dooley has been fired from Tennessee, the hiring search has begun. It is really hard to tell just who will be the next head coach in Knoxville, but one of the popular names is that of current Duke head coach, David Cutfliffe. Knoxnews.com ran a list that included Cutcliffe's name as one [...]
KNOXVILLE, Tenn. -- Tennessee has fired football coach Derek Dooley after he posted losing seasons in each of his three years. The 44-year-old Dooley posted a 15-21 record that sorely lacked quality wins over conference foes. Dooley was 4-19 in Southeastern Conference games and 0-15 against Top 25 teams. Tennessee is 1-14 in the SEC over the last two years. Tennessee (4-7, 0-7...
Toby Johnson is one of the top defensive JUCO prospects in the country, and  even though the highly-sought after defensive tackle had his season shortened by a torn ACL, he continues to be coveted by more than a few Division I programs—one of which is the University of Georgia. While the Bulldogs have made it known to Johnson that their interest in him is high—injury or no injury—Johnson...
The Derek Dooley era at Tennessee is over. The school fired Dooley from his job as Volunteers head football coach on Sunday, one day after losing to Vanderbilt. The school plans a press conference at 2:00 pm ET about the move. Dooley was 4-7 in 2012, with 0 wins in the SEC. He was 15-21 overall in his three years as Vols' HC, and 4-19 in conference play. He won't be coaching ...
Tennessee has fired football coach Derek Dooley after he posted losing seasons in each of his three years.
In a move that surprised few around college football, Tennessee athletic director Dave Hart announced Sunday that Derek Dooley has been fired as the Vols head football coach. Dooley will not coach Tennessee's final game of the season Saturday against Kentucky. Hart and the Tennessee athletic department sent out a release Sunday morning which said the following: &quot...
The four-year rule was never official. It was never written or codified in any meaningful way. It was just one of those understandings. A new college football coach needed some time to recruit and develop his players and reshape the culture of a program in his own image. The rule of thumb was always four years. By then seniors would have played every college down under one coachs...
If you had Duke head football David Cutcliffe in your pool for who Tennessee will pick to replace Derek Dooley you can forget about it. Cutcliffe has announced he's staying at Duke for at least another year. "After leading Duke to its first bowl berth since 1994, coach David Cutcliffe isn't going anywhere. "I can tell you right now that I'm going to be coaching...
There could be a bidding war for the services of "that guy," Jon Gruden. The Monday Night Football color man is the top pick for the head coaching vacancy at Tennessee according to Jason LaCanfora of CBS Sports. Tennessee fired their head coach, Derek Dooley, on Sunday. Arkansas is also interested in the former Raiders and Buccaneers coach. Current Razorbacks' head coach, John...
http://www.youtube.com/watch?v=tw7FuOOu5BI Just Les Miles speaking in tounges Things went HAM Saturday night in college football [SBNation] The SEC Championship game is the title game play-in at this point [AJC] Vandy drops anchor (see what I did there) on Tennessee [Anchor of Gold] That'll be all for Derek Dooley [UTSports] A proper ode to the end of Dooley [EDSBS] LSU survives...
Volunteers News

Delivered to your inbox

You'll also receive Yardbarker's daily Top 10, featuring the best sports stories from around the web. Customize your newsletter to get articles on your favorite sports and teams. And the best part? It's free!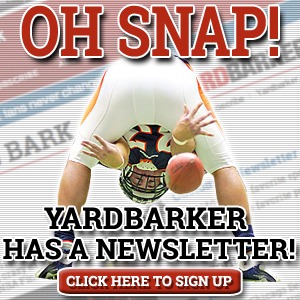 Latest Rumors
Best of Yardbarker

Today's Best Stuff

For Bloggers

Join the Yardbarker Network for more promotion, traffic, and money.

Company Info

Help

What is Yardbarker?

Yardbarker is the largest network of sports blogs and pro athlete blogs on the web. This site is the hub of the Yardbarker Network, where our editors and algorithms curate the best sports content from our network and beyond.