Found March 09, 2012 on BeyondUSports:
Former Georgia TE Orson Charles Picks Up a Timely DUI
One of the top TE prospects entering the 2012 NFL draft is in some hot water this morning after being arrested for a DUI. Former Georgia TE Orson Charles was picked up early Friday by police near Georgia's campus. CBSSports.com has more:
That news was first reported by the Georgia student newspaper Red & Black. CBSSports.com has since confirmed with theAthens-Clarke County Police that Charles was arrested at 4:31 a.m. ET on Friday morning.

Charles was arrested for DUI and "minimum speed." Per the police office, that means "basically, he was driving too slow."
For the full story click here.
photo credit: 247sports.com
So what was Orson's influence? Driving too slow smells of only one thing, and that's that green sticky stuff you roll up and or put into items you would sell at a bake sale. Great timing for Charles who will likely hurt his stock in the draft after this incident. He still is a great talent and with the TE position becoming so valuable in the NFL, someone is going to brush aside this DUI, as long as it doesn't become a trend. In other words he has a little over a month not to get arrested again.
BeyondU Sports BeyondU Sports - Best College Sports Blog Site
Original Story:
http://feedproxy.google.com/~r/Beyond...
THE BACKYARD
BEST OF MAXIM
RELATED ARTICLES
Former Georgia tight end Orson Charles is out of jail following an arrest on a drunken driving charge. Athens-Clarke County police spokeswoman Hilda Sorrow says Charles was arrested at 3 a.m. Friday after he was stopped while driving in Athens. Sorrow says Charles failed parts of a field sobriety test and his blood alcohol level was .095, above the state's legal limit of .08...
Former Georgia tight end Orson Charles was arrested early this morning on DUI Alcohol and driving at a minimum speed charges in Athens. Seeing as though Charles is thought to be the #1 tight end in the draft and with the draft a mere month away, it's pretty obvious that this certainly isn't the best timing.Charles was arrested by the Athens-Clarke County Police and booked into...
Orson Charles((ht: ajc.com))This is never a good way to increase your draft stock.It appears that now former University of Georgia tight end and current NFL draft candidate Orson Charles is in some trouble with the law.According to reports, Charles was arrested early Friday morning and booked on DUI charges.Charles is considered one of the top tight end prospects in April's NFL...
Photo Credit: John Kelley I'd be the first to admit that trying to judge the decision-making processes of a young adult who has very little life-experience and a whole lot of growing up still left to do is a bit like playing Russian roulette. However, the first thought that raced through my mind when I read about Orson Charles being arrested for Driving Under the Influence...
LSU Tigers safety Brandon Taylor (L) and cornerback Tyrann Mathieu (2nd-R) bring down Georgia Bulldogs tight end Orson Charles (2nd-L) in the first quarter as Karnell Hatcher trails the play (R) in the SEC Championship NCAA football game in Atlanta, Georgia December 3, 2011. REUTERS/Chris Keane (UNITED STATES – Tags: SPORT FOOTBALL) Georgia tight end Orson Charles has done...
Former University of Georgia TE Orson Charles was arrested early this morning and charged with a DUI. Campus newspaper, Red & Black, reports that the All-SEC TE was arrested for the DUI and driving the minimum speed. There is an SEC speed joke in there somewhere. Charles had left school early to enter the NFL draft this year, and is considered by many, including Mike Mayock,...
Not the best off-season for this man After the 2011 season, Orson Charles made the decision to forgo his senior season in Athens and declared for the NFL Draft. Not many thought it was a bad decision on his part. Most figured he would go somewhere in the top two rounds as he was one of the top tight end prospects. He was even listed number one on Mike Mayock's board. It was...
Good afternoon, folks, welcome to the second edition of 2012 NFL Draft Rumorville Roundup. With the scouting combine in Indianapolis now officially over, the focus the next several weeks will shift to individual pro days to be held at each respective prospect(s) university. While the combine gave many scouts a chance to visibly quantify things such as speed, strength and agility...
Bulldogs News

Delivered to your inbox

You'll also receive Yardbarker's daily Top 10, featuring the best sports stories from around the web. Customize your newsletter to get articles on your favorite sports and teams. And the best part? It's free!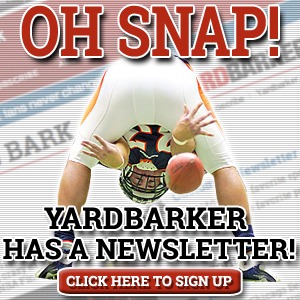 Latest Rumors
The Backyard

Today's Best Stuff

For Bloggers

Join the Yardbarker Network for more promotion, traffic, and money.

Company Info

Help

What is Yardbarker?

Yardbarker is the largest network of sports blogs and pro athlete blogs on the web. This site is the hub of the Yardbarker Network, where our editors and algorithms curate the best sports content from our network and beyond.