Found September 01, 2012 on Busted Coverage:
From Busted Coverage:
The guy on the left is a conservative talk show host named John Ziegler. The guy on the right is Steelers legend Franco Harris. Both men think Joe Paterno was unjustly treated by the NCAA. Ziegler, once fired from a sportscasting job for an O.J. Simpson joke, is from Pennsylvania and ended up in the Harris box at Saturday's Ohio U. game.
For some reason both men were photographed with this Paterno cutout.
Harris has been unapologetic about his beliefs that Paterno was railroaded and the NCAA attacked a program with sanctions while JoePa rests in a grave. It just seemed natural Saturday would be a good day to bring the protest cutout.
Harris, the Penn State legend, told Pittsbugh media in July:
"After I read the Freeh Report, I feel even more strongly about Joe and about his non-involvement in any type of cover-up. There was no cover-up," he told Oxenreiter. "No way would Joe ever cover up anything like this. No way would Joe protect Sandusky or protect the football program."
How Ziegler got into the box and who owns the Paterno cutout is still in dispute.
We do know Harris spent the day with Sue Paterno watching the Bill O'Brien era start with a loss to a MAC institution.
Also from Busted Coverage
Video: Ohio State receiver makes phenomenal one-handed catch
Photo: See Angels star Mike Trout when he had braces
Lingerie Football League getting reality TV show
Photo via John Ziegler
Original Story:
http://bustedcoverage.com/2012/09/01/...
THE BACKYARD
BEST OF MAXIM
RELATED ARTICLES
Penn State alumnus (and NFL Hall of Famer) Franco Harris brought a cardboard cutout of Joe Paterno to his luxury box at Beaver Stadium for Saturday's PSU football game against Ohio. The Paterno cutout held a sign reading "Due Process for PSU JVP". We understand Harris' loyalty to his college coach, and he's entitled to express his opinion, but the...
The widow of the late Joe Paterno has arrived at Beaver Stadium for Penn State's season opener against Ohio. Sue Paterno and a family member arrived about 15 minutes before kickoff and came in through an employee entrance. It's the first game at Penn State without a Paterno on the coaching staff since 1949. Joe Paterno started as an assistant in 1950 before being promoted...
Penn State plays a football game today without Joe Paterno or his statue outside Beaver Stadium. You know the story and you had to figure fans wouldn't forget their hero. It's just that we didn't figure the fans would remember with an impromptu memorial featuring a Paterno bobblehead and some flowers. But there it was this morning. Never forget, Penn State, never forget. ...
Penn State's season opener this Saturday will be the first since 1965 not featuring someone with the last name Paterno on the sidelines. They're out of the picture, like the campus statue of the family patriarch; erased like his coaching records. But the family will be in Beaver Stadium in spirit, if not watching from a skybox - a sign that through the turmoil of the past...
Before the start of Penn State/University of Ohio college football game, I assumed that someone would bring a cut-out of former head coach Joe Paterno into the stadium but I didn't think it would be seen with former Penn State great Franco Harris. Check out the below picture of Franco with the cut-out and the shot of the cut-out from his private box: For those of...
Former Penn State and NFL fullback Franco Harris was in attendance this past Saturday to watch the Bill O'Brien era debut to a thud when the Nittany Lions lost to Ohio 24-14 from Beaver Stadium. Harris was in attendance with Sue Harris, Joe Paterno's widow, conservative talk show host John Ziegler and a cardboard cutout of the late Penn State head coach which read "due process...
Once the model of stability, Penn State football has been thrust into a rebuilding project unlike any other. So many changes in such a short time. Scandal led to the ouster of Hall of Fame coach Joe Paterno after 46 seasons and his replacement by Patriots offensive coordinator Bill O'Brien. That, in itself, would have been enough to get people talking in Happy Valley. Now...
Most everyone I know delighted in the fact that Penn State lost to Ohio from the MAC on Saturday. Serves them right, was the chorus from people rightfully outraged by Penn State's scandal. Most right minded people recognize that Jerry Sandusky was the original doer of evil, while Joe Paterno, the Penn State faculty and the pervasive religion of Penn State football made the scandal...
Hours before Penn State storms the football field for their season opener against Ohio University, Saturday afternoon, a photo is making the rounds which shows off Penn State's new football uniforms.The new uniforms, which are shown to be hanging in Penn State's locker room are a symbol of the university/football program trying to start a fresh chapter after the Joe Paterno...
As fans gather around Beaver Stadium in anticipation of Saturday's long-awaited season opener, the overall mood around Penn State football is that of pride, perseverance and support - for both the current and former coach. Hours before the official beginning of the Bill O'Brien era, tailgaters are tossing footballs through the parking lots, setting up their cooking stations...
Nittany Lions News

Delivered to your inbox

You'll also receive Yardbarker's daily Top 10, featuring the best sports stories from around the web. Customize your newsletter to get articles on your favorite sports and teams. And the best part? It's free!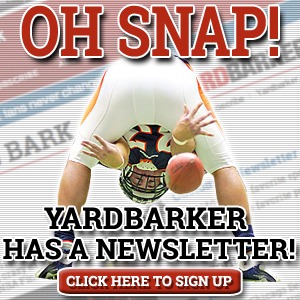 Latest Rumors
Best of Yardbarker

Today's Best Stuff

For Bloggers

Join the Yardbarker Network for more promotion, traffic, and money.

Company Info

Help

What is Yardbarker?

Yardbarker is the largest network of sports blogs and pro athlete blogs on the web. This site is the hub of the Yardbarker Network, where our editors and algorithms curate the best sports content from our network and beyond.