Found September 09, 2013 on SCACC Hoops:
PLAYERS:
Drew Allen
,
Ryan Nassib
,
Donovan McNabb
,
Terrel Hunt
,
Jerome Smith
,
Ashton Broyld
,
Brisly Estime
,
Kendall Moore
,
Venric Mark
TEAMS:
Minnesota Vikings
,
Syracuse Orange
,
Penn State Nittany Lions
,
Northwestern Wildcats
,
Boston College Eagles
,
Wake Forest Demon Deacons
,
Virginia Tech Hokies
,
North Carolina State Wolfpack
I'm not going to lie: this was a rough weekend. Syracuse didn't look good in their woodshed loss and my Steelers managed to lose three starters for the season in one game. (An aside, HOW THE HECK DOES THAT HAPPEN??) Anyways, to the Orange. To Drew Allen and Terrell Hunt. Let's cover the basics: In two games Allen has thrown for 468 yards, 1 TD and 6 INT. That's not very good. Now, the offensive line hasn't been great. The wideout core isn't spectacular and is thinner than expected. The hay isn't in the barn for the running backs. Scott Shafer is pissed. Now let's start hypothesizing. Terrell Hunt came in with Northwestern up by 28. The backup led a 10 play 77 yard drive that was capped off with an exciting 15 yard run. It was the entire second team offense, but the bench guys looked more inspired than the starters had all game. Is this because of Hunt's leadership or intangibles? Probably not. However, it creates intrigue. Especially when you see things like this. A lot of you are making comments about Allen's low release point and a lot of you are absolutely right. — Brent Axe (@BrentAxeMedia) September 7, 2013 I'm not going to pretend that I'm an expert in how to train quarterbacks. But I do know that a senior with a mechanical flaw isn't good. A quarterback with a mechanical flaw and a tendency to throw to the wrong colored jersey doesn't usually get a lot of playing time. But as Sean mentioned earlier, is there any particular reason we have to make a decision now? Here are my reasons: Giving a sophomore the full reins for the first time against Clemson is terrifying. More terrifying than just the idea of having to play 2013 Clemson. Hunt looks to a be a better fit for George McDonald's system than Allen with an offense in desperate need of finding some kind of rhythm. Ultimately, Hunt adds a dimension to the ground game. Syracuse is going to win with the ground game and not the air raid of last season. So the fact that Allen stunk is a good thing. It gets people like me to knock off the rosy glasses and realize that neither Ryan Nassib, Donovan McNabb or Troy Nunes walked through the door when an Oklahoma transfer arrived. Syracuse got Drew Allen, a kid who was a career collegiate backup. Is it harsh to sit Allen (should Shafer do so)? Yes, but you can't say Shafer doesn't have the right. Will Shafer probably transition into Hunt with a two quarterback system these next two weeks? Probably. It happens. It's needed, especially if Syracuse wants to find a way to salvage six wins from here on out. Hot Reads Sean Farrell: Drew Allen completed 27-of-41 passes against Northwestern, which is good for a 66 percent completion percentage. That's about as much optimism as I can come up with. Allen stared down receivers way more than he should and had several passes knocked down by the Wildcats' defensive line. I understand the clamoring for Terrel Hunt, but right now Syracuse's ineffectiveness is more due to the game planning. It seems like offensive coordinator George McDonald is trying to put a square peg in a round hole. The pistol offense may work with some programs, but here with Allen and a power running game, it looks completely awkward. Jerome Smith is clearly the best skill position player for Syracuse, but he isn't being utilized as such. The junior running back has only 27 carries in two games combined. However, these numbers are partially affected by the fact that SU has been trailing for a high percentage of the time. The silver lining to Syracuse's poor play over the first two weeks is that it came against a high quality of competition. Ironic, right? Well, hear me out. In my super-duper TNIAAM prediction, I stated that SU would go 6-6 and reach a bowl game. None of those six predicted wins included the season opener against Penn State or this week's game at Northwestern. So as frustrating as watching Drew Allen throw six interceptions over two games has been, I still see the same viable path to six wins. The point to my rambling is I would take the two losses very seriously if they were against two cupcake teams that we were counting on as being wins. If Syracuse loses to Wagner, then come back to me. Dan Lyons: On a macro level, this game was a mess. The defense was about as porous as I've ever seen out of a Syracuse team, the offense continued to have communication issues and shot itself in the foot repeatedly, and frankly, SU didn't look like it belonged on the same field as Northwestern for most of the game. The offense concerned me early on, because it looked like not much had changed from last week's loss to Penn State in terms of uninspiring play calling and lack of execution. While the team started to move the ball eventually, unfortunately the defense had already sealed the team's fate by giving Northwestern everything it wanted for two quarters. After a few drives, I though McDonald started to open things up a bit, and our offense actually looked like it had a real sense of identity, which it didn't last week. Syracuse found things that work and went back to them, got the ball to playmakers in space, and actually found a bit of a rhythm. If Drew Allen had played a better game, Syracuse might have actually found a way to crawl back into it by the fourth quarter after the defense had buckled down a bit, but winning a game with four interceptions and numerous other mistakes that the Orange made is far toodifficult. The bright side of this game, if there is one, is the play of the young guys. Terrel Hunt got his first game action and drove the ball down the field and scored without too much of an issue on his only drive. He really should have had more time, and I really hope he gets a long look over the next two weeks. I don't care if Allen starts, and if he turns out to be the better guy, so be it, but let Hunt get a look against some first team defenses and make one of them prove it on the field. I thought both young backs George Morris II and Devante MacFarlane ran the ball well, and while neither is going to be taking Jerome Smith's job, it bodes well to the future. Speaking of Smith, he NEEDS to get more than 11 touches. He should be a 20-carry per game back. Ashton Broyld continues to impress, Brisly Estime is an incredibly exciting talent with the ball in his hands, Chris Clark was huge on Saturday... and how about Kendall Moore!? I half expected his time at tight end to be a courtesy look from a recruiting promise before the staff moved him and bulked him up, but he has soft hands, should be a strong blocker, and made some plays. There's not much good to say about the defense, except that they did a good job against the run, and Northwestern's backs were not a huge factor. Considering that Venric Mark was out for the game, that is a bit less impressive, but it is something. That pass defense though... man, I don't even want to start. Just really awful. Getting beat over the top twice and putting together an otherwise stalwart effort like the Penn State game is one thing. The pass defense couldn't do anything against Northwestern, and the Wildcats don't have a bunch of NFL receivers running around out there.   Around the ACC: #4 Clemson 52 S. Carolina State 13 /doublechecksschedule /seesFSU /chugsbeer /chugsnotherbeer /chugsnotherbeer /chugsnotherbeer /chugsnotherbeer /chugsnotherbeer — Sean Keeley (@NunesMagician) September 3, 2013 Substitute FSU with Clemson and substitute beer with handle of vodka. Boston College 24 Wake Forest 10 This game only reaffirmed that even in the current state of Orangenation, 6 wins is still a definite possibility. Miami 24 #12 Florida 16 The big ACC win of the week. Though after five turnovers, I'm not sure anything else was expected of Miami. North Carolina 40 Mid Tennessee 20 I wish teams got the same scheduling scrutiny in football as Syracuse does in basketball...sigh... Virginia Tech 45 W. Carolina 3 Yeah, Virginia Tech lost to Alabama but their defense is pretty good and the Hokies look to be a solid ACC team this year. Maryland 47 Old Dominion 3 Maryland managed just 312 yards on the ground against OD... That's about the peak for Maryland athletics this year. Duke 28 Memphis 14 And so begins the great rivalries between the ACC and AAC. NC State 23 Richmond 21 Much like the BC-Wake game, this one shows that Syracuse has hope for six wins. The Wolfpack needed a field goal with 33 seconds left to win this one. Virginia 10 #2 Oregon 59 De'anthony Thomas is very very very fast.   This article was originally published at http://nunesmagician.com (an SB Nation blog). If you are interested in sharing your website's content with SCACCHoops.com, Contact Us.  
Original Story:
http://www.scacchoops.com/tt_NewsBrea...
THE BACKYARD
BEST OF MAXIM
RELATED ARTICLES
Drew Allen tried to take responsibility for this one. His coach was having none of it. Allen threw four interceptions and the defense got plowed through and passed over, leading to one ugly 48-27 loss to No. 19 Northwestern for Syracuse on Saturday. ''Everyone is going to point at the quarterback position,'' coach Scott Shafer said. ''But (darn it), it was...
Drew Allen looks in over his head. The Wildcats defense completely befuddled him, and Allen has now thrown 6 picks in 2 starts. Not sure Terrel Hunt is quite as good as that touchdown drive he led late, but he can't be a worse option than Allen right now, can he? Not to get too far ahead of ourselves here, but the math is not good for Syracuse to get to a bowl game after the 0...
There is no doubt about it now. The Syracuse coaching staff has officially opened up the quarterback competition again. Drew Allen is the starter against Wagner, but that's really a formality. Terrel Hunt has been told he will get some playing time this weekend, and rightfully so. Allen has been close to terrible, while Hunt led an energized touchdown drive late against Northwestern...
Syracuse head coach, Scott Shafer, has thrown his support behind Drew Allen despite the new quarterback's underwhelming debut in the narrow defeat to Penn State in the season's opening game. But, while the season may not have started as the Orange faithful would have liked, the sports betting still appears to suggest Syracuse will be […]
It was only for one drive, and four total throws, but Terrel Hunt may have given the Syracuse coaches something to think about with Drew Allen struggling in leading the Orange offense. CuseNation.com breaks down what Hunt showed during limited action Saturday.
After getting manhandled by Northwestern, Scott Shafer might as well toss Syracuse's game footage right out the window. The Orange was pummeled by the #19 Wildcats 48-27 and SU doesn't quite look like one with a "hardnosed" mindset like the head coach preached in the preseason. These last two weeks were tough to watch. There's been no signs of a ground-and-pound offense...
Two weeks down and two losses later, Orange Nation is feeling deflated to start the season. It's not even the 0-2 start that has the Syracuse faithful down, but the lackluster offensive production thus far. But it's not all bad. Yes, Drew Allen has struggled mightily and the defense is still working out consistency issues, but there is a lot of season left. Luckily, Wagner...
College Football News

Delivered to your inbox

You'll also receive Yardbarker's daily Top 10, featuring the best sports stories from around the web. Customize your newsletter to get articles on your favorite sports and teams. And the best part? It's free!
THE COLLEGE FOOTBALL HOT 10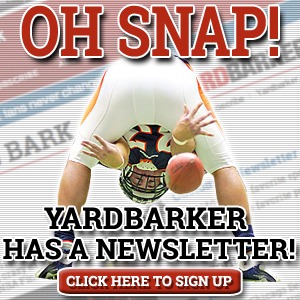 Latest Rumors
The Backyard

Today's Best Stuff

For Bloggers

Join the Yardbarker Network for more promotion, traffic, and money.

Company Info

Help

What is Yardbarker?

Yardbarker is the largest network of sports blogs and pro athlete blogs on the web. This site is the hub of the Yardbarker Network, where our editors and algorithms curate the best sports content from our network and beyond.