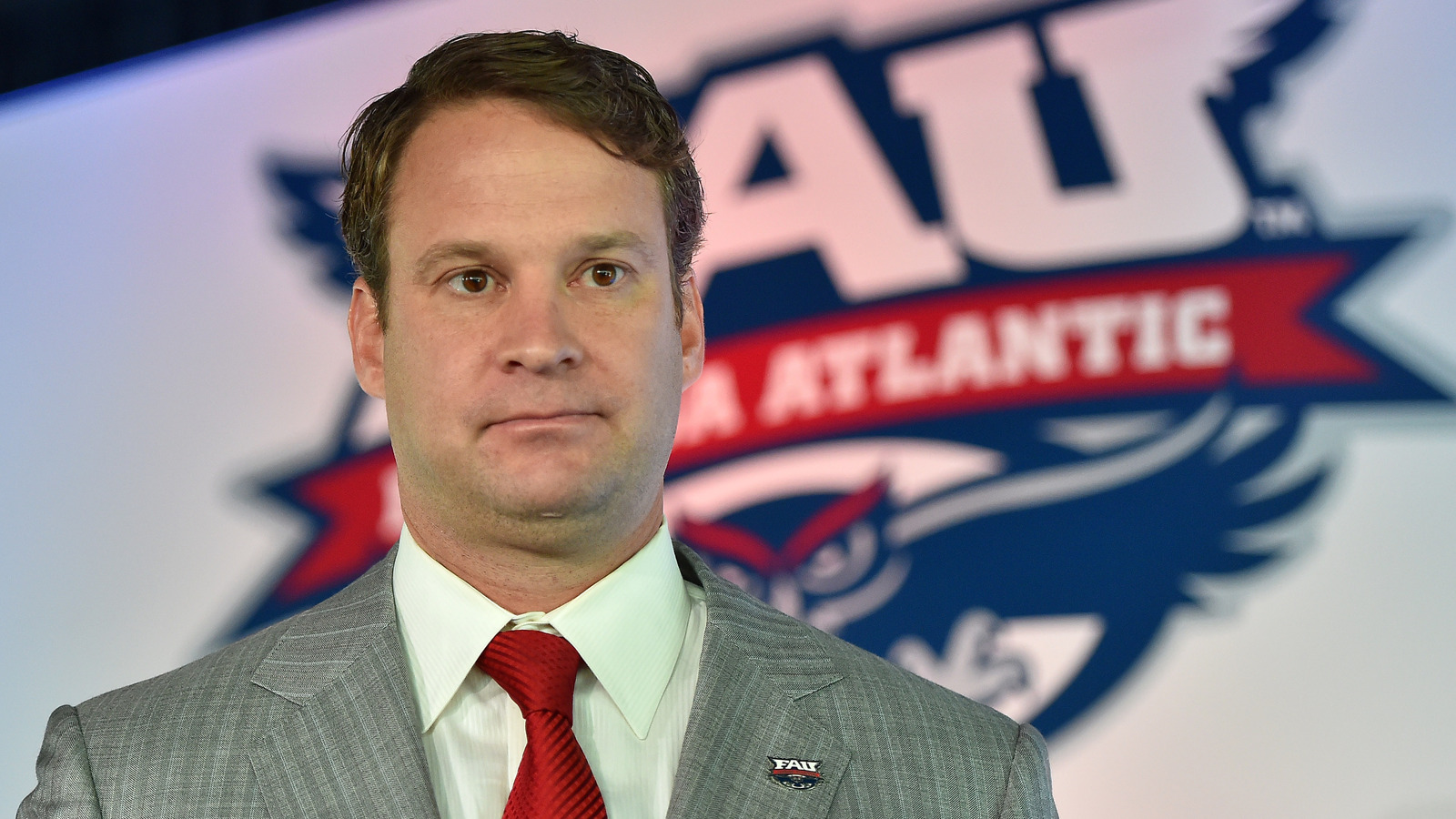 Lane Kiffin recently recalled how he got in trouble over a joke during his time with Alabama.
Jasen Vinlove-USA TODAY Sports
Lane Kiffin made some questionable comments about his time working under Nick Saban just before he parted ways with Alabama, and very few people believe that was a coincidence. Kiffin isn't exactly claiming it was, either.
In an appearance on "The Dan Le Batard Show" on ESPN Radio Monday, Kiffin was asked if he was happy at Alabama. The FAU coach admitted he faced many challenges in Tuscaloosa.
"I had a unique situation where for the first time my family didn't come with me — my kids and my wife — so that made it, outside of the football part, not so fun because they were across the country," Kiffin said, as transcribed by Saturday Down South. "That played into that. I think it would have been much more enjoyable had they come … Versus coming somewhere, where the only reason you are going there is to dive into football, to learn from Coach Saban and to win a bunch of games. And to have a blast on the field like we did. We went 40-3, so it was a good time (on the field)."
When Le Batard asked Kiffin how much of a toll coaching at Alabama took on him, he hinted that he created some issues for himself with a candid interview he gave to Sports Illustrated.
"I already got in trouble for that statement one time," Kiffin said with a laugh. "When I called it the equivalent of dog years. I thought it was kinda funny at the time, but I guess not."
Kiffin could have been referring to the media reaction, but we would not be surprised if Saban was irritated by some of the things he said. We already said prior to the National Championship Game that we believed the SI interview was one of the reasons Kiffin was fired so abruptly.
To say the relationship between Saban and Kiffin went stale would probably be an understatement.
MORE FROM YARDBARKER:
QUIZ: Name every member of the Alabama Crimson Tide to be selected in the first round of the NFL Draft
Since 1936, the University of Alabama Crimson Tide have sent 50 players to the pros in the first round of the NFL draft. How many can you name?
Clue: Year-Draft Number-Position-Team
MORE FROM YARDBARKER
College Football News

Delivered to your inbox

You'll also receive Yardbarker's daily Top 10, featuring the best sports stories from around the web. Customize your newsletter to get articles on your favorite sports and teams. And the best part? It's free!