Found November 07, 2012 on Waiting For Next Year:
Approximately 2.5 years ago, an undersized linebacker from Plantation, Florida decided to make a commitment to stay in his hometown to play football for the University of Florida. In spite of being somewhat undersized at 205-pounds, he was still a 4-star recruit with an enormous upside because of the intangibles he possessed. Unquestionably, Ohio State was on the short list of possible schools and was a highly sought after candidate, but home cooking generally wins out. At the time, the coach that he made that commitment to was Urban Meyer. Months later in December of 2010, Urban infamously retired (act 2 of 2) putting a large question mark around the incoming recruit. Only nine days after Urban's retirement announcement, Ryan Shazier decommitted from the University of Florida notifying The Ohio State University of his verbal acceptance, marking yet another reason for the Urban Meyer love affair. I haven't felt so great about being a backup plan since junior prom. Alright, while that last part may not be entirely true, we can all agree that we are very thankful of how the situation unraveled as Ohio State fans. Regardless of how intently you watch the Buckeyes, there is no doubt in my mind that you have surely heard the praises of Ryan Shazier sung on a consistent basis. The intensity and athleticism that is presented each week can only be matched by the senior, John Simon who we profiled a couple months ago. Outside of that, we truly may not see an athlete with his combination of talent, commitment and passion for several years to come. It is early, I get it. And I am definitely not a scout or qualified to be singing such high praises for a player with just 23 games under his belt, but I believe that even as far as Shazier has come, he still has an incredible ceiling. Like most college players, Ryan Shazier did not start for the Buckeyes as a true freshman in 2011, but saw significant playing time during the season. He recorded 57 tackles which was good for the most by a true freshman in the past 15 years, when Andy Katzenmoyer racked up 86 tackles in 1996. Shazier made a significant impact throughout the season in which he earned the right to start in the final 3 games of the 2011 season where he totaled 30 of those 56 tackles. Numbers such as those are pretty solid considering the fact that Shazier spent most of his time on special teams and filling in at linebacker. Couple that with him being a true freshman and even the casual fan can quickly realize the improvement and upside to an athlete like this. Let's get down to it though; What really sparked this entire thing was quick post that I came across on Twitter comparing Ryan Shazier, to Manti Te'o of Notre Dame. Of course there was some buzz from Buckeye fans around these exact stats, which are courtesy of Elevenwarriors.com, and deservedly so: Then I came across this comment on Twitter by a sports writer and Miami Hurricanes grad (which will remain nameless) trying to crush any possibility of a comparison: "OSU fans comparing Shazier to Manti Te'o: just stop it. You're being foolish." Naturally, I questioned his position prompting the following responses: "They both could play LB for me if I was starting a team, no doubt. But Te'o is better right now. No question. Shazier is getting more chances to make plays than Te'o. OSU started a FB at LB, Manti is playing with 4 1st rounders." Let me preface with this: I do not know of many more things that annoy the crap out of me more than people making condescending declarations about a topic they feel strongly about without much substance. Everyone has an opinion and everyone is entitled to exactly that, but as we all know, social media has given a platform to people that can make outlandish comments with zero repercussions. Sometimes I feel that it is my job to call those people out one by one. Now that I exorcised some demons, it should be pretty clear that we are looking at production for Ryan and Manti's production for this season so far. Obviously, both have had spectacular seasons to date and with Ohio State idle this week, the numbers will again be an interesting comparison point when both have played 10 total games. We cannot tell the future of what Te'o will do against Boston College this week and to be honest, it is not even worth speculating. There is not much of a point in breaking down the numbers into individual categories and talking points because there really is a good story there as it stands. Both players are incredible athletes and are clearly an extraordinarily large part of each team's respective defenses. Yet Manti Te'o should be a Heisman favorite and in most circles, already has an invite to New York while Ryan Shazier has comparable, if not better numbers and rarely gets national attention. "But Te'o is better right now. No question." Actually, there is a question and that line might as well just read "because I said so" because in comparing the numbers (which, you know, Heisman numbers are based upon) we can clearly see that Shazier is just as valuable to his team, if not more-so than Manti Te'o. Listen, I am not trying to state a case for anything or anyone at this point. Both comments created quite a a stir on several different social media platforms and more than anything I would be interested in hearing/reading differing viewpoints.  –  *image courtesy of lmk.com
Original Story:
http://www.waitingfornextyear.com/201...
THE BACKYARD
BEST OF MAXIM
RELATED ARTICLES
For the second consecutive week, Ohio State LB Ryan Shazier was named the Big Ten's defensive player of the week- Defensive Player of the Week, Ryan Shazier, Ohio State So., LB, Plantation, Fla./Plantation • Finished with a game-high 14 tackles, including 11 solo stops, and a pass breakup in Ohio State's 52-22 victory over Illinois on Saturday • Recorded two tackles for...
The Ohio State Buckeyes can feel proud that they are without a doubt one of the best football teams in the land. The tragedy of it all is that, none if it really matters.The post A Shakespearian Tragedy: The 2012 Ohio State Buckeyes appeared first on The Sports Fan Journal.
  Carmen, O-H-1-0   A season of change, of ups and downs, and a season that few would have ever imagined to overcome as much adversity as The Ohio State Buckeyes in 2012.  A questionable defense through a non-conference schedule, close scares, and a new coach that didn't hold back when it came to telling the public what was wrong with the program.  The Buckeyes have came a...
A construction project that was to build a new practice gym for Ohio State's men's and women's basketball teams, expand the locker rooms and weight room and add a rehab and exercise pool is behind schedule and over budget. Athletic director Gene Smith confirmed on Thursday that the project, which started in June and originally was to cost $13.7 million, had risen in...
As Jim Foster grows older, his thoughts often flood back to those he has known who have died. Maybe that's expected for a 64-year-old who spent three years in the Army, including 18 months in Vietnam, before a lifetime as a teacher and coach. That his Ohio State team opens its season Friday on an aircraft carrier, surrounded by servicemen and women who are sacrificing for their...
By MARCUS HARTMANBuckeyeSports.com Ohio State has no football game to play Saturday, but the Buckeyes are still working this week.Though the coaching staff has no opponent to prepare for, it has decisions to make, first and foremost deciding who will get the most work and how much. Its a fine line, head coach Urban Meyer said Wednesday night. There are some guys who have played 800...
Ohio State's defense has had some excellent performers in 2012, but one who is really standing out is cornerback Bradley Roby. The sophomore has made a number of big plays for the Buckeyes, and he's not shy in his belief that he's becoming one of the best cornerbacks in the country.
With two games left in the regular season but seemingly entrenched in fifth place in the AP poll behind four fellow unbeatens, Ohio State doesn't have an easy path to get to the top spot by season's end. But the Buckeyes still think it's possible. BuckeyeSports.com tries to make sense of OSU's ranking in this piece.
For each of the last eight years, Ohio State has had the Big Ten's best player. Now, it's up to Tayler Hill to extend the streak. Samantha Prahalis won the conference player of the year award a year ago, following a tradition starting with Jessica Davenport (2005-2007) and Jantel Lavender (2008-11). Hill, who led the Big Ten in scoring last year at 20.7 points a game,...
On a trip to Ohio State, Tom Schreier was reminded of the unifying power of sports.
Ohio State's coaching staff has no game planning to do, but it is busy balancing practice and recruiting this week. Urban Meyer updated reporters on the status of his team after a couple of days of practice in Columbus.
Wednesday found 2014 wide receiver Thaddeus Snodgrass visiting Ohio State and taking in practice. Snodgrass talked with FOXSportsNEXT.com following his visit with all the details and what Buckeyes head coach Urban Meyer told him.
Buckeyes News

Delivered to your inbox

You'll also receive Yardbarker's daily Top 10, featuring the best sports stories from around the web. Customize your newsletter to get articles on your favorite sports and teams. And the best part? It's free!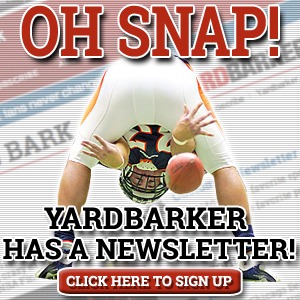 Latest Rumors
Best of Yardbarker

Today's Best Stuff

For Bloggers

Join the Yardbarker Network for more promotion, traffic, and money.

Company Info

Help

What is Yardbarker?

Yardbarker is the largest network of sports blogs and pro athlete blogs on the web. This site is the hub of the Yardbarker Network, where our editors and algorithms curate the best sports content from our network and beyond.