Found December 05, 2012 on Fox Sports Southwest:
PLAYERS:
Johnny Manziel
,
Adrian Peterson
,
Matt Leinart
,
Mark Ingram
,
Vince Young
,
Kevin Sumlin
,
Robert Griffin III
TEAMS:
Minnesota Vikings
,
Oakland Raiders
,
Washington Redskins
,
Kansas State Wildcats
,
Notre Dame Fighting Irish
,
Alabama Crimson Tide
,
Texas A&M Aggies
COLLEGE STATION, Texas (AP) -- Johnny Manziel certainly has the statistics worthy of a Heisman Trophy winner. He plays in the powerful Southeastern Conference. He has a signature win -- all things Heisman voters typically look for. The only question is whether the voters will give the award to a freshman for the first time. Adrian Peterson, star running back for the Vikings and the only freshman to finish second in voting, is hoping the jinx ends Saturday night. "Hopefully they don't rob him like they did me," Peterson, who lost by 328 votes to junior Matt Leinart in 2004, said in an interview with The Associated Press. "I hope he wins." Manziel may a favorite this year, but who knows? Kansas State quarterback Collin Klein and Notre Dame linebacker Manti Te'o are the other finalists and both can make strong cases, too. But neither caught the attention of the fans quite like Johnny Football, who led the Aggies to an upset of off No. 1 Alabama in Tuscaloosa. Manziel accumulated 4,600 yards of total offense in 12 games to break the Southeastern Conference record for total yards in a season. The record was previously held by 2010 Heisman winner Cam Newton, who needed 14 games to pile up 4,327 yards. The Aggies, who went 10-2 in their first season in the SEC after moving from the Big 12, certainly hope Manziel is the one to finally break the freshman curse (Manziel is a redshirt freshman, not a true freshman). On a website the school created to promote Manziel for the award, they point out that he's different than many freshman. Manziel enrolled in college in January 2010 and will be a junior academically this spring. He turns 20 on Thursday, making him older than Mark Ingram was when he took home the Heisman as a sophomore in 2009. He would also be just the second Aggie to win the award and the first since John David Crow in 1957. Crow got a push from his famous coach before the voting was done that season. "If John David Crow doesn't win the Heisman Trophy," then-A&M coach Paul "Bear" Bryant said, "they ought to stop giving it." Crow got a good laugh this week when asked if he believed the same was true of Manziel. "I don't have near the audience that coach Bryant had," he said, still chuckling. "I'm not sure how big that would go over." Then the 77-year-old former halfback got serious. "He is very, very deserving," Crow said. "I don't care what age he is, whether he is right-handed or left-handed, wears a 17 shoe or nine shoe, he is very, very deserving of being named the outstanding player in college this year." Manziel's whirlwind season had a modest beginning with him having to beat out two other quarterbacks to win the starting position in mid-August. As his numbers grew, so did the legend of Johnny Football, a nickname Aggies bestowed him with as he settled in at College Station. When the Aggies beat the defending champion Crimson Tide on national television behind an outstanding performance by Manziel, the phrase seemed to be everywhere. It's a name that still amuses him. "I don't know if I really see it as a legend," he said. "It's more of a folk tale, I guess." His numbers alone seem like the stuff of some exaggerated Texas football folk tale. He has thrown for 3,419 yards and 24 touchdowns and run for 1,181 yards and 19 more scores to become the first freshman, first SEC player and fifth player overall to throw for 3,000 yards and run for 1,000 in a season. But his eye-popping numbers don't tell the whole story. The improvisation is what really sets him apart. Manziel has a knack for evading defenders, staying on his feet and finishing plays that seem impossible. Kind of like Robert Griffin III, the Baylor star who won the Heisman last year. Or Fran Tarkenton, another wizard at avoiding defenders. "I don't think there's many people in this world that could do some of the things he did," Crow said. "He was born to run around back there -- at least it looks that way to me." Manziel was so disappointed when he came out of spring practice as a backup that he enlisted the help of quarterback guru George Whitfield to refine his skills this summer. He spent a week at Whitfield Athletix in San Diego, training up to five hours a day with Whitfield, who has worked with scores of players including Newton, Vince Young and Andrew Luck. Whitfield was struck by Manziel's competitiveness and his desire to soak up every bit of knowledge that the coach had for not just him, but all of the quarterbacks in training. Whitfield said the only other quarterback he's seen who can improvise like Manziel is Newton. But he said the 6-foot-1 Manziel might be tougher to deal with than the 6-5 Newton. "Cam poses a lot of problems because he's so imposing," Whitfield said. "Johnny, on the other hand, causes as many problems and it's more overwhelming to defensive players because they think: If I can just catch him, I can get him on the ground.' But you can't get him." He's enjoyed watching Manziel develop this season, and saw some flashes of what he could be when the pair worked this summer. "He's got this great sense of awareness and vision. He's so creative," said Whitfield, who then offered a James Bond analogy. "There's always some kind of 007 escape route in mind. If Cam is Superman, I would say that Johnny is like 007." Growing up in Kerrville, Texas, Manziel didn't dream of football stardom. He always pictured his path leading to a baseball diamond. "I always thought since I was a little kid that I would play pro baseball," said Manziel, who also starred on his high school baseball team. "My biggest dream was that I wanted to play in the MLB. I wanted to play for the Rangers and wanted to play shortstop." But fate stepped in and altered his dream. "Then football came along and took center stage," he said. Manziel's success on the field seems almost too good to be true. And when he rescued a kitten from the middle of a busy, four-lane road near Kyle Field earlier this season, it only added to the mystique of Johnny Football. (The semi-daring rescue is referenced on his Heisman page.) "Just rescued a kitten from the middle of Wellborn Rd," Manziel tweeted in September when he wasn't allowed to talk to the media because of coach Kevin Sumlin's ban on freshmen interviews. He added a picture of a scared-looking black cat to prove his story. Things haven't always been rosy for Manziel. In June, he was arrested in town after police said he was involved in a fight and produced a fake ID. He was charged with disorderly conduct and two other misdemeanors. "It was a critical mistake in my life," Manziel said. "It was something that I learned a lot from. It had consequences with coach Sumlin and my teammates and everyone here in Aggieland. From that I've had to make changes in my life." Less than six months after his arrest, Manziel has helped the Aggies to their best season since 1998, and made Texas A&M one of the top teams in the nation after last year's disappointing 7-6 finish. He's proud to have helped put the Aggies back in the spotlight and knows winning the Heisman would only add to it. "To bring a Heisman Trophy back to Aggieland for all these fans since it's been so all these years since we've had a Heisman Trophy winner ... to really bring the excitement and really bring something positive back to Aggieland would be something that is truly an ultimate goal," he said. He's got a fan in Peterson, who ran for an NCAA freshman record 1,925 yards at Oklahoma in 2004 and believes the only reason he didn't win the Heisman was because he was a first-year player. "It's sad when you think about it, because the Heisman goes to the best player in the country so the voters shouldn't look at it and go over what they've done over their career," Peterson said. "If he's the best player that year? Then that's what it needs to be."
Original Story:
http://www.foxsportssouthwest.com/12/...
THE BACKYARD
BEST OF MAXIM
RELATED ARTICLES
Johnny Manziel, Texas A&M's dynamic quarterback, became the first freshman to win the Heisman Trophy. Manziel beat out Notre Dame senior linebacker Manti Te'o and Kansas State senior quarterback Collin Klein during the 78th Heisman Trophy presentation Saturday in New York City. Manziel is the second Heisman winner from Texas A&M, joining RB John David Crow from...
It's Johnny Football's trophy to lose. The three finalists for the 2012 Heisman Trohpy were announced today, and they include Kansas State QB Collin Klein, Notre Dame LB Manti Te'o, and prohibitive favorite Johnny Manziel, the phenomenal freshman quarterback for Texas A & M. Klein finished the regular season with 2,490 passing yards, 15 TDs, 7 INTs, and a passer rating...
The Davey O'Brien Foundation today announced Texas A&M's Johnny Manziel as the 2012 Davey O'Brien National Quarterback Award® Winner. Todd Blackledge, the 1982 Davey O'Brien Winner, presented the award to Manziel during The Home Depot College Football Awards at the Walt Disney World Resort in Lake Buena Vista, Fla. He will be honored at the 36th Annual Davey O'Brien...
What could be a big week for Texas A&M quarterback Johnny Manziel is already off to a roaring start. Manziel, who was named the SEC's offensive player of the year earlier in the week, capped his 20th birthday Thursday by winning the Davey O'Brien National Quarterback Award. Manziel received the award at The Home Depot College Football Awards in Lake Buena Vista, Fla...
NEW YORK -- Johnny Manziel and Manti Te'o are in position to make Heisman Trophy history. Manziel, the redshirt freshman quarterback from Texas A&M, and Te'o, Notre Dame's star linebacker, along with Kansas State quarterback Collin Klein, were invited Monday to attend the Heisman presentation ceremony. Manziel is the favorite to win college football's most famous...
Now that the season is wrapped up, we have a clear picture of the Heisman race and all polls lead to Texas A&M QB Johnny Manziel becoming the first freshman, true or redshirt, to ever win the Trophy. It is not too surprising since Johnny Football has taken the nation by storm over recent weeks. There were just three finalists invited to New York for the Heisman ceremony: Collin...
The regular season may be over, but there's more buzz than ever surrounding the Texas Aggie football program as Johnny Manziel meets the national media and Heisman voters make their final selections. Aggie Websider's David Sandhop weighs in on the Heisman hype and other current events surrounding Aggie sports.
NEW YORK (AP) Johnny Manziel and Manti Te'o are in position to make Heisman Trophy history. Manziel, the redshirt freshman quarterback from Texas A&M, and Te'o, Notre Dame's star linebacker, along with Kansas State quarterback Collin Klein, were invited Monday to attend the Heisman presentation ceremony. Manziel is the favorite to win college football's most...
Covering Dixie Like Mildew Is Butch Jones a glass half-empty or half-full? John Adams analyzes new Tennessee head football coach Butch Jones' record at Cincinnati, and sees both positives and negatives. (The Knoxville News Sentinel) The natives are already restless.  In the wake of Jones' hire Joel Hollingsworth slams Tennessee's handling of its coaching search...
GAINESVILLE, Fla. When it comes to facing dual-threat quarterbacks, Floridas defense has earned a masters degree this season. Floridas first test against a mobile quarterback came in the Southeastern Conference opener, when Texas A&M Heisman hopeful Johnny Manziel drove the Aggies 65 yards on 15 plays on his opening series as a collegiate quarterback. Manziel connected on...
College Football News

Delivered to your inbox

You'll also receive Yardbarker's daily Top 10, featuring the best sports stories from around the web. Customize your newsletter to get articles on your favorite sports and teams. And the best part? It's free!
THE COLLEGE FOOTBALL HOT 10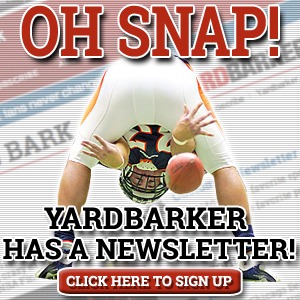 Latest Rumors
The Backyard

Today's Best Stuff

For Bloggers

Join the Yardbarker Network for more promotion, traffic, and money.

Company Info

Help

What is Yardbarker?

Yardbarker is the largest network of sports blogs and pro athlete blogs on the web. This site is the hub of the Yardbarker Network, where our editors and algorithms curate the best sports content from our network and beyond.