Found September 21, 2012 on Midwest Sports Fans:
For the opening weekend of MSF-LaQuinta College Football Road Trip, our esteemed Founding Editor Jerod Morris will be in Norman, Oklahoma courtesy of the fine folks at LaQuinta. He will be taking in the Big 12 Game of the Week between the #6 Oklahoma Sooners and #15 Kansas State Wildcats. I'll try not to let my jealousy derail this preview. And even though he didn't ask me to go with him (jerk!), I'll give Jerod some space at the end of the preview to discuss what he's looking forward to most about this leg of the tip. But first, let's discuss the game. Kansas State at Oklahoma Both teams enter unblemished, but what is surely in the heads of both sides is the 58-17 shellacking that the then-11th ranked Sooners handed the then-10th ranked Wildcats last season. In fact, the series has been almost all Oklahoma for the last nine years, as OU has won 5 in a row and 8 of 9 overall. Given how tough the Sooners are at home under Bob Stoops (42-1 in their last 43 games, a gaudy 77-3 overall), Bill Snyder's team may be hard-pressed to buck that trend. In last year's blowout, Oklahoma quarterback and Heisman Trophy candidate Landry Jones threw for 505 yards and 5 touchdowns, while Kansas State accumulated just 58 yards passing behind the arm of dual-threat quarterback Collin Klein. Klein added 92 yards and two scores on the ground, but it was far too little against Oklahoma's high-flying passing attack. This year, things could be a little bit different. Heisman candidate Landry Jones is looking to have another stellar game against Kansas State. Let's look at the keys for each team. What Kansas State Must Do To Win Let's face it: the Wildcats really have their work cut out for them in this game. In addition to last year's nightmare at Bill Snyder Stadium being fresh in their minds, Kansas State is facing an Oklahoma team that was off last week, meaning the Sooners have had almost two full weeks of preparation time to perfect a scheme to stop Klein. There's also the issue of Kansas State struggling until late in the game in a 35-21 win against North Texas a week ago. The Wildcats turned the ball over twice and only outgained North Texas by 20 yards for the game. Against Oklahoma, it is imperative that the Wildcats protect Klein. Last year, the Sooners recorded 7 sacks against Klein, which is especially impressive given his ability to move. The line will need to create lanes for Klein to run and give him time to pass. Kansas State QB Collin Klein needs to have a big game for Kansas State to have a chance to pull off the road upset. (Image via. si.com) One way they can keep the Sooners' front at bay is with John Hubert. The junior tailback is averaging 6.9 yards per carry (although 95 of his 296 rushing yards came on a single play vs. Missouri State). If Hubert can have success it will force Oklahoma to change their plan of unending harassment of Klein. Defensively, the Wildcats have to at least slow down Landry Jones and the Oklahoma passing attack. Even though Sooners' running back Damien Williams has scored 5 touchdowns and run for 259 yards in just two games, Kansas State must take their chances with the running game beating them as opposed to letting Jones torch their secondary for another record-setting day. What Oklahoma Must Do To Win With the absurd home record and recent history, it might seem like Oklahoma simply has to show up to win this game. I disagree. Because of last year's embarrassment, Kansas State will come into Norman looking for redemption and a spot at the table in the discussion of national title contenders. Oklahoma can't come out flat and expect to trounce this team again. A very important component of Oklahoma's success, not surprisingly, is protecting Landry Jones. Last year, Jones wasn't sacked at all against the Wildcats, and he was only taken down 10 times all year. This year Jones has already been sacked 4 times in two games. The offensive line will have to hold up to allow him time to pick apart the defense. Damien Williams is averaging a robust 13 yards per carry, but he only has 20 attempts in two games. If I were Bob Stoops I would find some more creative ways to get the ball in the junior's hands. Photo: Richard Rowe | US Presswire via usatoday.com Lastly, Oklahoma should stack the defense against the run. Take away Hubert, limit what Klein can do with his legs, and force him to throw. That philosophy worked to perfection last year, as they turned Klein into a completely one-dimensional, and therefore ineffective player. Kansas State-Oklahoma Prediction While it is plausible that Kansas State could exorcise their demons against Oklahoma, I certainly don't see them doing it in Norman. I expect Landry Jones to have much success and the Sooners' defense to bottle up Klein and force a couple of turnovers en route to a fairly decisive win. Final Score: Oklahoma 38 | Kansas State 24 What do you think? Make your pick in the poll below! Note: There is a poll embedded within this post, please visit the site to participate in this post's poll. ***** Three Things Jerod is Looking Forward To That's Jerod on the right. Not sure who the guy is on the left… 1. Mostly, I am looking forward to getting the MSF-La Quinta College Football Road Trip kicked off. I've been salivating to get on the road ever since the opportunity was presented to me, and Norman is a great place to start. I've heard it's a lot like Bloomington, where I went to school, so I'm thinking I'll feel right at home. If you want to follow along with the journey, this weekend, do so here:
Posts and photo diaries here at MSF
Videos at YouTube.com/JerodMSF
Tweets from @JerodMorris
Instagrams (jerodmorris)
And plenty of fun Facebook status updates (Facebook.com/JerodMSF)
2. I'm looking forward to quality time with my little bro Bryce, currently a freshman football at Lewisville High School here in Texas. Though his allegiances have shifted towards Oregon – yes, mostly thanks to the uniforms – Bryce used to cite Oklahoma as his favorite team thanks to Adrian Peterson. Up until this year Bryce played running back and ran with a similar style to Peterson – tough and punishing and fast. His coaches have him focusing more at linebacker this year, but it will still be fun to see where Peterson went to school and hopefully give him a taste of what could be possible for him if he keeps working hard, stays humble and hungry, and gets his work done in the classroom. 3. And finally, I'm looking forward to a good game. We have a great tickets (50-yard line baby!), and it's been a long time since I've been to a college football game as a spectator. I'm expecting a raucous atmosphere, which will make it a fun experience even without a specific rooting interest. 4. And here's a bonus one: I've had a few late nights recently, so I'm also looking forward to comfortable beds and a couple good nights of sleep. I know La Quinta won't let me down. Kansas State – Oklahoma Game Info
Kansas State – Oklahoma Date: Saturday, September 22, 2012
Kansas State – Oklahoma Kickoff Time: 7:50 PM ET
Kansas State – Oklahoma Point Spread: Oklahoma -14.5
Kansas State – Oklahoma Over/Under: 57.5
Kansas State – Oklahoma TV Info: FOX
********* Follow me on Twitter @KeithMullett ********* Image Credits: kansascity.com, usatoday.com, si.com The post MSF-La Quinta College Football Road Trip Week 1:
#15 Kansas State at #6 Oklahoma Preview and Prediction appeared first on Midwest Sports Fans.
Original Story:
http://feedproxy.google.com/~r/Midwes...
THE BACKYARD
BEST OF MAXIM
RELATED ARTICLES
MANHATTAN, Kan. -- Of the 103,000 miles on the family minivan -- a 2002 Chrysler Town & Country -- Jim McCord figures about 28,000 have been in pursuit of Collin Klein. "Well worth the money," McCord chuckles. "And the time." The unofficial president of The Collin Klein Fan Club happens to be a 73-year-old in Nokomis, Florida, a retired firefighter spending...
NORMAN, Okla Late in the fourth quarter with Kansas State trying to run out the clock and get out of town, Kansas State quarterback Collin Klein gained 5 yards when he needed 3. On the other side of the field, Oklahoma never quite did get what it needed from its quarterback. So it goes this season for Oklahoma and its record-setting quarterback Landry Jones. So it went Saturday...
Collin Klein still has plenty of room for improvement and he could jump right into the thick of the Heisman race with a thrilling upset in Norman. More importantly, this is a Wildcats program that has a lot at stake here. They were obliterated at home against these Sooners one year ago and now "Optimist Klein" has a chance to lift his Wildcats into the top 10. Landry Jones is...
Landry Jones came back for his senior season with No. 6 Oklahoma in part because he wanted one last chance to chase a national championship. That chance could already be in jeopardy, and Jones knows he's a big reason why. John Hubert ran for 130 yards and a touchdown, Jarell Childs scored on a 1-yard fumble return off of one of Jones' two turnovers and No. 15 Kansas State...
MANHATTAN, Kan. - Norman, Okla., will be the site for the 2012 Big 12 opener between the 3-0 Wildcats and 2-0 Sooners. The game could shape up to be one of dueling quarterbacks with Collin Klein at K-State and Landry Jones at Oklahoma.
Kansas State QB Collin Klein picked up 228 yards of total offense and absolutely s*** on the OU crowd with a late touchdown to defeat the Trash QB  Sooners Landry Jones this Saturday night. So tell me Sooners fans, is Oklahoma (2-1, 0-1 Big 12) better than Kansas State (4-0, 1-0) ? By the looks of  Sofia Vergara's boobs I would say no.                  
No. 15 Kansas State at #6 Oklahoma Saturday, 7:30pm Eastern, FOX Line: Oklahoma -14 While the rest of the college football world is mainly stuck playing meaningless non-conference games against the blind sisters of the poor we can thank the scheduling gods of the Big 12 for giving us a potentially Big 12 championship deciding game in the first week of conference...
Although the rankings told us that this game would be close, recent history would have suggested that No. 6 Oklahoma would win this match up and that the Sooners would win big.  Oklahoma dominated the last five meetings, averaging wins of 22 points per game, including the 58-17 massacre in Manhattan, KS last year.  But this is a different Wildcats team ...and a different Sooners...
NORMAN, Okla. (AP) -- John Hubert ran for 130 yards and a touchdown, Jarell Childs scooped up a fumble and returned it for a score and No. 15 Kansas State beat No. 6 Oklahoma 24-19 on Saturday night to avenge a wrenching loss from last season. Collin Klein picked up 228 yards of total offense and ran for the go-ahead touchdown early in the fourth quarter in a solid performance that...
College Football News

Delivered to your inbox

You'll also receive Yardbarker's daily Top 10, featuring the best sports stories from around the web. Customize your newsletter to get articles on your favorite sports and teams. And the best part? It's free!
THE COLLEGE FOOTBALL HOT 10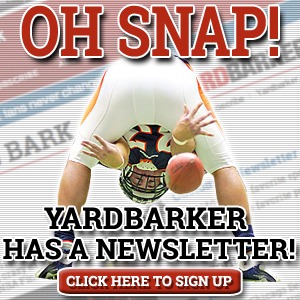 Latest Rumors
Best of Yardbarker

Today's Best Stuff

For Bloggers

Join the Yardbarker Network for more promotion, traffic, and money.

Company Info

Help

What is Yardbarker?

Yardbarker is the largest network of sports blogs and pro athlete blogs on the web. This site is the hub of the Yardbarker Network, where our editors and algorithms curate the best sports content from our network and beyond.