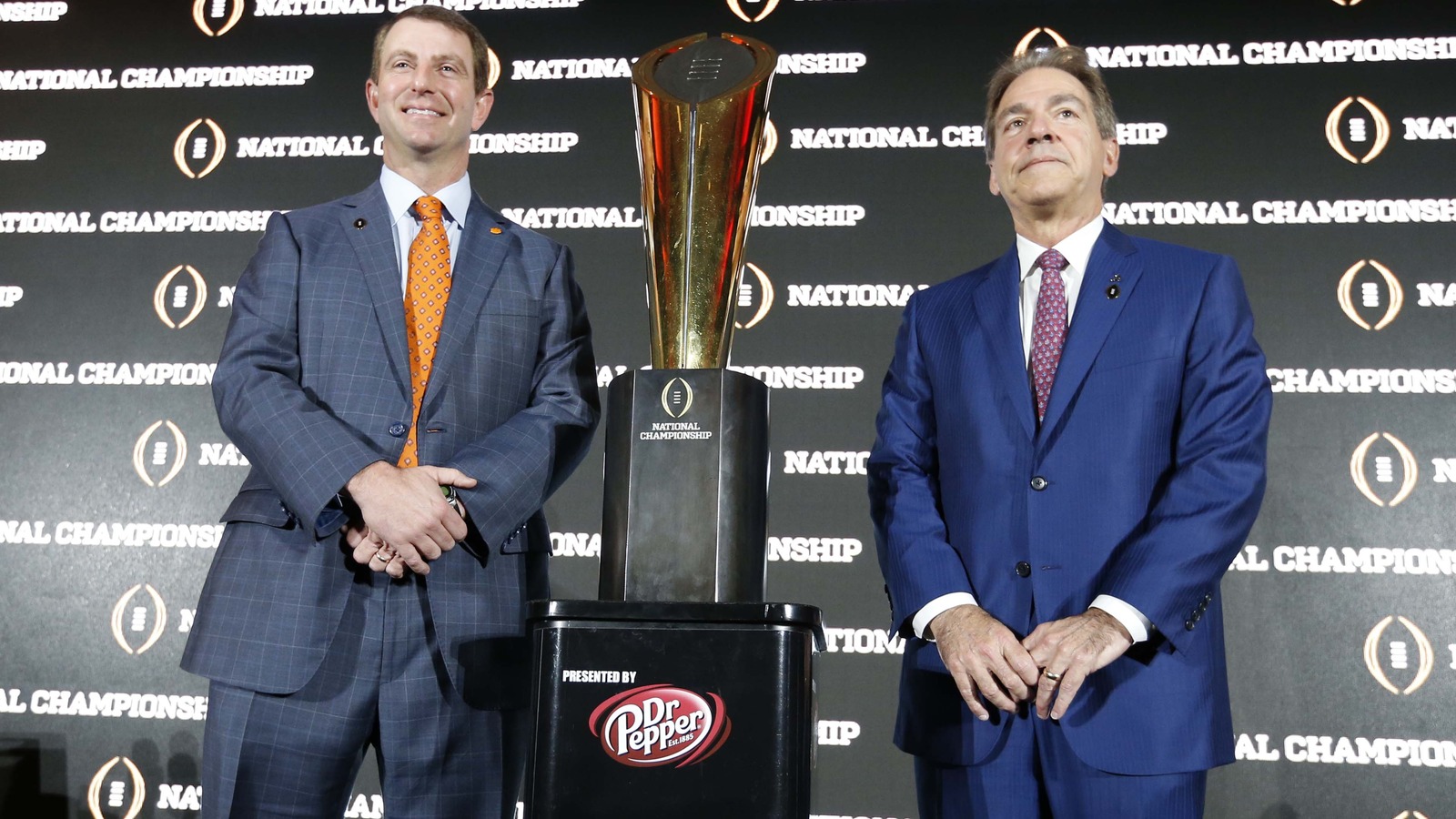 Basically, Saban lost twice in one night to Swinney.
Kim Klement-USA TODAY Sports
Clemson and Alabama have faced off in the last two National Championship games, with Nick Saban's Crimson Tide getting the better of Dabo Swinney's Tigers the first time. The tables turned in 2017, with Clemson winning, and in addition to the big prize, Swinney got free dinner out of it.
That dinner came courtesy of Saban, who has bet on the last two title games with Swinney.
"Absolutely. He paid up on my spring break," Swinney told College Sports Today on Friday, via Nikki Hood of TigerNet. "His spring break was the week before mine. He got me a really nice dinner certificate to a place called Temptation down in Florida. We had a great – probably the best meal I've ever had. It was awesome. We had appetizers and dessert to go with it. It was great. I did have to dip into my pocket for 50 bucks, though, but it was all good."
Swinney had nothing but good things to say about his Alabama counterpart.
"He was very gracious in that regard. With our fundraiser we're having tonight, he actually signed a couple of helmets for me," Swinney said. "I really appreciate the graciousness of Coach Saban. I've seen him a couple of times and will be with him later on in May. He's been nothing but very gracious. It was a heck of a football game. It was just like last year. A couple of plays like it was last year. Let's do it again next year. Rubber match, let's go."
Saban may look grumpy a lot, but the guy does have a softer side. This is further evidence of it.
MORE FROM YARDBARKER
College Football News

Delivered to your inbox

You'll also receive Yardbarker's daily Top 10, featuring the best sports stories from around the web. Customize your newsletter to get articles on your favorite sports and teams. And the best part? It's free!