Found November 11, 2012 on isportsweb.com:
Notre Dame football head coach Brian Kelly insisted that his team had no idea that just a little earlier last night Texas A&M just beat the number one team in the nation, Alabama 29-24. Whether or not they were really unaware we may never know, but the Irish's performance against the Eagles in the Holy War XXII sure seemed like the team didn't feel the need to give their all. Don't misunderstand me, a win is a win. This late in the season, any time you stand at 10-0 and a likely #3 ranking in the BCS, it's a good win. But the Irish looked uninspired in downing Boston College 21-6. The defense in particular looked sluggish – again – in a game they should have been more dominant in. Don't let the final score deceive you; the Eagles were able to move the ball more on the vaunted Irish D than they should have been able to, converting tough first downs and fooling the coaching staff with roll out screen passes. Luckily they maintained the break-don't-bend philosophy yet again, and only gave up the 6 points. The offense looked good in the first half. Quarterback Everett Golson completed 66.7% of his passes for 200 yards, two touchdowns, with another one the ground. It was especially gratifying to see Golson get the ball the senior tight end Tyler Eifert this game more than he has all season, grabbing 6 passes for 67 yards. Theo Riddick was the team's leading rusher with 104 yards, but had two drive killing fumbles in the game. And the unit as a whole was able to convert 11 of 14 first down attempts. But now is the time to go full throttle. You cannot win games to teams .500 or worse this late in the season in the championship hunt and look just above average. As much as I hate to say it, the Irish need to go full-out Oregon on the remaining two games blowing out Wake Forest and USC (at USC) to have a chance at leap-frogging the Ducks or Kansas State, who figure to be the nos. 1 and 2 after the BCS standings are released tonight. And quite honestly that doesn't look it's going to happen at this point. And if they have another so-so performance against a 5-5 Demon Deacon team, don't be shocked if an SEC team – Georgia, Alabama (depending on where they drop to this week) or even LSU moves ahead of them in the BCS. The only other slim hope (assuming the Irish still win their last two games) is if either of the two teams ahead of them stumbles. But there's a reason I said "slim." KSU's remaining games are 4-5 Baylor, and then Texas who is ranked but has been a disappointment all season. Oregon's schedule appears a tad bit tougher, but with the number of points Chip Kelly's team is throwing up on the scoreboard, #14 Stanford (who the Irish beat earleir this year in an overtime thriller) and #11 Oregon State (who just lost to Stanford last night) may not be much of a fight after all. If the right chips fall, and Notre Dame gets just a little bit more of the "luck 'o the Irish" a Championship Game is possible. It's just not likely. Follow me on Twitter @expertfan1  
Original Story:
http://feedproxy.google.com/~r/isport...
THE BACKYARD
BEST OF MAXIM
RELATED ARTICLES
According to Dennis Dodd of CBS Sports, former Oregon coach Mike Bellotti says that it's "inevitable" that current Ducks head coach Chip Kelly will one day leave to coach in the NFL. "There are nine chances in 10 if he wins out [this season] he's gone," said another source who did not want to be identified. Kelly showed interest in coaching the Buccaneers last offseason...
Game Day Goulash Gone Daddy Gone? Pro Football Talk discusses rumors that Oregon head football coach Chip Kelly might bolt to the NFL at the end of the 2012 college football season. Iron Nittany Lion Zion. Mike Gross profiles Penn State starting quarterback Matt McGloin, who's managed to make a name for himself among the Big Ten's "elite" QB's despite...
Projections for rankings beginning week 12:Projected BCS Top Five Kansas State Oregon Notre Dame Georgia Texas A&M* *On the BCS and Coaches Poll top five bubble: Texas A&M, Alabama, Florida, and LSU. Projected USA Today Coaches Poll Top Four Oregon Kansas State Notre Dame Georgia Projected AP Top Five Oregon Kansas State Notre Dame Georgia Ohio State ...
Former Oregon Ducks head coach Mike Bellotti mentioned he believes Chip Kelly will end up coaching in the NFL in the near future. "It's just inevitable that he will eventually be in the NFL," said Bellotti, per Dennis Dodd of CBS. "Chip is one of the ultimate competitors and he sees that. It actually surprised me he changed his mind [with the Bucs] last year. Whether they...
There figures to be a number of head coaches fired at the conclusion of the NFL regular season this season. This is the time of the season when coaching names are thrown out there as possibilities for new coaching jobs. Despite the usual suspects, Oregon's head coach Chip Kelly will likely be a name in the mix this season.CBS Sports reports that former Oregon coach Mike Bellotti...
According to ESPN's Adam Schefter, NFL teams that might be looking for a new head coach at the end of this season are trying to figure out how they can hire Oregon head coach Chip Kelly. If Oregon wins this year's National Championship, I don't think there's any question that Kelly will split for the NFL.  If not he'll likely be looking for the "perfect" situation...
The Oregon Ducks are 9-0 this season, ranked No. 2, and looking for a second BCS title game berth in three years.  The man leading the team is head coach Chip Kelly, who maybe looking for a new challenge in the NFL. Former Oregon coach Mike Bellotti told CBSSports.com that he believes Kelly will soon be leaving for the NFL. "It's just inevitable that he will eventually be...
College Football News

Delivered to your inbox

You'll also receive Yardbarker's daily Top 10, featuring the best sports stories from around the web. Customize your newsletter to get articles on your favorite sports and teams. And the best part? It's free!
THE COLLEGE FOOTBALL HOT 10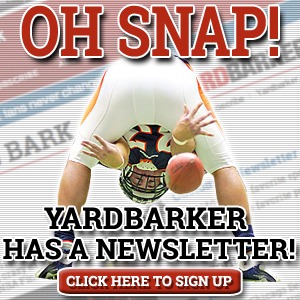 Latest Rumors
Best of Yardbarker

Today's Best Stuff

For Bloggers

Join the Yardbarker Network for more promotion, traffic, and money.

Company Info

Help

What is Yardbarker?

Yardbarker is the largest network of sports blogs and pro athlete blogs on the web. This site is the hub of the Yardbarker Network, where our editors and algorithms curate the best sports content from our network and beyond.