Found November 25, 2012 on The Daily Rival:
So, let me get this straight… USC — specifically AD Pat Haden — is bringing back next season a football coach who, despite the wealth of talent the storied SC football program attracts, has accumulated a decidedly mediocre 7-5 record this season; who, even with the enviable offensive weapons he has at his disposal, couldn't figure out how to get in the end zone in four chances from the goal line when it mattered the most; who, earlier in the quarter, took a crucial potential touchdown off the board by calling a late timeout just before the play clock expired? Oh. As easy as Lane Kiffin makes it for us to make fun of him and all his sad faces, it's even easier to see Kiffin is not the right guy to helm the USC football team, nor arguably any other football team (full disclosure: I'm a Raiders fan who still resents Kiffin's abortion of a tenure in charge in Oakland for one-and-a-quarter ugly seasons). It's not like impressive recruiting is something Kiffin brings to the table, either. USC is a school whose name alone recruits for itself. The school does just fine on its own. What Kiffin brings to the table is horrible decision making. From bad play calling to poor game management to unfortunate handling of the media. It's all across the board. That was fairly evident tonight. It's been fairly evident all season long. It was evident when he made that regrettable "singing Rocky Top all night long after beating Florida" gaffe. (Florida went on to beat the Vols in Kiffin's only year in Knoxville, duh.) And it sure as hell was evident when he once sent out Sebastian Janikowski out for a 76-yard (!!!) field goal. Bad decision making has followed Kiffin throughout his head coaching career. And he's done nothing to show any of this will change any time soon. These are the sort of things that over time make all those coveted blue-chip recruits shun your illustrious program (remember Miami?). Reputation is everything. Pat Haden can tie his name to Kiffin all he wants, but he better be prepared to go down with him.
Original Story:
http://thedailyrival.com/2012/11/24/r...
THE BACKYARD
BEST OF MAXIM
RELATED ARTICLES
Lane Kiffin could not escape the noise. After USCs 22-13 loss to Notre Dame on Saturday night, cheers and other boisterous shouts from the Fighting Irish locker room reverberated through the walls during Kiffin's postgame news conference. Later, when Kiffin was readying to leave the stadium in his car, Notre Dames massive equipment truck sat nearby idling and rumbling in the...
USC Coach Lane Kiffin talks with the media following the Trojans 22-13 loss to top-ranked Notre Dame.
Notre Dame is back on top of the football world, and they can thanks some friendly calls from the officials in the Pitt and Stanford games for helping them get there. They can also thank USC boy wonder Lane Kiffin for his awful playcalling and clock management at the end of Saturday's game for a major assist. The Trojans were down 22-13 with 5:58 left in the game and got a great...
• Warren Sapp pissed off at child support payments • LOL: 'Fireman Ed' quits as Jets' lead superfan • GIF: Colts cheerleaders getting heads shaved • Florida St. chick's face paint fail • Lane Kiffin Wikipedia graffiti; USC fired him? • Hottest Spanish TV Presenters Of 2012 • Today's Christmas Gift: Rosie Jones handbras • Hottest Argentinian Model OTD: Jorgelina...
Welcome to the Fallout Sealing the deal? Texas A&M starting quarterback Johnny Manziel made his closing arguments for winning the Heisman Trophy in the Aggies' 59-29 win over Missouri. (The Bryan-CollegeStation Eagle) Raising Johnny Football.  Tim Rohan looks at Johnny Manziel's parents, and how they raised their son, the current leader in the race for the Heisman...
There's more than a place in this year's BCS Championship on the line at the LA Coliseum this weekend. This is rivalry weekend. There's pride on the line. Make no mistake about it, USC would love nothing more than to upset bitter rivals Notre Dame on Saturday night and knock the Fighting Irish out of the championship picture, a victory that would not just make up for a disappointing...
When the Irish made their way into Los Angeles for their matchup with the Trojans on Saturday, you knew the Irish faithful would travel well to see their team have a shot at making it to Miami to play in the title game. What you maybe didn't know, is they also stayed home in amazing fashion in front of their TV's. The game which showed off the lack of coaching skills by Lane...
Game Day Goulash Staying Alive. LSU keeps its hopes for both the SEC title and the BCS title by beating Arkansas 20-13. Now Alabama has to do is lose to Auburn. Don't hold your breath. (ESPN) Huskers pierce Hawkeyes. Nebraska tramples Iowa 13-7 on its way to solidifying the Big Ten Legends Division title. (The Omaha World-Herald) Let's start a riot. West Virginia...
College Football News

Delivered to your inbox

You'll also receive Yardbarker's daily Top 10, featuring the best sports stories from around the web. Customize your newsletter to get articles on your favorite sports and teams. And the best part? It's free!
THE COLLEGE FOOTBALL HOT 10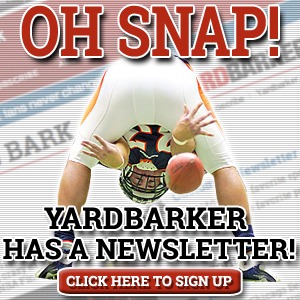 Latest Rumors
Best of Yardbarker

Today's Best Stuff

For Bloggers

Join the Yardbarker Network for more promotion, traffic, and money.

Company Info

Help

What is Yardbarker?

Yardbarker is the largest network of sports blogs and pro athlete blogs on the web. This site is the hub of the Yardbarker Network, where our editors and algorithms curate the best sports content from our network and beyond.