Found December 01, 2012 on Fox Sports South:
ATLANTA The dry erase board lie right where Kenarious Gates kicked it: Face down, right next to the helmet he discarded and the chair he knocked over. That board, along with its clones littered around Georgia's sideline, has become the calling card of Georgia victories this season, with written statements being held up for cameras and fans alike. It might have been the "Grown Man Football" board the Bulldogs held up after introducing Missouri to the SEC. The team has sent all sorts of messages, some mixed, in 2012. But Gates and his teammates were not on the sideline writing. They were back on the field desperately searching for an SEC Championship win against the No. 2 Alabama Crimson Tide. It would not come. In the aftermath of Alabama's 32-28 win in the Georgia Dome Saturday evening to claim the conference championship, all of Georgia's words and emotions were left on the field. The board remained still; no messages were written. A student manager later piled it onto others, a blank canvas left for dead in a sea of confetti and streamers. Few words follow defeat. But Gates and his teammates received one final gasp against Nick Saban's vaunted defense and stood primed to capitalize on an overturned interception ruling for his quarterback, Aaron Murray. The discarded materials lay motionless on the sideline. Georgia's entire team crowded the thick white sideline boundary. With 45 seconds remaining, the offense had one last chance against the nation's top-ranked defense needing 72 yards and a touchdown. The ball was in Murray's hands. For the redshirt junior signal-caller and the Bulldogs it must have felt fitting in that moment, after all the doubt and negativity surrounding Georgia's place in the national championship picture. Murray has been labeled a talented quarterback who comes up short in the big moments. His coach, Mark Richt, has led his team to back-to-back SEC title game appearances and still cannot rekindle the magic of 2005, his last conference title. In those last 45 seconds, when Murray drove the Bulldogs to the eight-yard line, those shortchanged memories were distant. Georgia was on the doorstep of the BCS Championship game. Five points shy. Ten seconds remaining. Clock ticking. "Spiking the ball takes time. We had plenty of time to call the play, so we called the play and we were taking the goal was to take a shot at their back right end of the end zone," Richt said. The route that could have provided a coach's career's worth of validation was ran by sophomore receiver Malcolm Mitchell on a fade route. The pass was tipped. When Georgia wideout Chris Conley, the unintended target, unassumingly caught the pass, he was tackled short of the endzone. Time expired. Alabama defenders sprinted toward their sidelines just as the conclusion became apparent to the red- and black-clad fans looming over the endzone Georgia had just fallen five yards shy of. Murray took off his helmet, threw his hands up in disbelief and told Conley he should have knocked the ball to the turf. For his part, Conley kneeled in the front corner of the endzone he could not reach for two minutes, overcome and alone. "It's tough, I mean, maybe the guy misses the tackle and Chris waltzes in," wide receiver Taverres King said of Conley's game-ending predicament. "What did you say? Five yards short? Oh, that's crazy, man." And so it continues for the Georgia program, a top-caliber program that continues to fall short in a league where there is no room for error. The Bulldogs played three ranked teams this season, it lost to two of them. Murray, in particular, has still only beaten one team in his career that finished (or will finish) ranked in the final AP poll; he has not performed up to his potential in many of those games, either. Negatives are easier to recall. Such a repetitive trend would seem to point toward necessary change, but Richt is a man relishing in consistency. He has matched wits with championship-winning coaches and elite teams in this venue the past two seasons, each time falling short. But most programs nationally would kill for similar opportunities, and Richt would still fight for his kids. "I want to say something else," the 11th-year head coach said in response to a big-game losses question, "If anybody thinks our guys didn't play their tail off and Aaron Murray didn't play his tail off, they are crazy. That's unbelievable somebody would even bring that up." This loss to Alabama was not 2011-esque, when Georgia fell to top teams in rather unspectacular fashion: Boise State and LSU outclassed the Bulldogs in the Georgia Dome while Michigan State pulled off an overwhelming second-half comeback in the Outback Bowl. Those losses signaled a inherent problem. This one? Only heartache, an empty look in the player's eyes as they slowly walked off the field. They fought for it and would have earned the win "It's tough," Murray repeated over and over after the loss. but it just wasn't their night. On a night that saw an SEC Championship record six lead changes, the Bulldogs held the lead as late as the fourth quarter with four minutes remaining, until Alabama receiver Amari Cooper got loose for a 45-yard touchdown reception. Murray, who had blocked off the media this week to focus on Alabama and academics, was not spectacular but did not shy away from the key moments: He finished with 18-of-33 with 265 yards and a score after completing five passes on the final drive to give Georgia a chance. In the process, his team took the preeminent program in college football down to the wire. When the team finally made it from the field through the tunnel to the locker room, the space was quiet. Dead silent. King said it was the quietest locker room of his career: No bowl pronouncements, no consolation, no moral victories. "I told them I was disappointed but I wasn't disappointed in them. That was the main thing," said Richt, who has led the program to five SEC title games, winning in 2002 and 2005. "I told them they were warriors in there. ... You know, it was a knock-down, drag-out fight and everybody swung to the end. We had a chance at the end. We just didn't get it done." Falling is often described as resembling peace, but it appeared to be more familiar with forlorn tranquility Saturday night around Georgia's locker room. They said all the right things, but all the wrong tears had already been shed. It happened again. Another conference championship lost. This one was more competitive, but the message was the same: The Bulldogs were runners-up, and it hurt like hell. "I shook every man's hand in there and told them I was proud of him; or if his head was in his hands, I just rubbed his head and told him I loved him." As Richt, flanked by security guards, slowly walked around the endzone his team fell short of one last time, deliberately clapping and thanking fans, confetti and streamers dyed in the colors of the conference he cannot seem to solve blue, yellow and white, the SEC standard stuck to his tennis shoes. He could not seem to shake them.
Original Story:
http://www.foxsportssouth.com/12/01/1...
THE BACKYARD
BEST OF MAXIM
RELATED ARTICLES
DAWG WITH A BARK
Mark Richt didn't like a reporter's question about him losing big games, and gave him a hard time about it in a back-and-forth.
It was the most exciting college football game of the year and Alabama-Georgia in the SEC Championship certainly lived up to expectations.The Championship game came down to the wire, and with Georgia needing a touchdown to win, they came up just short four yards short. Electing not to spike the ball with 15 seconds remaining, Richt drew up a fade for Aaron Murray to throw. The ball...
((HT: FoxSports/Fansided.com)) The Georgia Bulldogs are 2-10 against top 10 teams under Mark Richt- which is a question in and of itself that has to be taken on a case-by-case basis... In the Ess-E-Cee Championship game, the HQ thinks it came down to simply the depth of the Alabama running game and beef up front. Don't misunderstand... Georgia played their ass off, but...
Alabama's Nick Saban and Georgia's Mark Richt spoke to reporters Friday afternoon before the SEC Championship game Saturday. Afterwards, the Crimson Tide took to the field for a short practice.
The Capital One Bowl participants were officially announced during Sunday night's teleconference. Hear what Nebraska head coach Bo Pelini and Georgia's Mark Richt had to say during the call
The national championship could be decided with a dream matchup between two of the nation's most storied programs: Notre Dame vs. Alabama. Of course, Georgia might have something to say about that. The third-ranked Bulldogs are eager to wake up some echoes of their own. Coach Mark Richt's team takes on No. 2 Alabama in a Southeastern Conference title game that essentially...
Was the outcome really in doubt? Anyone who actually believed that the Georgia Bulldogs were going to beat the Alabama Crimson Tide in Saturday's SEC Championship game knows absolutely nothing about football.I know that's a pretty harsh assessment but truthfully, what has Mark Richt really accomplished during his tenure at UGA?CLICK HERE TO READ MORE »
Game Day Goulash Saban vs. Richt. Mark Weiser compares Alabama head football coach Nich Saban to his SEC title game opposite, Georgia HC Mark Richt. (The Athens Banner-Herald) Marcus Lattimore rumors. Garnet and Black Attack looks at rumors that South Carolina running back Marcus Lattimore will enter the 2013 NFL Draft. Run for the Roses. Stanford beats UCLA in the...
With championship weekend complete, and all of this year's conference winners determined, the college football bowl season is beginning to look a bit more clear. As fans who were surveyed in the latest Discover Fan Loyalty Poll already told you heading into this past weekend, the Notre Dame Fighting Irish and Alabama Crimson Tide stood the best chance to win this season's BCS...
In the latest results of the Discover Fan Loyalty Poll, college football fans across America felt as if the Notre Dame Fighting Irish and Alabama Crimson Tide were not only the best two teams in the country, but also that they had the best chance of any two teams of winning this season's BCS Championship. With the Fighting Irish having already secured a spot playing for the national...
College Football News

Delivered to your inbox

You'll also receive Yardbarker's daily Top 10, featuring the best sports stories from around the web. Customize your newsletter to get articles on your favorite sports and teams. And the best part? It's free!
THE COLLEGE FOOTBALL HOT 10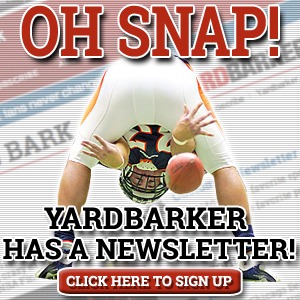 Latest Rumors
The Backyard

Today's Best Stuff

For Bloggers

Join the Yardbarker Network for more promotion, traffic, and money.

Company Info

Help

What is Yardbarker?

Yardbarker is the largest network of sports blogs and pro athlete blogs on the web. This site is the hub of the Yardbarker Network, where our editors and algorithms curate the best sports content from our network and beyond.