Found October 06, 2012 on Crystal Ball Run:
There's no way to sugarcoat it: South Carolina's 35-7 win over Georgia on Saturday night wasn't just a one-sided beat down, but one of the most emphatic wins any college football team has had during the 2012 season. From the first snap of the game until the final whistle, the Gamecocks were bigger, stronger, faster and tougher, taking a 21-0 lead after a few short minutes, and turning the second half into a mere formality.
In the process, South Carolina proved one thing beyond a reasonable doubt: They are a legitimate BCS National Championship contender. Like most places in the SEC, South Carolina's dominance started on the defensive line, a place where Georgia had absolutely no answers all night long. Aaron Murray admitted to having a few sleepless nights thinking about Jadaveon Clowney, Devin Taylor and the rest of South Carolina's front seven this week, and unfortunately for the Georgia quarterback, perception proved to be reality Saturday.
Actually, let's take that back, since in no reality did anyone outside Columbia, SC expect the Gamecocks defensive front to put on a performance like they did Saturday night.
Led by Clowney (who at times was triple-teamed by Georgia), South Carolina sacked Murray twice and overwhelmed him in the pocket all night, to the point that even when Murray had time to think and throw he often times rushed the ball out to his receivers instead. In the process, the Gamecocks held a Georgia offense that was averaging 536 yards entering Saturday night's game to just 224, with nearly a third of those yards coming on the Dawgs final drive, when the game was well out of reach. Georgia also got their only touchdown on Saturday night on the final drive, after averaging 48 points a game prior to this one.
Yes, South Carolina's defense was that good.
As for the offense, well, South Carolina was nearly as superb, picking up big yards all night against a Dawgs defense whose individual parts continue to be much more talented than their sum. Marcus Lattimore had a workman like 109 yards on the ground, while Connor Shaw threw for 162 yards on just six completions while adding 78 more rushing. Safe to say it was another disappointing night for Georgia, which up to this point in the season had won games despite their defense, not because of it. They weren't nearly as lucky Saturday night against South Carolina, which has now beaten Georgia three times in a row.
Speaking of the Gamecocks, the fun is just now beginning for South Carolina and head coach Steve Spurrier.
That's because while Saturday night may have proven to be amongst the most defining, signature, and important wins of Spurrier's time at South Carolina (likely trailing only a 2010 win against Alabama), the tough part is just getting started. South Carolina's next two games will be back-to-back showdowns with LSU and Florida, both coming on the road. As effortlessly as we're talking about the Gamecocks as BCS title contenders tonight, the Gamecocks could not only be out of the National Championship mix two weeks from now, but conference title chase too.
Still, those games are yet to be played, and as easy as it is to look ahead to the future, it's time to focus now on the present.  And what the present told us tonight is this: South Carolina is as talented, dangerous and fearsome as any team in college football.
The scary thing is, the best might be yet to come.  
For all his opinion, analysis and insight on college football, be sure to follow Aaron on Twitter @Aaron_Torres.  
Original Story:
http://www.bloguin.com/crystalballrun...
THE BACKYARD
BEST OF MAXIM
RELATED ARTICLES
THE WORST OF TIMES
As if getting trounced by South Carolina 35-7 wasn't bad enough for Aaron Murray, the UGA QB also had his home vandalized before finding out his father has cancer.
Georgia quarterback Aaron Murray played one of the worst games of his career Saturday against South Carolina, and perhaps there was a reason besides the Gamecocks' smothering defense. Murray's father, Dennis, was diagnosed with thyroid cancer prior to the game. "Probably the worst 12 hours of my life but I know my family will push through. Keep my dad in your prayers...
Georgia Bulldogs star quarterback Aaron Murray had one of the worst games in his college football career as his team was blown out by the South Carolina Gamecocks on Saturday night. He was sacked, he was hit and he was intercepted. Murray had perhaps the worst game of his life when his team needed him the most. In the end, however, this was nothing in comparison to the rest of the...
Never let it be said that Georgia fans take a bad loss on the chin.  Bulldog linebacker Christian Robinson reported on Twitter that the house that he shares with UGA quarterback Aaron Murray was "egged and rolled" following the Dawgs' devastating 35-7 loss to South Carolina.   Came to a house that was egged and rolled. Seems that people turn on you when you'...
Game Day Goulash End of an era.  Syracuse beats Pitt 14-13 in the schools' final game facing each other as Big East members. The next time the Orange and Panthers play one another, it will be as ACC members. (ESPN) Cougars defeat Aggies.  BYU beats Utah State 6-3. (The Deseret News) I Still Haven't Found What I'm Looking For.  Georgia starting quarterback...
Follow @Dan Vastahttp://www.thebiglead.com/index.php/2012/10/08/aaron-murray-found-out-his-father-had-cancer-had-house-vandalized-this-weekend-in-addition-to-south-carolina-loss/?source=top-modules1. SECThe best conference in America is still the SEC and it is not even that close these days. Heading into this past weekend there were five teams ranked in the top 10: Alabama, LSU,...
Kentucky seemingly had an answer for everything No. 13 Georgia could offer Saturday night. Everything, at least, that didn't come from the right arm of Bulldogs quarterback Aaron Murray. Kentucky (1-7, 0-5) led three times and started the fourth quarter with the ball and a chance for a signature win again but fell 29-24 as Georgia (6-1, 4-1) handed the Wildcats their sixth...
On Paper #5 Georgia vs. #6 South Carolina ESPN 7 PM EST The SEC East is looking for renewal of the Florida beast mode days just a few years ago. They have played in the shadow of the West for the last few years and Alabama may still be the best team but is the East back to being the best conference? The Bulldogs roll into South Carolina ready to make some news. All SEC Candidate...
On Saturday the Georgia Bulldogs took a beating against the South Carolina Gamecocks as they lost 35-7. With the loss, the Bulldogs now no longer control their own destiny in the SEC East. The loss had to be difficult for the players. Apparently, it was difficult for a handful of fans as well. Linebacker Christian Robinson claimed on his Twitter account a few hours after the...
Georgia linebacker Christian Robinson said on his Twitter account he returned from the Bulldogs' lopsided loss at South Carolina on Saturday night to find a house he shares with quarterback Aaron Murray "egged and rolled." Georgia was No. 5 before the 35-7 loss to South Carolina. The Bulldogs fell to No. 14 in The Associated Press Top 25 on Sunday. Robinson, a senior...
We're talking about what happens when you lose a game to a rival school... And the HQ means "really lose" Georgia LB Christian Robinson said on his Twitter account after UGA's loss at South Carolina: Came to a house that was egged and rolled. Seems that people turn on you when you're not perfect. Thought we were in this together. Robinson and QB...
SEC football is a different animal than most of college football, but that does not give fans an excuse for going too far in wins or losses. Georgia entered Saturday's match up with South Carolina ranked fifth in country but were hardly competitive as the No. 6 Gamecocks handed them a 35-7 shellacking. A road loss to a fellow SEC power should be looked on as forgivable, but a...
Gamecocks News

Delivered to your inbox

You'll also receive Yardbarker's daily Top 10, featuring the best sports stories from around the web. Customize your newsletter to get articles on your favorite sports and teams. And the best part? It's free!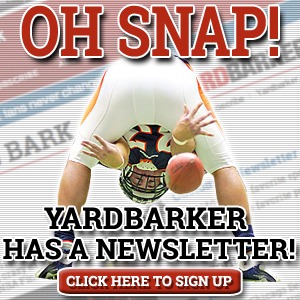 Latest Rumors
Best of Yardbarker

Today's Best Stuff

For Bloggers

Join the Yardbarker Network for more promotion, traffic, and money.

Company Info

Help

What is Yardbarker?

Yardbarker is the largest network of sports blogs and pro athlete blogs on the web. This site is the hub of the Yardbarker Network, where our editors and algorithms curate the best sports content from our network and beyond.