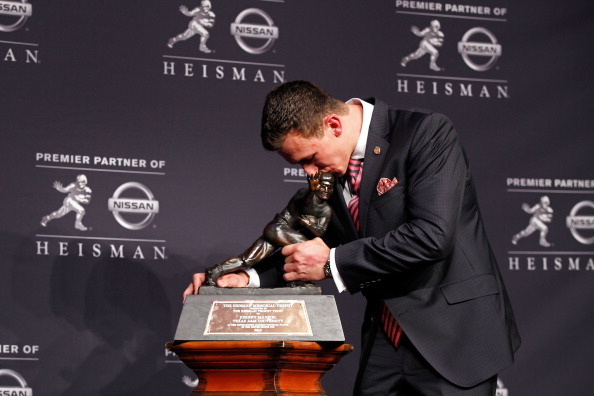 Texas A&M wants you to believe they the value the financial contribution of Johnny Manziel winning the Hesiman to $20,000. A Bloomberg report suggests that A&M says that they made $20,000 that boosters paid to sit next to Johnny, plus a small piece of jersey sales: "People draw the conclusion that we make millions from Johnny winning the Heisman," said Aggies athletic director Eric Hyman. "I'd say we've gotten more financial benefit from joining what's widely perceived as the best football conference in the country and having a winning program." "When someone makes the leap that his award has generated millions for the school, the public assumes it must be," Carter said. "When you peel it back and look underneath, you realize most of these revenue streams are fixed." This is 100% ridiculous and false. This sounds like another way for a college to say it's really the schools and conferences that produce the cash, not the players as a way to continue to not pay them. Even if you say A&M Foundation president Ed Davis is lying about $740 million being attributed to Johnny raising the profile of the school, I will never believe they only made $20K. Otherwise, they wouldn't be selling the grass he ran on, or sending him on a private jet to meet boosters. Why would A&M even bring this up? It seems to me they want to just capitalize more off Johnny before he bolts from College Station.
Read the rest of this story...
MORE FROM YARDBARKER
College Football News

Delivered to your inbox

You'll also receive Yardbarker's daily Top 10, featuring the best sports stories from around the web. Customize your newsletter to get articles on your favorite sports and teams. And the best part? It's free!