Found October 21, 2011 on The Hot Glove:
There is an ABUNDANCE of pictures of crying Oklahoma fans on the internet.
.
WHAT WE LEARNED LAST WEEK
Michigan State? Dirty *************.
Ohio State? One pass?  You completed one stinking pass?
Michigan? I'm guessing this is the start of a trend, not an aberration.  I even used a big word for you!
Penn State? Tough fought wins over Indiana and Purdue do not instill confidence.
Wisconsin? Well, we didn't really learn anything.  Except that Black Jesus has some hands.
Northwestern? Remember that whole 'Persa for Heisman' thing?  Yeah, that was cute.
.
THE MOUNTAIN CREEK GAME OF THE WEEK
#4 WISCONSIN @ #16 MICHIGAN STATE, 7:00 PM, ESPN
Huge game.  From UW's POV, any chance at a special season requires going undefeated – and this is most likely their biggest test.  East Lansing has been a town of nightmares for Bucky, including last year's only regular season defeat.  I'm expecting another healthy balance of the Montee Ball Show and Black Jesus, which should prove to be too much for MSU's Gholston-less defense.
Meanwhile, MSU is a bunch of thugs:
.

.

.
Eat ****, Sparty.
.
THE "I WOULDN'T WATCH EVEN IF I WERE AN ALUM" GAME…
INDIANA @ IOWA

This:
.
.
RANDOM SONG THAT I'M DIGGING THIS WEEK
Foo Fighters– Let It Die
.

.
I'm a big fan of songs that start off real slow and just crescendo your face off.  'Let It Die' is masterful in that manner.
Although, I gotta be honest, it's IMPOSSIBLE to find an appropriate volume to listen to this song at.  Jack it up because it's real quiet at the beginning and the first distorted chords will melt your face.  You're better off just blasting the whole damn thing and not giving a ****.
.
THE BRENT MUSBURGER "GETTIN' SAUCED IN THE BOOTH" DRINK OF THE WEEK
Domestic beers and rail drinks, AKA your standard 'all you can drink' deal

A dangerous game to play on gameday, for sure, but I think the rewards far outweigh the risks.  Getting all the domestic beer, chicken wings and quesadillas you can handle for $20 is the IDEAL way to enjoy a Saturday.  I'm always torn on these deals between getting beer or liquor.  I love the idea of getting smashed quickly by housing vodka tonics, but the weapon grade rubbing alcohol vodka they use is kinda a turnoff.  I think the best strategy is always to pound some beers and then ease your way into the liquor.  FYI, I have a drinking problem.
.
QUICK HITTERS ON THE REST OF THE LEAGUE
@23 ILLINOIS @ PURDUE – If Purdue completes 2 passes, they should win by 50, right?  That's just math.
#13 NEBRASKA @ MINNESOTA – Uh oh, UPSET ALERT!  Nah, I'm just ******' with ya.  Minnesota is the District 5 of college football, and Gordon Bombay ain't walkin' through that door.
#21 PENN STATE @ NORTHWESTERN – I mean, I have to root for Penn State.  We all know that ranking is smoke and mirrors, but for the love of UW's SOS, keep winning PSU!
Original Story:
http://www.thehotglove.com/2011/10/th...
THE BACKYARD
BEST OF MAXIM
College Football News

Delivered to your inbox

You'll also receive Yardbarker's daily Top 10, featuring the best sports stories from around the web. Customize your newsletter to get articles on your favorite sports and teams. And the best part? It's free!
THE COLLEGE FOOTBALL HOT 10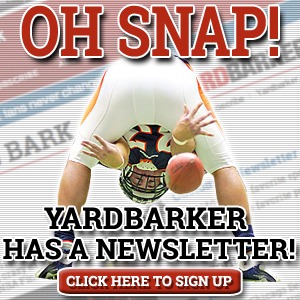 Latest Rumors
Best of Yardbarker

Today's Best Stuff

For Bloggers

Join the Yardbarker Network for more promotion, traffic, and money.

Company Info

Help

What is Yardbarker?

Yardbarker is the largest network of sports blogs and pro athlete blogs on the web. This site is the hub of the Yardbarker Network, where our editors and algorithms curate the best sports content from our network and beyond.