Found August 16, 2013 on CaneInsider:
The Miami Hurricanes, in preparation for their season opening game against Florida Atlantic University on August 30th, hold their second preseason intra-squad scrimmage this afternoon.  The predominant focus will be on the defense, who will certainly be under the microscope.  In particular, how they tackle will receive particular emphasis. Head coach Al Golden said Thursday that "we've got to get the tackling squared away fast because that will rear its head in the opening, there's no question. And you don't want to be a day late on that. A bad tackling performance in an opener can destroy you so we're trying to take care of that." Defensive coordinator Mark D'Onofrio also expressed concern about open field tackling, and expressed area for improvement but added  that "pursuit of the ball" is also something he's hoping his defense will do more in today's scrimmage. Today's scrimmage will have more of a game like feel. "What we'll try to do is have orange on one side and white on the other, " Coach Golden said yesterday.  "Again, there's a sense of comfort if you just go offense and defense because if I'm the second team guard I'm looking at Linder, I'm just waiting for when coach calls me. When they're on that side, and you've got a first until on each side the three's got to be ready to go. Guys come out and they've got to go in. They've got to pay attention. But I think the biggest thing is that they learn how to go on and off the field with the sub patterns and it makes them think fast so it's important for us." Offensively the Hurricanes feel pretty good about things with quarterback Stephen Morris standing out along with running back Duke Johnson.  Both Morris and Johnson emphasized their continued growth on offense in today's affair but coach Golden wants more production today. "There's no excuse for the completion percentage to be the way it is with the experience that we have, with the protection that we're getting, and the type of Quarterback that we have leading us there's no excuse for that. So that was disappointing and we've got to get it fixed. But as I said, I'm worried about everything right now. We have a long way to go as a team and there's a lot of practices between now and game week." For Duke Johnson, the presumptive starter and pre-season award candidate for pretty much all offensive awards still wants to compete during today's scrimmage. "The first scrimmage was just to get them warmed up to what we're going to be doing and how things are working and the other scrimmage is going out there and fighting for your position." Morris' focus for improvement today will be consistency. "We definitely need to improve on our completion percentage. I think that the best way to do that is just take what the defense is giving you and not force anything." The Hurricanes will also host class of 2015 recruits at "Junior Day" during today's scrimmage.  Notable attendees include defensive end Keivonnis 'Big Red' Davis and ATH Jovan Durante of Miami Jackson High School. On Saturday, Hurricanes fans will enjoy attending CanesFest, a yearly event that introduces the community to the Hurricanes and the team signs autographs for fans at the BankUnited Center where Hurricanes Hoops play.  It begins at 4 p.m. and runs until 7 p.m Saturday August 17th.  The event is free and free parking is available in the BankUnited Center lots. Doors will open at 4 p.m. and the football team is expected to sign autographs and meet fans from 5-7 p.m.   The post Today's Second Fall Scrimmage: Defense Under the Microscope appeared first on CaneInsider | Miami Hurricanes Athletics and Recruiting.
Original Story:
http://www.caneinsider.com/?p=8827&ut...
THE BACKYARD
BEST OF MAXIM
RELATED ARTICLES
The 2013 Miami Hurricanes have a ton of hype heading into the season. Quarterback Stephen Morris returns to lead an offense loaded with playmakers and an underrated offensive line. The Hurricanes have one of the top running backs in the country in Duke Johnson, a player who is a threat to score anytime he touches the ball. On defense they have speed as always and guys looking to...
We caught up with junior starting outside linebacker  Denzel Perryman about the tackling for the Miami Hurricane defense and the unit's prospects overall this season.   The post One-on-One: Denzel Perryman Jr. Linebacker appeared first on CaneInsider | Miami Hurricanes Athletics and Recruiting.
Watch as the Miami Hurricanes special teams unit gets work on kick off returns in practice during the 2013 Fall Camp.  Starters Duke Johnson and Phillip Dorsett have had a lot of success and are joined by newcomer Artie Burns out of Miami Northwestern High and sophomore cornerback Antonio Crawford.       The post An Inside Look: Kick off Return Practice Drills appeared...
I had a chance to go one-on-one with Miami's first-year tight ends coach on Wednesday morning. Hear what he has to say about guys like Clive Walford, Asante Cleveland, Beau Sandland, Standish Dobard and more.     The post The Beast With An Exclusive Interview With Canes Tight Ends Coach Larry Scott 8 14 13 appeared first on CaneInsider | Miami Hurricanes Athletics and Recruiting.
University of Miami freshman running back Gus Edwards is not currently practicing with the team. Read on for the latest update.
High school athletes everywhere continue to get bigger and stronger and 6-foot-6, 280 pounds, William Gordon,  is an example of just that. The rising junior at, Miami Norland Senior High the alma mater of current Hurricane Ereck Flowers, Gordon is a returning 2-year starter who's in charge of anchoring the Vikings' front line. Despite being under the radar, Gordon,  is...
Check out the pre-practice drills from the Miami Hurricanes offensive line as they practice their jabs and shuffles and the form they use when they pass block.  Assistant coach Art Kehoe is leading the drill, watch how the players respond to his coaching and look at their technique. The post Miami Fall Camp 2013: Early Work (Offensive Line)–Video appeared first on CaneInsider...
It's the day before the second pre-season scrimmage, a preparation tool that Al Golden says he and his staff will "cut the cord" on guys who will either make the two-deep on the Hurricane depth chart or not.   Today's practice was delayed due to inclement weather but resumed just 30 minutes behind schedule.  The big news of the day was the absence of Gus Edwards the true...
I am 100% certain that a QB will win this year's Heisman so start placing your bets on every RB and WR you can think of because I'm pretty much never right. Still, I watch this stuff closely enough that I have some outsider's grasp on the political machinations involved in the process and I'm reasonably sure I can handicap favorites in a safe approximation of real life. Since...
Hurricanes News

Delivered to your inbox

You'll also receive Yardbarker's daily Top 10, featuring the best sports stories from around the web. Customize your newsletter to get articles on your favorite sports and teams. And the best part? It's free!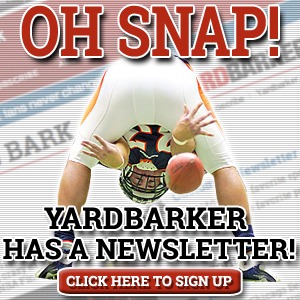 Latest Rumors
Best of Yardbarker

Today's Best Stuff

For Bloggers

Join the Yardbarker Network for more promotion, traffic, and money.

Company Info

Help

What is Yardbarker?

Yardbarker is the largest network of sports blogs and pro athlete blogs on the web. This site is the hub of the Yardbarker Network, where our editors and algorithms curate the best sports content from our network and beyond.