Found October 04, 2011 on The Victory Formation:
We waited five weeks, and we finally got it. A STACKED day of college football. Were all the games great? Not even close. In fact most were blowouts of epic proportions, but it was finally one of those Saturdays where you could crash on the couch and forget about life as game after game came on. What did we learn though?
Canteen. The lifeblood of the desert…Wisconsin certainly thrust themselves into the national picture Saturday. Yes, that wasn't really a "9th ranked" Nebraska team. I believe anyone with any sort of knowledge about college football knew that going in. It was a still a nationally televised game, and the Badgers worked them like a 42 year old hooker. Thus setting a pair of eyes on Madison for the remainder of the year.  The Badgers won't be without their challenges, 4 of their next 6 are on the road. Even in a really crappy Big Ten (need proof? Look at Illinois), that will be tough.
I just get the feeling that Wisconsin is a lot like the Ohio State teams that ended up being throttled in the National Championship games. They are good, but I can't believe that Russell Wilson's impact will change the result of a BCS game against LSU or Alabama.
Russell Wilson is really, really good.  This is probably the best team in the B1G, and they have a really good shot at getting to New Orleans.  After that, who knows.
Lets harp on this Big Ten, shall we…Slow down Wolverine Nation, Nebraska is just 0-1. You've beaten everyone bad and Notre Dame. Well, check that, San Diego State is decent, but it doesn't count. Your head coach rebuilt that program. My point is, don't go purchasing ticket to Indianapolis just yet, not unless you just want to say you're there.
I love how everyone is pointing out that they have held their last 3 opponents to 10 pts. That defense is playing better, but is still fraudy fraud fraudulent.  Notre Dame lit them up for over 500 yards of total offense pretty easily. Dan Persa is going to humiliate them.  Denard Robinson might do worse to the Wildcats, though.
This is gonna come off homerific, but it's true.  What exactly leads anyone to believe that Michigan is better than, say, Georgia Tech?  Sweet numbers on the helmets, though.
Look south, even southier…Alabama took everything LSU did the week before and gave it the ol' one up. The difference between the two teams right now? Alabama has a legit offensive threat night in and out. They responded to some early Gator momentum by smashing the Gators on both sides of the ball…on the road. Again, November 5th…
November 9th is my wedding anniversary.  What ya getting us?  Yes, I was married during football season. Bobby Williams was our coach. (Trey note: I screwed up the original date)
I know LSU has a better resume, but for my money, Alabama is hands down the best team in the nation.  November 5th is gonna be a slobberknocker, and I'm eagerly awaiting it.
The eastern portion of that southier part of the country…The SEC East wide open. Is Stephen Garcia doing sake bombs on the sidelines? How the hell can someone make so many mistakes in one game? How the hell can one REGRESS over 5 years at one institution? With Florida starting a true freshman in Death Valley Saturday, the ***** control their own destiny.
Hasn't Spurrier benched him a bunch already?  I don't see this lasting too long because Spurrier will realize that his team isn't that good no matter who is behind center.   Be creative and get the ball into Lattimore's hands 95% of the game.
Late news yesterday is that Garcia won't start this week.  I don't think Shaw is any better of an option, but he'll get the call.  I'm not sure this team is making it to Atlanta.
Just to note…the last time Florida started a true freshman in Death Valley? 2003. Chris Leak. LSU was ranked #1. Florida won 19-7. LSU went on to win the title.
So you're declaring the Tigers as this years National Champs?
Great story.
Yeah, it goes both ways in this situation…RG3 is human. You can and can't blame him for the loss to K-State. That was an ill advised pass. (Announcers love saying that word, ill advised) but bad defense just fell apart the last 8 or so minutes of the game. He's still a Heisman candidate, and has plenty of big games to ***** himself to the voters.
He is the best player in college football, right now. He should win the Heisman, but the TCU win is looking less fantastic than it did week 1.  He needs to light up Oklahoma and Texas.
[shrugs]
Danny Ford? Oh, Danny Ford…Okay, we get it Clemson, you're legitimately in the national conversation. You're running through the ACC. You've got three games left against teams with pulses. North Carolina, Georgia Tech, and South Carolina. How are you going to **** this up?
They will lose to GT.  But why are you antagonizing them? What is your deal with that? Any time a fan base gets excited about their team doing something they haven't been able to do for sometime, you **** on it.  You're a dick.  Enjoy Florida's free fall to the Humanitarian Bowl.
If they drop a conference game (big if), they'll likely get a rematch in Charlotte.  I think Saturday told us a lot more about Virginia Tech than it did about Clemson.
National Title Picture?…Just for the record I see 8 teams with a  legit shot at getting to New Orleans. LSU; Oklahoma; Alabama; Stanford; Boise State; Wisconsin; Oklahoma State; and Texas. That could all change in 2 weeks. It always does.
Texas? No.  Nothing legitimate about them and you will see this  weekend when the Sooners roll them.
Interesting situation.  It's either/or with LSU and Alabama, Boise State will need a minor miracle, and Bedlam will eliminate one of the Oklahoma schools.  Not buying Texas at all.  As for Stanford and Wisconsin, the former needs to be one of two unbeatens, while the latter might have the inside track to the Superdome.
Overrated/Underrated (as a title contender)
LSU
Neither, They're baby bear's porridge. That offense has got to find its stride though, or they could find themselves on the wrong side of a the score board against a team they shouldn't lose to.
Rated properly. Best defense I have seen in a couple years.  Just nasty up front.  The Hat will find a way to get enough points on the board.
Edging up on overrated.  November 5th will sort this out.
Oklahoma
Underrated. They're lost in this argument, for now. The Big 12 is the deepest conference in the country this year. Plenty of big games to front their wares.
Just right.  Getting screwed in the polls each week because they haven't started Big 12 play. That ends this week.
Properly rated.
Alabama
Overrated. Just kidding, but put some perspective on that Florida win.
Just right. I Hate Saban
Underrated?  Is that possible?  Probably not, but I hear a lot more about LSU than Alabama at this point.
Stanford
Overrated. I stayed up to watch these guys Saturday night/Sunday morning. They have issues on defense that need to be addressed soon. They have Colorado and Washington State the next two weeks, then the real ballers come into play. They'll drop one or two and be out of this thing.
Overrated. I love Andrew Luck. He's great. But Stanford is playing nobody and will play nobody in the Pac 12.  They will stumble.
Overrated.
Boise State
Just right. They haven't taken the turn for overrated just yet. Lets wait until top ranked teams start going down. The Toledo game is their second best win . Not a bad team, but that's not pushing you into the BCS Championship game either.
Sorry, they are still overrated for the discussion. They just don't play enough competition all season long.  Building a reputation of winning 1 big game early in the season each year doesn't count.  You need to have a few challenges each week and they just don't.
Overrated.  They'll remain a favorite among bloviating bloggers and creepy national writers that DM my sister on twitter, however.
Wisconsin
Underrated. I piss on Wisconsin every year, they're legit this year.
I guess they are rated right. But like I said, they are a step below Bammer and LSU.  They are right about where Oklahoma is
Underrated, but barely.  I like this team a lot.
Oklahoma State
T-Boone'd. I dunno what that means, but I know this team needs a lot of things to go their way to win a championship.
Justin Blackmon is great. They are not.
Overrated.  Won't win their conference.
Texas
I have no clue. Texas hasn't played anyone worth a damn, but they've managed to NOT keep those games close since Gilbert has gone down. I guess overrated if you held a shiv to my neck.
Dear Lord, no. Overrated
See my Oklahoma State comment.
Original Story:
http://www.thevictoryformation.com/20...
THE BACKYARD
BEST OF MAXIM
College Football News

Delivered to your inbox

You'll also receive Yardbarker's daily Top 10, featuring the best sports stories from around the web. Customize your newsletter to get articles on your favorite sports and teams. And the best part? It's free!
THE COLLEGE FOOTBALL HOT 10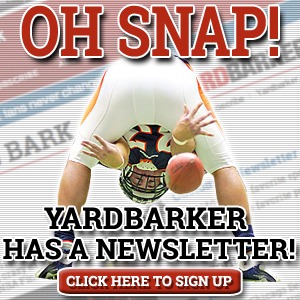 Latest Rumors
Best of Yardbarker

Today's Best Stuff

For Bloggers

Join the Yardbarker Network for more promotion, traffic, and money.

Company Info

Help

What is Yardbarker?

Yardbarker is the largest network of sports blogs and pro athlete blogs on the web. This site is the hub of the Yardbarker Network, where our editors and algorithms curate the best sports content from our network and beyond.