Found September 12, 2013 on HawkeyeNation.com:
Let's begin this mashup with some hoops recruiting: Tyler Ulis Announcing Friday. Are the #Hawkeyes still in Picture? His Father Tells Us (Free) – http://t.co/T68VJ0gEcm — Rob Howe (@HawkeyeInsider) September 11, 2013 In the item, Ty's father says that Ty still hasn't made up his mind on where he is going to go.  That's interesting, given he's said he will announce his college decision on Friday.  If you don't know where you are going, why would you create a self-imposed deadline since signing day is still about two-months away?  So I'm not buying that; I think they are probably 90% down the road with where they are going and are going to use a couple more days to sleep on it. As for the decision, the article says most analysts believe Ulis will pick Kentucky. I've felt all along it would be MSU given the family ties there, but this article from the Chicago Tribune thinks it's down to Kentucky and Iowa. The following is going to sound like blatant homerism, but it's what I think:  if he goes to Kentucky, he MIGHT start one year, being possibly next year and then he'll get recruited over.  There is a possibility that he could get recruited over THIS year and he is a four-year player and at 5-8, an NBA carer is going to be long odds.  At Iowa, he probably starts all four years, possibly makes the dance all four years and if healthy, he could leave a long lasting legacy.  I think there is very little chance of leaving a legacy at either Kentucky or Michigan State. Again, I realize how biased that reads, but you think about it then get back to me.  I'm not sitting here poking holes in the kid's talent; he has it otherwise he wouldn't have offers from Michigan State and Kentucky.  But both of those programs are still recruiting point guards.  Ulis is already a fall-back recruit for Kentucky as they lost one of the players they really wanted to SMU and they are still out actively recruiting other point guards and still may do so even if Ulis commits.  Ulis could come to Iowa and really make a big impact on the program. All that said, a player has to go where he wants to go and if that is Kentucky or MSU, I'll certainly wish the kid well and hope he has a great career.  Recruiting doesn't always make the most sense, or rather logic doesn't always apply.  Then again, my 'logic' here may be tainted with too much black and gold….but if Iowa lands Ulis, it will begin to open Chicago back up for the Hawkeyes, a road that has been mostly closed since the late 1980′s due to the Deon Thomas affair. On to Mark Weisman…Iowa's running back is ranked 2nd in the Big Ten in rushing after two games and he is 9th in the nation with 280 rushing yards and his 50 carries in two games is tied for 4th most in the nation.  50 carries in two games is an average of 25 per game, even I can do that math.  More math tells me that is a pace for 300 carries is 12 games this year.  Is that too many for Weisman?  Shonn Greene toted the ball 307 times for Iowa in 2008, but he was Iowa's featured back.  Jewell Hampton had a few carries per game but it was primarily a Shonn Greene affair, en route to his Doak Walker award winning season which was also one for the Iowa record books. Is Mark Weisman that kind of guy? He has a punishing running style and is one of the strongest players on the team, but I worry about his durability because of how he runs.  Greene took some hits too, but not to the percentage that Weisman does considering Weisman's running style is more vertical than was Greene's.  I also worry a bit about Weisman's fatigue factor making him more of a target.  I'm not saying Greene was in better shape, but there have been times during certain drives this year where Weisman's tounge has been wagging a bit on some carries given Iowa's uptempo offense — it's still odd typing that — and the number of plays per game they are running. In two games, Iowa has run 167 plays; 80 plays vs NIU and 87 against Missouri State.  The Ferentz era average plays per game is around 65, so we're talking about a huge increase in volume here.  Given Iowa's strength is going to come from the rushing game this year, if they average 75 plays per game for this season and they run the ball around 65% of the time, that's 49 carries per game.  The temptation will be there to keep feeding Weisman the ball 25-plus times per game.  That still leaves over 20 carries for everyone else, which includes Damon Bullock, Jordan Canzeri and LeShun Daniels.  I think Daniels is going to keep climbing the ladder and he'll wind up with second most carries this year, as long as he hangs on to the football.   There's room for Canzeri in the mix Kirk Ferentz said during his Wednesday night radio show that he could get more and more carries as the season goes along. I like Weisman and I love seeing his power displayed on the field.  I was chatting with a friend of mine that while I like Weisman and while there is a place for him to be sure, he has little home run potential and this offense needs someone in there who is a threat to take the ball to the house, just to take some pressure off of the passing game.  Weisman is never gonna be that guy and perhaps Iowa doesn't have that guy on the offense; they are what they are and grinding it out is just going to be a part of the process for these Hawkeyes.  There's little one can do about it right now and look for a healthy dose of Weisman this Saturday in Ames, which is the best thing to do given how the Cyclones gave up nearly 200 yards to UNI's running back two weeks ago. Weisman is going to get a lot of carries this year…I just hope he can make it to the finish line.  Even Shonn Greene was knocked out of a game during his record setting season. LINKS What are the keys to winning Cy-Hawk game? Fox Sports 1 analyst tells us | Hawk Central Chizik leaving ISU sent Valley grad Boffeli to Iowa | Hawk Central Ferentz radio — Room for all four RBs | TheGazette Iowa feels good about its King | TheGazette Renewing Iowa-Iowa State rivalry for '77 wasn't easy | TheGazette Ulis to make announcement Friday | TheGazette OMG! Big Ten has good slate of games Saturday | TheGazette The post Ulis to Announce Friday, Weisman Workload appeared first on Hawkeye Nation.
Original Story:
http://www.hawkeyenation.com/football...
THE BACKYARD
BEST OF MAXIM
RELATED ARTICLES
Iowa running back BJ Lowry attempts to rush the ball against Northern Illinois on August 31. The Iowa Hawkeyes are coming off their first win of the season — a 28-14 win over Missouri State this past Saturday. The win marks Iowa's first in its last eight games dating back to last season. Head coach Kirk Ferentz has led his team to a 1-1 record through the first two weeks of the...
"Everyone is expecting me to do big things…I will." That is the mantra that Iowa State players are repeating in this epic hype video before this weekend's matchup with the Iowa Hawkeyes — it's very well done. We also get some great live shots of players wearing the special Jack Trice Era throwback uniforms for the game, and they really do look incredible: We're looking...
Let's see, Iowa State looks horrible in week one and everyone writes them off and then they come back against the Hawkeyes the next week and look like world beaters and take it to Iowa in Ames…we've seen this movie before. In 2007, Iowa State lost its first two games, to a Kent team that went 3-9 that year and then 24-13 against Northern Iowa, only to beat the Hawkeyes without...
Q: How do you feel about the play of the defense thus far? Jared Clauss: I think they're looking more confident and they're not acting like robots.  The defensive tackles are more active now than we saw one year ago and you are are seeing more confidence there.  That's given the coaches more confidence in the rotation so they are able to move more players in and out and...
Mark Weisman, James Morris, C.J. Fiedorowicz, Carl Davis, Brandon Scherff and others met with the media on Tuesday as they prepared for this weekend's rivalry game against Iowa State. See what the Hawkeyes had to say in this Prime Cuts video compilation.
Hawkeyes News

Delivered to your inbox

You'll also receive Yardbarker's daily Top 10, featuring the best sports stories from around the web. Customize your newsletter to get articles on your favorite sports and teams. And the best part? It's free!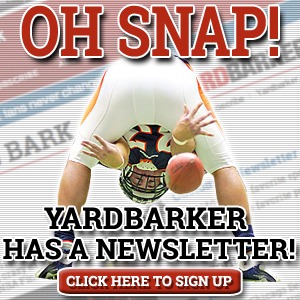 Latest Rumors
The Backyard

Today's Best Stuff

For Bloggers

Join the Yardbarker Network for more promotion, traffic, and money.

Company Info

Help

What is Yardbarker?

Yardbarker is the largest network of sports blogs and pro athlete blogs on the web. This site is the hub of the Yardbarker Network, where our editors and algorithms curate the best sports content from our network and beyond.