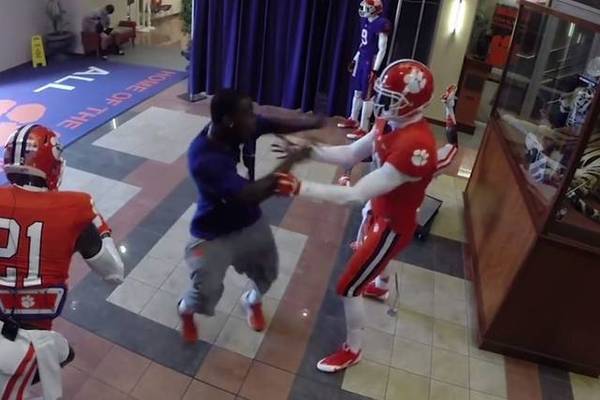 Playing pranks on your teammates is always a fun preseason activity, so long as you don't take it too far and wind up with a bunch of enemies for the entire year. Clemson quarterback Cole Stoudt decided to get in on the action, going for one of the most sure-fire methods – turning yourself into a mannequin. Stoudt, with the help of Clemson's staff, put on his full uniform and got to the team's facility at the crack of dawn to put himself in position to scare the living heck out of his Tigers teammates and coaches. As you can see, it worked. It's also pretty clear that Stoudt had the time of his life doing it. Tigers fans are probably hoping this isn't the last time anyone is scared of Stoudt, considering he will be the team's starting quarterback this season.
MORE FROM YARDBARKER
Tigers News

Delivered to your inbox

You'll also receive Yardbarker's daily Top 10, featuring the best sports stories from around the web. Customize your newsletter to get articles on your favorite sports and teams. And the best part? It's free!