Found November 09, 2012 on NorthWest Sports Beat:
PLAYERS:
Marquess Wilson
,
Mike Leach
,
C.J. Mizell
,
Sekope Kaufusi
,
Jim Mora
,
Dominique Williams
,
Kristoff Williams
,
Gabe Marks
,
Stepfan Taylor
,
Travis Long
,
Deone Bucannon
,
Darryl Monroe
,
Jeff Tuel
TEAMS:
Arizona Cardinals
,
Boston Bruins
,
Washington State Cougars
,
UCLA Bruins
,
Stanford Cardinal
Amidst the Drama, UCLA visits on Dad's Weekend There is social buzz flooding the Palouse regarding the suspension of star wide-out Marquess Wilson following the embarrassing 49-6 defeat to Utah last week. The season has been upsetting to say the least, and losing the best player just dampens the mood even more. However, it is Dad's Weekend in Pullman and the Cougars have an upcoming match up with #18 UCLA. Match up: UCLA Bruins (-15.5) at Washington St. Cougars (+15.5) Venue: Martin Stadium (Pullman, Washington) Game Time, TV: 7:30 pm (PDT) ESPN2 Date: Saturday, November 10, 2012 Weather: 39 High, 25 Low, Mostly Sunny Team Records: UCLA (7-2, 4-2 Pac-12) WSU (2-7, 0-6 Pac-12) Washington State has quite the mountain to climb in order to salvage some dignity from their 2012 campaign. Unfortunately, it doesn't get any easier with the explosive Bruins coming to town. UCLA and their impressive freshman quarterback Brett Hundley lead the Pac-12′s second-ranked offense with 37 ppg. Hundley and the Bruins are coming off of a 66-10 victory over Arizona, in which Hundley threw for 3 touchdowns and rushed for another. There is social buzz flooding the Palouse regarding the suspension of star wide-out Marquess Wilson Meanwhile WSU is coming off of a game we all would like to forget. Game Notes / How They Match Up This past weekMike Leach gave the media is clear interpretation of the football team. Using the term "lifeless corpses," you get an idea of how he feels. Over the season he has weeded out several players, including starting linebackers CJ Mizell and Sekope Kaufusi. He doesn't take **** from anybody. Not even Marquess Wilson. With the coach and the players butting heads, the output has been treacherous. His public criticism of his players has been frowned upon by several sources, and it will be interesting to see how the players respond. On the other sideline stand the 18th ranked Bruins. UCLA is atop the Pac-12 south, and plan on adding another victory to the list before taking on USC next week. It is a match up of an impressive team and a morally defeated team. You know what they say, nothing is more dangerous than a wounded animal. What to Watch: UCLA New head coach Jim Mora entered a UCLA program that was – even with a Pac-12 championship appearance the year prior – wasn't a heavily favored team in the Pac-12 south. He has changed their identity – giving them a toughness, and unleashed the talented Brett Hundley. Brett Hundley is off to a fantastic start to his college career, passing for nearly 2500 yards and 21 touchdowns in 9 games while rushing for 283 yards and 6 more scores. Hard to ask for anything more from your freshman QB. However, the offense still flows through the Pac-12′s second leading rusher Jonathan Franklin. Franklin has ran for 1204 yards and 8 touchdowns with an impressive 6.7 yards per carry. The combination of these two has been lethal all season. And now they are coming to the Palouse. On national television. Great. What to Watch: Washington St. All year the Cougars have underperformed, and Leach has let them know – along with the media. This week was the worst it has been. After the landslide defeat last week, Leach insulted his players and even sent his offensive line out to the reporters to answer questions. Because apparently they couldn't answer his.  Jim Mora has changed the UCLA Bruins identity As if it couldn't get any worse, Marquess Wilson is now suspended. So who will step up? (RS) Freshman Dominique Williams took Wilson's starting role over the past couple weeks, and truly flourished. Against Stanford, Williams had several plays down field to show he has the ability to play in a starting role. Along with Kristoff Williams and Gabe Marks, the Cougars still have the weapons to get this offense going. The dismissal of Wilson is a huge hit, but removing his ego from the field opens up a lot of space to make plays. If these players can respond to the criticism from their coach in a positive aspect, look for big production from a young group of receivers. UCLA Offense vs. Washington St. Defense This offense is explosive, and will give defensive-coordinator Mike Breske all he can handle come Saturday. But Breske can stop a star running back, as we've seen before. Week 9 at Stanford, the Cougar defense held Stepfan Taylor to a career-low 58 yards on the ground. This was evidence of a successful game plan and shows Breske knows how to prepare for a strong runner. If Franklin can be slowed, the ball will be put into Hundley's hands to make plays. This worries me. The kid is outstanding with his feet, and can make the big plays down the field. We will need a solid outing from our defensive line with Travis Long bringing the pressure, and Deone Bucannon is going to need to play smart and not fall for the play-action. The key player I will watch is Darryl Monroe. The freshman linebacker has been outstanding all season in his pursuit of the ball. He can fly, and he can hit. One fact that is overlooked on this Cougars' team is Jeff Tuel's leadership. Look for him to make plays at the line of scrimmage on both Franklin and Hundley in the running game. Washington Offense vs. UCLA Defense The one thing yet to be mentioned is the Bruins' defense. It is actually a solid group, which they showed last week holding the potent Arizona offense to only 10 points. With the way the Cougars have been playing offensively, it is hard to get excited about the passing game without Wilson.  However, if there is one fact that is constantly overlooked on this Cougars' team, it is Jeff Tuel's leadership. Week in and week out, Tuel and Halliday have been rotating like a merry-go-round. Leach's indecisiveness at the position is likely due to the fact that neither has done anything to impress statistically. But aside from statistics, the team has an obvious leader in Tuel. When he is in the game he is running the offense and communicating with teammates. When he is benched, he is up and down the sidelines, clapping his hands and communicating with teammates. If there is one player who I believe will respond positively from Leach's stern notions, it is Jeff Tuel. And if he can get these young players on his side, the offense may be okay without Wilson. It would also be nice to have an offensive line that isn't made of damp notebook paper. Prediction and Analysis It is hard to assume the outcome of this came considering the circumstances. It really all depends on how the team reacts to Leach. If they take it as motivation and come out and play their hearts out Saturday night, I truly believe they have a chance at defeating the #18 Bruins. However, there are several other circumstances that don't result in similar success. The Bruins are a very tough team, and the Cougars will need everything to go their way – along with a lot of heart – to come out on top this Dad's Weekend. UCLA 35 Washington State 21 CLICK HERE CHECK OUT THE COUGARS BLOG IN OUR CLUBHOUSE TODAY AT NWSB!
Original Story:
http://www.nwsportsbeat.com/washingto...
THE BACKYARD
BEST OF MAXIM
RELATED ARTICLES
LEACHING THERAPY
Nearly three years after leaving Texas Tech under similar circumstances, Mike Leach has once again been accused of abuse from a player on his team.
When Marquess Wilson left the Washington State football team after being suspended from that program he did it with a bang. Wilson issued a press statement that will now create a huge swarm of drama for a program that is already somewhat under fire. It is in its entirety below. Please Click Here To Read This Story
STANDOUT WASHINGTON STATE wide receiver Marquess Wilson spoke plainly about his departure from the program Saturday. Wilson, who has been suspended since he walked off the Cougars' practice field Sunday, did not return a phone call from CF.C seeking comment. But Wilson did release a statement about his decision to leave the program through his hometown newspaper, the Visalia Times-Delta.
THE HIGH SCHOOL COACH of suspended Washington State football star Marquess Wilson said he hopes the junior rejoins the Cougars this season, but fears he may turn pro. "If he decides to go pro this year, it's going to cost him millions of dollars," Tulare (Calif.) Union coach Darren Bennett said in a telephone interview with CF.C on Wednesday.
Frustrations/Conflictions Lead to Questionable Future As half of the world has heard, Marquess Wilson was suspended after walking out of the Washington State Cougars' intense conditioning session last Sunday. Many reported that Wilson quit the team after cleaning out his locker, but there has been little solidity in such statements. What we do know is that Marquess Wilson has yet...
Washington State and their star wide receiver have differing views over their recent split. The Cougars announced on Wednesday that Marquess Wilson was suspended from the team indefinitely for violating team rules. Wilson released a statement on Sunday saying that he left the team over abuse from WSU coaches. "It is with a heavy heart that I announce my decision to forgo playing...
((HT: KHQ-TV Spokane)) Now, we may know why Washington State WR Marquess Wilson was suspended/dismissed/walked out on the Cougars program... Head coach Mike Leach initially said that Wilson has suspended for a failure to complete a conditioning session after the loss to Utah... Now, Wilson is saying he's just leaving, thanks... Both sides released prepared statements...
Welcome to the Fallout. Shock and Awe. Ivan Maisel discusses whether or not Texas A&M's  29-24 knockout of no. 1-ranked Alabama will result in the SEC being knocked out of the BCS title game for the first time since 2005. (ESPN) Johnny Manziel, poet and a prohpet? David Harris rechristens  Johnny Manziel "The Prophet" after the Texas A&M starting...
Washington State football coach Mike Leach denied his players are subjected to any type of abuse, as alleged by star receiver Marquess Wilson. Wilson made the allegations in a letter he released Saturday in which he quit the team and also complained that the coaching staff would ''belittle, intimidate and humiliate us.'' Leach said during his regular Monday meeting...
College Football News

Delivered to your inbox

You'll also receive Yardbarker's daily Top 10, featuring the best sports stories from around the web. Customize your newsletter to get articles on your favorite sports and teams. And the best part? It's free!
THE COLLEGE FOOTBALL HOT 10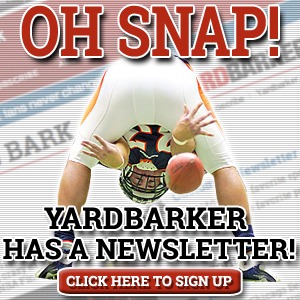 Latest Rumors
Best of Yardbarker

Today's Best Stuff

For Bloggers

Join the Yardbarker Network for more promotion, traffic, and money.

Company Info

Help

What is Yardbarker?

Yardbarker is the largest network of sports blogs and pro athlete blogs on the web. This site is the hub of the Yardbarker Network, where our editors and algorithms curate the best sports content from our network and beyond.