Found September 19, 2013 on isportsweb.com:
College athletics have been one of America's pastimes for more than a century, and some of the greatest moments of American sports have come as a result. Who can forget Kevin Moen plowing over a Stanford University tuba player en route to the end zone after five laterals? Or what about Doug Flutie's Hail Mary in the final seconds that propelled Boston College to victory against Miami in 1984. Still too long ago? How about Trey Burke's bomb from the parking lot that lifted the Michigan Wolverines to the NCAA finals just last year? College athletics are not only entertaining, but a fantastic outlet for young people to get involved in sports and lead an active lifestyle. Before I begin to rip apart the NCAA, I want to make it very clear that college athletics are fantastic- I played them. What isn't fantastic is the fact that an organization holds "student athletes" hostage, leaving them no other option besides playing for free and generating the NCAA millions. $871.6 million to be exact. That's right, the NCAA made nearly a billion dollars last year and paid exactly none of it to its main money-generating employees. But, some argue, the college game is purer without money! Once money is involved, the athletes become corrupt! First of all, if you think there isn't "money involved" when it comes to college athletes, you must not watch much television, subscribe to a newspaper, or have access to the internet- there are scandals every year involving money. Secondly, have these people ever thought about that statement? I'm not sure I deny that money can corrupt people, but does the paycheck that comes in the mail from working 9-5 "corrupt" anyone? And what about the coaches? Do their multi-million dollar salaries corrupt the game? Players like Marcus Lattimore risk severe injury while receiving zero compensation, healthy or injured Just a thought. However, I'm not here to argue that collegiate athletes should be paid- I'll leave that to the NCAA. What I'm here to argue is that athletes should be given the opportunity to be paid. In the pros. I really don't care if college athletes get paid or not. As long as they know what they're signing up for, let them play in exchange for a scholarship (a pretty good deal). But the fact that this collegiate play is required is archaic. It's nothing more than the rich and powerful becoming even richer and more powerful. The NCAA has been operating this way for decades, and will continue to do so until Chief Justice John Roberts reads this piece (he and Clarence Thomas are big isportsweb fans) and realizes he needs to swing the hammer of justice down upon the NCAA's greedy head. There is the simplest of solutions to the collegiate athlete conundrum, but the NCAA can't handle it because it threatens the popularity of their game, thus threatening their millions in income that they need to buy Lamborghinis and gold toilets. Tell me this: in what other profession could a person be compensated for their talents immediately, but has to do it for free for three years because of labor laws. Please let me know in the comments section if you come up with one, but as creative as you may get, there isn't one. If I am a competent bricklayer, for instance, I can probably go out and find work in one area of the country or another. If I so choose, I can go to bricklayer school and perhaps increase my marketability as a bricklayer, in turn demanding a higher salary. This is the basis for the free-market economy that the United States of America was founded on. Supply and demand: people have a demand for bricklaying, so they will pay for that service the same way they pay to consume sports. If the rules requiring athletes to attend college were eliminated, what would the negative side effects be? The world would not implode. Collegiate athletics would not cease to exist. NCAA president Mark Emmert would probably still make close to $2 million a year. And what's more, men and women with talents that people pay to see could be fairly compensated for those talents. College sports would be just fine- coaches are great recruiters and they would show these athletes why they should come to campus and would surely have a plan for how to improve that athlete's game, thus improving draft stock and monetary gains.  If the athlete was truly great out of high school, maybe they do forgo college for the pros, but I'm sure the big leagues would be more inclined to take a guy with college experience over player without it. This will encourage players to go to school for at least a season, with the potential to go pro after that. This seems to work in the MLB and NHL. Why the NCAA refuses to see this clearly displays their monetary motives. My plan isn't just the best answer to the problem, it's the only one that can be instituted feasibly. Unfortunately, this will require the cooperation of the NCAA as well as the pro leagues (NFL, NBA) that stand by the NCAA's bylaws. And that simply won't happen. The legality of this system must be questioned in order for anything to change. The NCAA somehow gets away with violating antitrust laws due to their political clout, but this has to end. College sports fans, this won't mark the end of college sports. Just the end of college sports as we know it. And the college sports we know are full of corruption, shortcomings and legal loopholes. Want the so-called "purity" restored to college sports? Let them play because they want to, not because they have to.   Follow me on twitter @ScottPeceny
Original Story:
http://feedproxy.google.com/~r/isport...
THE BACKYARD
BEST OF MAXIM
RELATED ARTICLES
Johnny Manziel's talent is undeniable. Texas A&M lost to Alabama on Saturday thanks in part to Manziel's crucial interception in the end zone, but he managed to throw for 464 yards and five touchdowns against the two-time defending national champions. He also added 98 yards rushing. Oh yeah, and he became the first freshman ever […]
The first freshman to win a Heisman trophy will be eligible for the NFL draft at the end of this season. Johnny Manziel put up over 550 total yards and 5 TDs against one of the best defenses in the country last week. However with his eye-popping stats and credentials many scouts find him undraftable. Manziel leaves a lot to be desired in terms of measurable statistics and mechanics...
Move to the SEC? Check. Heisman Trophy-winnning QB? Check. 11-2 record with a Cotton Bowl win? Check. Record donations to the university? Oh yeah, big checks. Texas A&M is really enjoying the last fiscal year, as they have seen their…Read more →
Johnny Manziel gives coaches nightmares. His coaches, opposing coaches, and if you listen to NFL people, even his future coaches are having nightmares trying to figure out how to either stop him or control him. Manziel and the Aggies face SMU a week after amassing close to 700 yards of total offense, but still coming out on the losing end of things. SMU defensive coordinator Tom...
After Saturday's game between Alabama and Texas A&M, three things were clear: Alabama is now two games – LSU and SEC Championship game – from playing for their third National Championship. Johnny Manziel is the best offensive player in the nation. Kevin Sumlin deserves a seat at the table of best coaches in college football. The first point from that list was a direct...
Texas A&M has heard enough of the game of the year talk surrounding last Saturday's 49-42 loss to top-ranked Alabama. The Aggies (2-1) have turned the page and are now focusing on the final nine games of the season, starting with SMU (1-1). "A lot's been said about last weekend," Texas A&M head coach Kevin Sumlin said. "It was a heck of a football...
While Johnny Manziel can't be blamed for last week's loss to the nation's No. 1 team, the Texas A&M defense certainly could be. It would be hard to imagine either having a tough time Saturday night with a major drop-off in competition, a visiting SMU team the 10th-ranked Aggies have dominated the past two years. This is the same opponent against which Manziel got...
This past weekend was all about one game in the world of college football. There were noteworthy games throughout the day and night, but all attention was focused on College Station, Texas. Manziel Mania may never end until Johnny Manziel—Johnny Football to many—goes pro, but all the hoopla was at least about a football game for the last few weeks. That game was Manziel and the...
On Monday, I wrote about how both Kevin Sumlin and Johnny Manziel won despite Texas A&M losing to Alabama on Saturday. Mainly because the way the two handled themselves against the closest thing to a NFL team in college football. While there dividends from the game aren't paying off Manziel quite yet, they are definitely paying off for Sumlin according to Mike Freeman of Bleacher...
T.J. Yeldon's taunting of Texas A&M quarterback Johnny Manziel already cost his team 15 yards last Saturday. Now, it will cost the running back 15 minutes of playing time. Yeldon has been suspended for the first quarter of Alabama's game against Colorado State for his actions during the Crimson Tide's 49-42 win over Manziel's Aggies, the Anniston Star reported Friday...
This Saturday at 8 p.m. EST, the Texas A&M Aggies will take on the SMU Mustangs at Kyle Field. A&M has the clear upperhand in the history of these two schools with an all time record of 42-29-7. Last year, with Manziel at the helm, the Aggies snubbed the Mustangs 48-3.The Mustangs are coming off of a bye week as they head into Kyle field, and allowed 378 yards to the lowly...
Alabama superfans penned a parody to Charlie Daniels' legendary "Devil Went Down to Georgia" called "Saban Went Down to Texas," and, well, it's pretty great.
Aggies News

Delivered to your inbox

You'll also receive Yardbarker's daily Top 10, featuring the best sports stories from around the web. Customize your newsletter to get articles on your favorite sports and teams. And the best part? It's free!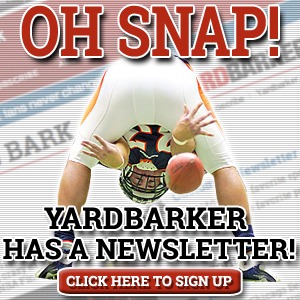 Latest Rumors
Best of Yardbarker

Today's Best Stuff

For Bloggers

Join the Yardbarker Network for more promotion, traffic, and money.

Company Info

Help

What is Yardbarker?

Yardbarker is the largest network of sports blogs and pro athlete blogs on the web. This site is the hub of the Yardbarker Network, where our editors and algorithms curate the best sports content from our network and beyond.