Found December 04, 2012 on The B1g Time:
  You would think after at 70-31 score line and after Montee Ball got done stiff arming and plowing over Ciante Evans for about the umpteenth time that Wisconsin proved it belonged on the same field as Nebraska, let alone proved it was a worthy champion of the Big Ten? However, apparently that wasn't enough for one writer out there. According to SI's Stewart Mandel the Badgers are a fluke and an embarrassment all rolled into one. In case you don't want to read the whole thing here are the exact quotes from Mandel's article on the aftermath of the BCS announcement on Sunday. "Frankly, it's (Wisconsin's win) embarrassing for both the conference (Big Ten) and the (Rose) bowl, and it's downright insulting to the college football public," Mandel said. "Unlike NIU, Wisconsin isn't even one of the top teams in its own conference. In fact, the Badgers had the sixth-best record in conference play." He later goes on to say this: "Obviously, a fluky set of circumstances allowed for an 8-5 team to even win its division, much less its league," said Mandel. "But teams like Wisconsin and Georgia Tech this year, or UCLA last year, should really cause conferences to pause and take a look at what's become of conference championship games -- particularly given the stated emphasis going forward. This year's largely uninspiring BCS lineup includes four teams ranked No. 13 or lower in the final AP Poll. Fans and those teams' respective opponents deserve better."   That's fine and dandy, except for this one pesky thing... the fluke he speaks of is actually the biggest embarrassment this writer has ever seen and those pesky circumstances that he's asking to be looked at happen to be programs that have run afoul of the NCAA and the rules they all signed up to follow to begin with and they weren't exactly minor rules violations like sending out text messages to recruits at times that weren't allowed. See, the Badgers earned their way into the Big Ten championship game because Penn State and Ohio State decided to do things the wrong way, the specifics of which we should all be familiar with by now. So, let's get something straight - Wisconsin didn't fluke their way into the Big Ten Championship game and ultimately the Big Ten Championship, they played by the rules set out by the NCAA and the Big Ten and won the games they had to to make a return trip to Indianapolis and now a 3rd straight Rose Bowl game. Yes Wisconsin lost five games and it's the most games lost by any team playing in the Rose Bowl ever, but his anger and his "outrage" is placed on a team that did nothing wrong. This is a team that managed to lose those five games by a total of 19 points, it's not like they were some scrub team that got lucky. Perhaps instead they are a good team that got unlucky more than lucky? Where's the outrage for programs that cheated and covered up crimes? The inaction of one university's higher up's and another university's football head coach are the true embarrassment and the real reason we don't have the Rose Bowl Mandel wants to see. The Badgers 70-31 victory on the football field at Lucas Oil Stadium wasn't an embarrassment; it was complete and total domination. If Wisconsin was such a bad football team then why didn't Nebraska just roll right over them? Perhaps it's because we're seeing a Badgers team that dealt with unreal - on the field - circumstances all season long and are just hitting their stride as we write this.  Taking Mandel's logic one step further, he says Stanford and the Rose Bowl itself deserve better. If that's the case then Stanford should completely dominate the Badgers, right?  Somehow we've gone from a society that rewards those that play by the rules and win to one that whines and cries that it's unfair to the teams of the schools the decided to not follow the rules. If you don't want to play by the rules the NCAA sets forth or the Big Ten sets forth, shouldn't you be prepared to suffer the consequences of those actions? By saying we as fans deserve better Mandel is basically saying we deserved to see teams of programs who cheated and lied playing for the ACC and Big Ten championships. Reading between the lines of his statement you can't come to any other conclusion. Otherwise what message is he trying to send? Is Mandel suggesting that Nebraska, FSU, and Oregon (last year) should've just been handed their conference championships by default? Ultimately we as fans of college football do deserve better, that much you are right on Mr. Mandel, but we deserve better than programs that do what Penn State and Ohio State did to get themselves in the situation to begin with. Is it too much to require them to do the right thing when confronted with obvious situations of wrongdoing? We wouldn't even be in this situation had four people just decided to do the right thing. As a society we shouldn't be pissing and moaning about the consequences, instead we should be pointing out that doing the right thing is never the wrong answer and we'd all be better off for it, both on and off the field.  Embarrassing is what Penn State and Ohio State did to get themselves in the position to not play for the Big Ten championship, embarrassing is what Nebraska put out on the field on Saturday night, embarrassing is Stewart Mandel telling us all that we should be celebrating cheaters and liars and punishing those that play by the rules.  Perhaps it's time some of us, maybe all of us take a look in the mirror and ask ourselves where we've gone wrong. Why do we celebrate the achievements of cheaters and liars, yet vilify those who benefit from playing by the rules and doing things the right way? When did that become the right thing to do?  Vince Lombardi is famously quoted as saying, "Winning is not a sometime thing, it's an all time thing. You don't win once in a while, you don't do things right once in a while, you do them right all the time. Winning is habit. Unfortunately, so is losing." Ultimately, Lombard wasn't just talking about winning and losing on the football field, he was talking about a life philosophy and in the end I don't see how we as a society are better served by calling a team that did things the right way an "embarrassment" and in the same breath begrudging the fact that cheaters and liars aren't in the Rose Bowl instead. Call me old-fashioned in my thinking if you want, but I'll gladly be in the minority if it means standing with what's right ethically and morally. 
Original Story:
http://www.delanysdozen.com/2013-arti...
THE BACKYARD
BEST OF MAXIM
RELATED ARTICLES
Champs of the Week:1.     Wisconsin RB's- 527 rushing yards, 8 TD'sIs Wisconsin's rushing attack that good, or is Nebraska that bad? While the Cornhuskers might be the worst 10-3 football team in the history of college football, Montee Ball and Co. were that good on Saturday night as they claimed a third-straight trip to the Rose Bowl in the win. Ball, James White and Melvin...
You might have a problem with a freshman or strictly defensive player winning the Heisman for the first time this Saturday, but you're probably ok with Collin Klein, Manti Te'o and Johnny Manziel being invited to New York as finalists. All three have clearly separated themselves from the field over the last month and belong on stage this weekend, and all three have a legitimate...
As conference championship week comes to an end I feel it is appropriate to weigh in on the college football season with a first time feature since TSHQ opened about three years ago and that is All-American teams for college football. In the past I've listed off a few awards at the end of each season but it is time to let TSHQ's voice be heard in a wider range of spectrums and...
David Shaw and Bret Bielema sidled up to each other in a Texas hotel last year at an awards banquet and struck up a conversation about how much each coach admired the other's football program. Perhaps it's no surprise that Shaw, the Stanford coach, and Bielema, the Wisconsin coach, hit it off. The similarities in their styles of play are obvious: Two pro-style offenses with...
After months of anticipation, the dust has finally settled in what has been an incredible season for college football. Upsets and marquee matchups kept fans on the edge of their seats until the unveiling of the final BCS standings. From the Perimeter will break down every BCS bowl bout, projecting the outcome as well as analyzing the keys to victory for each team. Discover BCS National...
With the three finalists named and Heisman week upon us, it's time to look back at how we got here. There were a lot of twists and turns in this year's race. Here are the 10 most important Heisman moments of 2012: 10. Montee Ball bottled up by Oregon State Wisconsin running back Montee Ball [...]
It's the Thursday before the Heisman ceremony, and you know what that means...it's time for the College Football Awards Ceremony (presented, like every other college athletic event on ESPN, by the Home Depot)! We won't get to see Erin Andrews slutting it up in a painted on dress this year, but I'm sure Samantha Steele will still be rocking something exciting enough...
In an article I wrote earlier in the week, I picked the Nebraska Cornhuskers to beat the Wisconsin Badgers, 28-24, in the Big Ten Championship Game. Clearly, I was wrong. Wisconsin took Nebraska behind the woodshed en route to a Big Ten Championship Game victory. (Image credit: Brian Spurlock, US PRESSWIRE via USAToday.com) On Saturday night, the Wisconsin Badgers brutally dismantled...
Badgers News

Delivered to your inbox

You'll also receive Yardbarker's daily Top 10, featuring the best sports stories from around the web. Customize your newsletter to get articles on your favorite sports and teams. And the best part? It's free!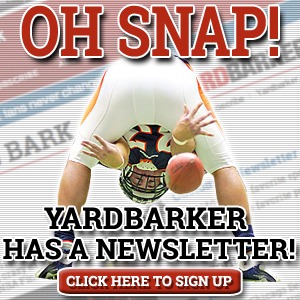 Latest Rumors
Best of Yardbarker

Today's Best Stuff

For Bloggers

Join the Yardbarker Network for more promotion, traffic, and money.

Company Info

Help

What is Yardbarker?

Yardbarker is the largest network of sports blogs and pro athlete blogs on the web. This site is the hub of the Yardbarker Network, where our editors and algorithms curate the best sports content from our network and beyond.