We've had a few glimpses of Iowa's summer workouts this year, namely offensive lineman Brandon Scherff hang cleaning an absurd 443 pounds three times. Earlier this week, Iowa released a three minute video highlighting some of the best moments from its summer workouts, featuring the song "Unchained (The Payback/Untouchable)" by James Brown and 2Pac. We guarantee it will fire...
"He's not just a weight room freak," Iowa Hawkeyes tailback Weisman said of senior UI OT Brandon Scherff. "He's a football freak."  Brandon Scherff is called a freak because he can do this, which is insane. (h/t) ESPN) Yes, he power cleaned 443 pounds three times. FOOTBALL! STRENGTH!!!! RAR RAR RAR!!!!!!!!! Scherff is almost guaranteed to be a first-round pick (here's...
This is probably all in my mind and just a coincidence, but I couldn't help but to notice the timeliness of a couple of stories that came out over the past few days. Let's first back up to last week — July 23rd — to be specific. Iowa offensive tackle Brandon Scherff just about broke the internet when a video of him hang-cleaning 423 pounds hit the web. It was pretty much...
Brandon Scherff is the latest in a long line of monstrous offensive linemen churned out by Kirk Ferentz at Iowa. The 2013 first-team All-Big Ten selection was recently filmed doing 443 pound hang cleans in the gym. While doing that once would have been impressive, Scherff managed to do three reps at that weight, and he made it look pretty easy. This kind of strength is terrifying...
It's no wonder NFL scouts are raving about Iowa's tackle Brandon Scherff. The senior, who started all 12 games for the Hawkeyes last season, showed off his strength while doing three-reps of cleans at 443 pounds. Quite the impressive display in the weight room. [Guyism] The post Iowa's Brandon Scherff Cleans 443-Lbs Three Times appeared first on Diehardsport.
Big Tentacles - The Big Ten and its influence over college football.Wake of the Flood. Ray Ransom profiles Rutgers head coach Kyle Flood as part of Off Tackle Empire's Rutgers week.Ah yes, I remember it well. Michigan State athletic director Mark Hollis discusses the school's success in several sports, including the Spartans' victory over Stanforn in the 2014 Rose Bowl...
Somewhere in Iowa, a few ex-high school athletes have stories to share.One tale might be about a 250-pound sophomore quarterback running over...
Monday's news of Brandon Scherff returning for his senior season created conversation about the prospects for the 2014 Hawkeyes. HI Publisher Rob Howe takes a look a potential depth chart for next fall.
Iowa left tackle Brandon Scherff says he's staying with the Hawkeyes for his senior season. Scherff was believed to be a potential first-round pick in next spring's NFL draft. But Scherff announced Monday that he's skipping the draft and returning to Iowa in 2014. Scherff has started all 12 games for Iowa (8-4, 5-3 Big Ten) this season and was a first-team All-Big Ten...
Brandon Scherff announced on Monday that he would returning for his senior season at Iowa. The junior left tackle earned first-team all-Big Ten recognition this fall.
MORE STORIES >>
College Football News

Delivered to your inbox

You'll also receive Yardbarker's daily Top 10, featuring the best sports stories from around the web. Customize your newsletter to get articles on your favorite sports and teams. And the best part? It's free!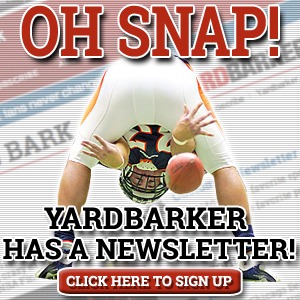 THE COLLEGE FOOTBALL HOT 10