Carlos Hyde Running back is a position of much interest for the Ohio State football team this summer. Carlos Hyde rushed for over 1,500 yards last season for Ohio State.  He has since graduated and been selected in the second round of the NFL draft by the San Francisco 49ers. The Buckeyes have a plethora of talent at the running back position, but no clear replacement for Hyde...
This weekend was one of the most memorable weekends of college football, period. Rivalry week always brings out the best of college football, and it did not disappoint this weekend. From the once in a lifetime, epic finish of the Iron Bowl, to Michigan's failed two-point conversion at the Big House, to Duke's clinching of the ACC Coastal Division, to Oregon's one point triumph...
Just as yet another one of Urban Meyer's former Gators was making the news for the wrong reason, Meyer was dishing out a three game suspension for Ohio State running back Carlos Hyde. Hyde had been accused of assaulting a woman in a Columbus night club on July 20th. Although no charges were filed, Hyde was suspended for conduct that was "not representative of this football...
Time for you to judge for yourself whether Ohio State Buckeyes running back Carlos Hyde is guilty of assaulting a female patron a Columbus nightclub two weeks ago. The video has been released, and quite honestly, it is only clear that a swipe happens from both parties, which I guess is good enough for some investigators, yet he hasn't been charged in anything. However, he remains...
IN THE CLEAR?
The police have closed the case, but here is what I am seeing. Hyde and the woman get into a verbal altercation, something that Hyde says causes the woman to snap and smack him in the face. Let's stop right there. At this point she is the aggressor, she is the one who started the altercation and clearly hits him in the face.  So remember that if you think Hyde's reaction was...
10TV in Columbus reported just a few minutes ago that they had learned that Senior Running Back Carlos Hyde will not be charged for his role (whatever it may have been) in the now infamous Sugar Bar 2 altercation. BREAKING UPDATE: Columbus Police Say Ohio State's Hyde Will Not Face Charges – http://t.co/6k6k3diBi7 — 10TV.com (@10TV) July 30, 2013 It has been reported that...
First, the world was convinced that Ohio State running back Carlos Hyde punched a woman this past Friday night at a bar in Columbus. Then, we heard that the surveillance video showed nothing of the sort. Now, we're hearing that Hyde "slapped" the woman. You can't make this stuff up. Fox 8 News' Gabe Spiegel, who has been covering the story from its inception, just tweeted...
GO TO THE TAPE
Carlos Hyde was suspended indefinitely for his alleged role in an assault case, but a surveillance video may clear him of wrongdoing.
  A Yahoo Sports story has information from a source stating that video from Sugar Bar 2 shows Carlos Hyde did not strike the victim in question. Charges are not expected to be filed against Hyde after video from Sugar Bar 2 shows he didn't appear to make contact with an alleged victim who claimed to have been assaulted early Saturday morning, a source who spoke to Yahoo! Sports...
Ohio State Football and Head Coach Urban Meyer cannot catch a break these days. The last thing Meyer and the program want to be dealing with in late July is a player getting arrested. Unfortunately for the Buckeyes, the program now faces a double-dose of issues. Ohio State RB Carlos Hyde allegedly dismissed from team Senior leader and starting RB Carlos Hyde has been dismissed from...
MORE STORIES >>
College Football News

Delivered to your inbox

You'll also receive Yardbarker's daily Top 10, featuring the best sports stories from around the web. Customize your newsletter to get articles on your favorite sports and teams. And the best part? It's free!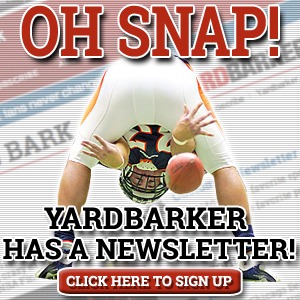 THE COLLEGE FOOTBALL HOT 10