The Texas Longhorns have deserted a disappointing 2013 season and have made changes that look to propel them back into the traditional program that is known for winning. Before the winning can take place Charlie Strong will have to make vast improvements in the Longhorns defense that the country saw last year. The Longhorns defense was anything but impressive last year. It was a...
It's been a long, strange road for Texas Longhorns quarterback Case McCoy. Expectations were high since he was the little brother of the great Case McCoy, but he was more or less a back up for most of his career. When he did finally get the chance to play this past season he actually looked pretty good at times (i.e. Oklahoma).Since his college days are behind me that leaves...
Charlie Strong walked onto the campus of one of the most renowned football programs in the country with a demanding task placed upon him: close the deal on verbally committed recruits and convince the nation's top talent to join him at the University of Texas. Drastic changes were made at Texas when Mack Brown went 30-21 his last four seasons, failing to finish the season in the...
This Sunday the world will gather together to watch the climax of football known as the Super Bowl. The Denver Broncos will be taking on the Seattle Seahawks in what should be a brutal battle between the game's record-breaking Broncos offense versus the sensational Seahawks defense. It is a special moment for these two teams, but it is also a big day for the Texas Longhorns. The...
The Texas Longhorns will look for their sixth consecutive Big 12 victory against the West Virginia Mountaineers on Saturday night. The Texas Longhorns travel to take on the West Virginia Mountaineers in Morgantown this Saturday night at 7 p.m. on FOX. West Virginia (4-5, 2-4 Big 12) snapped a three-game losing streak with its 30-27 overtime win at TCU last Saturday, while Texas...
  Case McCoy of the Texas Longhorns is doing something that most college football players don't normally do. Take responsibility for their own actions. When asked why the Texas Longhorns were an underdog against the TCU Horned Frogs, McCoy said "probably because I'm quarterback right?" Texas has played with multiple quarterbacks this year including QB David Ash. We'll...
Asked why his Longhorns are underdogs at TCU, Texas quarterback Case McCoy humorously answered that it is probably because he's playing under center.
Texas quarterback Case McCoy got absolutely crushed by an Oklahoma pass-rusher in the first quarter of the teams' Red River Rivalry in Dallas on Saturday. The high hit prompted McCoy to do his best ragdoll impression and, shockingly, it wasn't even penalized. The post Case McCoy got absolutely destroyed by an Oklahoma defender appeared first on The Nosebleeds.
Texas Longhorns quarterback Case McCoy nails a Hail Mary to end the first half of the team's Thursday night game at Iowa State.
If you believe UT fans who were in San Antonio Thursday night partying along the Riverwalk, Case McCoy was one of those who bellied up to a bar to celebrate the season. UT fan @morganlozano sorta gives us a play-by-play of her crew's interaction with McCoy. We now know that McCoy and Jordan Hicks were sent home Friday by Mack Brown for breaking curfew. We also know that a 21-year...
MORE STORIES >>
College Football News

Delivered to your inbox

You'll also receive Yardbarker's daily Top 10, featuring the best sports stories from around the web. Customize your newsletter to get articles on your favorite sports and teams. And the best part? It's free!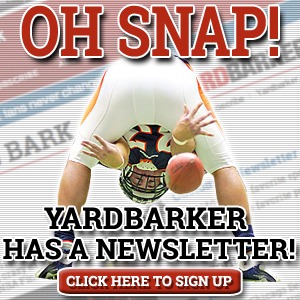 THE COLLEGE FOOTBALL HOT 10