There have been some amazing catches on this first college football Saturday of the year, but Christion Jones didn't add his name to that list on this deep ball from Alabama quarterback Blake Sims. Sims saw Jones behind the defense, completely uncovered, heaved a bomb to him, and Jones just…muffs it. Alabama leads West Virginia by seven, but it could be more. After this drop...
It's no surprise that Alabama Football is number one in the BCS standings but the team has also been gaining ground in other national and conference rankings. The Crimson Tide is now among the top ten best kickoff returning units in the country. Christion Jones is the nation's leading return man with 32.7 yards per return. Against Tennessee alone he returned two kickoffs for...
(source: Getty images) Season openers are one of the most important games teams play each year. They show teams what they did well, what they need improvement on, and what they can learn from the first game of the season. Alabama played Virginia Tech in Atlanta for the 2013 season opener. Although the Tide won 35-10, the Tide showed they have a lot to work on during their bye week...
Football perfectionists, Alabama fans and critics seemed to agree that something was lacking in Alabama's first performance of the season. For friends who were watching the game at separate locations, group texts- or at least mine- went like this; "Our O line needs some work y'all. I mean damn." "Yuuuuuup" "Worst O line since Shula" "Scary" Perhaps the 'worst...
Christion Jones' spectacular performance in Alabama's debut didn't come as a surprise to his teammates. To the rest of the country, maybe. Just not to the guys who see the top-ranked Crimson Tide's receiver/return man in action daily in practice. ''I've seen it in him,'' Alabama left tackle Cyrus Kouandjio said. ''He's been working...
ATLANTA Great teams find creative ways to win. And while Alabamas 35-10 victory over Virginia Tech was not the typical ground-control exhibition that were hallmarks of the Crimson Tides last three national championships, Alabama did score two offensive touchdowns, one defensive touchdown and two touchdowns on special teams. Three of those scores came from one player, junior receiver...
Christion Jones got the Alabama offense off to a good start to the 2013 season by returning a punt to the house, and just a quarter later he did it again, but this time on a kickoff. Jones took a 94-yard kickoff return down the left side of the field and somehow managed to escape two 'should have been' tackles. The very poor tackling lead to Frank Beamer giving us one of the...
Missouri punter Trey Barrow flipped Alabama punt returner Christion Jones with a low tackle during Saturday's college football game in Columbia. It happened on the last play of the first quarter as Barrow kicked a 61 yard punt to Jones, who might have broken through for a score had it not been for Barrow's tackle. Jones did a full somersault in the air before landing...
MORE STORIES >>
College Football News

Delivered to your inbox

You'll also receive Yardbarker's daily Top 10, featuring the best sports stories from around the web. Customize your newsletter to get articles on your favorite sports and teams. And the best part? It's free!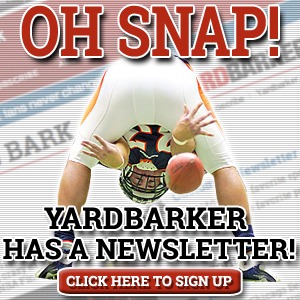 THE COLLEGE FOOTBALL HOT 10