There are few players in college football that are exciting to watch play as Utah State quarterback Chuckie Keeton. When he went down with an ACL injury last season it was pretty much a crime to the college football fans. When Keeton went down for the year, many wrote Utah State off in the Mountain West Conference, but the Aggies persevered through the adversity and captured the...
If you had to think of one darkhorse Heisman Trophy candidate for the 2014 college football season, the name Chuckie Keeton of the Utah State Aggies may come to mind. However, still recovering from a gruesome knee injury, Keeton won't be beginning that journey this spring with the team. Last season in a game against the BYU Cougars in October, Keeton suffered unfortunate tears...
Chuckie Keeton from Houston, Texas is the best quarterback you've never heard of. Keeton is a 20-year-old junior who plays for the Utah State Aggies. Chuckie's dual threat ability makes him one of the most dynamic quarterbacks in the nation. The third year starter played his high school career at Cypress Creek High School in Houston, Texas. Keeton was only a 2 star prospect coming...
Last time I did these rankings was back in Week Two, and we've certainly learned a lot about these guys since then. While some have proven to be NFL-worthy, others have failed to live up to expectations. Regardless, this conference hosts some of the most talented and underrated quarterbacks in the nation, and they truly deserve more exposure. 1. Chuckie Keeton (Utah State) Derek...
What would Utah State do without Chuckie Keeton? It is pretty obvious to me; they would lose, and lose big time. Now I know we may only be 3 weeks in, but what Keeton has done in that short time is just amazing. Particularly, for a quarterback coming out of Utah State. Chuckie Keeton has thrown for 923 yards, (10th in the country). His completion percentage is 78.1 (third in the...
Utah State looks like a team looking to build big things for a first-time team in the Mountain West. The USU offense truly lives through what Chuckie Keeton can produce. Starting off on their first drive Chuckie took the ball on a tremendous run, followed only by a big pass play over the middle for a touchdown to Travis Van Leeuwen. The USU offense in the first half looked very good...
Currently, in my opinion Utah State quarterback Chuckie Keeton is still one of the best players in the nation despite, the fact that the Aggies fell short to rival Utah in the "Battle of Brothers" 30-26. After last night, there was no doubt in my mind that Keeton was the best player on the field and will get Utah State back on track as they head to Air Force next week. Last night...
We saw what Northern Illinois did for Jordan Lynch and now Utah State has started a Heisman campaign for its talented quarterback, Chuckie Keeton. The Aggies took a page from the playbook of Baylor's 2011 Heisman campaign and sent out an autographed player trading card of Keeton in the mail yesterday: I thought the RG3 […]
Chuckie Keeton threw four touchdown passes and ran for another as Utah State only needed the first half to prove they were the better team Saturday in a 38-7 victory over visiting Texas State. Keeton's five-touchdown outburst came in the first half for Utah State (8-2, 4-0 WAC) which saw him complete 20 of 27 passes for 316 yards and four touchdowns while running 10 times for...
Kerwy Williams scored three touchdowns on the ground, Chuckie Keeton threw for three more in the air and the Utah State offense didn't let up Saturday in a 49-27 victory over San Jose State. Williams had 15 carries for 176 yards and three scores to lead the ground attack for the Aggies while Keeton was 26 of 35 for 273 yards and three touchdowns. San Jose State quarterback...
MORE STORIES >>
College Football News

Delivered to your inbox

You'll also receive Yardbarker's daily Top 10, featuring the best sports stories from around the web. Customize your newsletter to get articles on your favorite sports and teams. And the best part? It's free!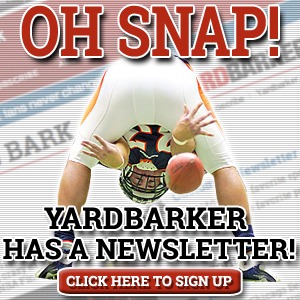 THE COLLEGE FOOTBALL HOT 10