Cody Riggs, a defensive back from the University of Florida, is transferring to Notre Dame using the fifth year transfer rule that will allow Cody to be eligible for the Irish in 2014. Riggs was heavily recruited by Notre Dame while a blue chip high school player in Florida. Riggs chose the in state Gators, and played in 40 games while starting in 26 as both a safety and corner....
Florida Gators football: Replacing Cody RiggsDefensive back Cody Riggs will transfer to Notre Dame after he graduates from the University of Florida in May, the Fighting Irish announced Wednesday. The news did not come as much of a surprise, as the Florida Gators announced Riggs' intentions to transfer a few weeks ago. Riggs has been a valuable member of Florida's secondary for...
Notre Dame's secondary is getting a boost from the SEC. Cody Riggs, a defensive back who started all 12 games last year for Florida, will transfer to Notre Dame. As a graduate transfer, he will be eligible to play for the Irish this fall. "I am very thankful for this opportunity," Riggs said in a statement. "I fully intend to make the most of this opportunity by not only...
Compete in a 10-team Fantasy Baseball league for a chance to win up to $5,000. Join a Prize League now! EyeOn College Football DB Cody Riggs says transfer from Florida for grad school By Jerry Hinnen | College Football Writer February 7, 2014 4:13 pm ET Cody Riggs started 26 games at Florida. (USATSI)Cody Riggs started 26 games at Florida. (USATSI) Another key member of a Florida...
Riggs tackles LSU's Jarvis Landry in a 17-6 loss; Photo: USA Today Sports Will Muschamp had as tough of a 2013 season as any coach in college football and, at least for now, it looks to be continuing into 2014. In December, ESPN posted an injury-by-injury look at Florida's 2013 season and it wasn't pretty. I think I pulled a hammy just reading that article. Injuries...
Florida coach Will Muschamp confirmed Wednesday afternoon that senior starting safety Cody Riggs has decided to transfer. It was first reported by The Sun earlier in the day. Riggs wants to go transfer to a school where he'll have a chance to play the wide cornerback position, an opportunity he would not have at UF next season, sources told The Sun. "Cody Riggs and his parents...
Florida safety Cody Riggs, who started every game last season, will transfer for his final year of eligibility. Coach Will Muschamp announced Riggs' intentions Wednesday, saying the junior from Fort Lauderdale wants a fresh start. Riggs is on pace to graduate in May and will be able to transfer and play right away in the fall. Riggs ranked fourth on the team with 51 tackles...
Later today, Florida head coach Will Muschamp will announce the transfer of Cody Riggs. Riggs started 12 games at safety, but hopes to return to his natural position of cornerback. Riggs spent his first three seasons at Florida at cornerback. He played in 26 games, starting 13, over the course of the 2010 and 2011 seasons. Riggs was improving and looking forward to a successful...
Cody Riggs spent all but one play of the Missouri game sitting alone in the Florida locker room. After being ejected for a targeting penalty on the first play of the game, Riggs sat in the locker room while watching the game on a laptop. With family members that traveled all the way from Florida to Missouri to watch the game, the targeting penalty was especially frustrating to Riggs.
GAINESVILLE, Fla. -- No. 18 Florida will be without linebacker Jelani Jenkins and cornerback Cody Riggs at No. 23 Tennessee on Saturday. Jenkins had surgery on his right thumb Monday. He injured it in the first series at Texas A&M and spent much of the game in a cast and sling. Coach Will Muschamp says Antonio Morrison will start in Jenkins' place against the Volunteers...
MORE STORIES >>
College Football News

Delivered to your inbox

You'll also receive Yardbarker's daily Top 10, featuring the best sports stories from around the web. Customize your newsletter to get articles on your favorite sports and teams. And the best part? It's free!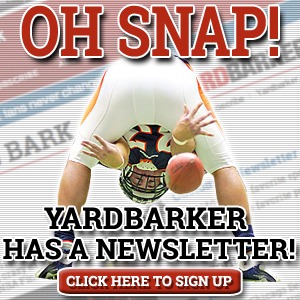 THE COLLEGE FOOTBALL HOT 10