Being able to contribute to different positions is good if you're trying to make a 53-man roster in the NFL.Safety and special-teams player Daimion Stafford is going into his second year with the Titans to what seems like a very bright future.Defensive backs coach Louie Cioffi speaks highly of Stafford according to the Tennessean, "Coming into this year Daimion was a very...
The Tennessee Titans continue to add depth to their secondary by drafting Nebraska safety Daimion Stafford in the seventh round. Stafford, the 248th overall pick in the draft, was the third defensive back selected by Tennessee. The Titans took Connecticut cornerback Blidi Wreh-Wilson in the third round and Nevada cornerback Khalid Wooten in the sixth. Stafford transferred to Nebraska...
With their final pick of the 2013 NFL Draft, #248 overall, the Titans selected Nebraska SS Daimion Stafford. Stafford is a big, physical in the box strong safety, a big hitter who might need some improvement in his coverage skills. If he makes the roster, it appears that he'll be depth behind Bernard Pollard and George Wilson.  Pollard is signed to just a one-year...
Nebraska coach Bo Pelini isn't afraid to get vocal on the sidelines, but the tables were turned on him in Saturday's win over Penn State. ...
Nebraska Cornhuskers Head Coach Bo Pelini is known for being a very angry and intense coach, and it seems as though this time defensive back Daimion Stafford had enough of it. He had a few choice words for Pelini during their game against Penn State, and it will be interesting to see if there are any repercussions for his behavior.This also isn't the first time that Stafford has...
We have seen Bo Pelini chew out his fair share of player during his time at Nebraska but I can't remember any situation where a player gave it back to him. Daimon Stafford had enough of getting yelled at and decided to fight back dropping at least 3 "f-bombs" on Coach Bo. Stafford made up The post Video: Daimion Stafford Curses Out Bo Pelini appeared first on No Coast Bias.
Nebraska senior safety Daimion Stafford had a little message for the Michigan State sidelines during the first quarter of Saturday's game. Ironically, the officiating crew would also give Michigan State the finger with some extra curious penalty calls down the stretch.  Nebraska and the referees won 28-24. Thanks to @TomLeyden
During football games tempers will flare up, as it will in most contact sports.  Obviously the Cornhuskers DB, Daimion Stafford, was not pleased with something Michigan State had done.  While many people will be offended, I personally think it's pretty hilarious how casually he flips them off as he's running off the sideline.H/T: SB Nation
The Nebraska defense got back to swarming ball carriers on Saturday. Come inside as safety Daimion Stafford talks about their performance.
Nebraska senior safety Daimion Stafford is ready to make a jump in his game, according to head coach Bo Pelini.
MORE STORIES >>
College Football News

Delivered to your inbox

You'll also receive Yardbarker's daily Top 10, featuring the best sports stories from around the web. Customize your newsletter to get articles on your favorite sports and teams. And the best part? It's free!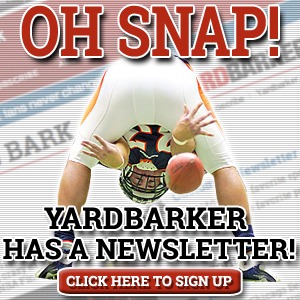 THE COLLEGE FOOTBALL HOT 10