Florida returns to The Swamp this weekend for it's homecoming game against Vanderbilt and junior defensive tackle Darious Cummings talks about the team's outlook on the rest of the season.
Junior defensive tackle Darious Cummings came to Florida in a road rarely traveled. Signing with Florida State in 2010, he didn't last a year there before transferring to East Mississippi Community College. While there, Cummings earned JuCo All-American status and maintained his fourth star before signing with the Gators. Now he is pushing to start inside on the SEC's best defense.
Maybe now more than ever, junior college transfer Darious Cummings is in the right place to play. After originally signing with and playing briefly with Florida State, Cummings left the program and landed at East Mississippi CC where he earned All-American honors as a soph last year. With starter Dominique Easley out for the year, it appears that Cummings has certainly landed at the right place.
The Florida defense held Tennessee to just 220 yards of total offense and stacked up six turnovers in its 31-17 victory over on Saturday. One big turnover came from defensive lineman Darious Cummings, who returned his first career interception for 30 yards.
Darious Cummings and his family have thrown out all their Garnet and Gold and exchanged it for Orange and Blue. The Gators' defensive tackle transfer from East Mississippi Community College may have begun his college career at Florida State, but he'll end it at Florida. Wednesday, Cummings signed the papers to make it official and his parents couldn't have been more proud.
Darious Cummings may have started his college career in Garnet and Gold, but he'll end it in Orange and Blue. After two seasons at Florida State, the defensive tackle decided it wasn't working out, so he decided to transfer. He played this past season at East Mississippi Community College before signing with the Florida Gators.
Darious Cummings out of East MS CC has been down this road before. The defensive tackle from Titusville, Fla., was one of the more sought after prospects coming out of high school before inking with Florida State. He recently committed to Ole Miss but now several other SEC programs have come calling.
Darious Cummings played for Florida State for two years before transferring to East MS CC this fall. Now, the former four-star prospect is taking his talents to Ole Miss.
A pair of defensive members of the 2010 recruiting class are on their way out at Florida State, as Jeff Luc and Darious Cummings are transferring. What does this mean for the 'Noles going forward?
MORE STORIES >>
College Football News

Delivered to your inbox

You'll also receive Yardbarker's daily Top 10, featuring the best sports stories from around the web. Customize your newsletter to get articles on your favorite sports and teams. And the best part? It's free!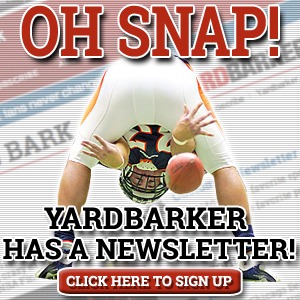 THE COLLEGE FOOTBALL HOT 10