According to multiple sources, including the Charleston Gazette, Sophomore CB Daryl Worley may be reinstated to the WVU football program this week pending the determination of the student conduct committee which he reportedly met with last Friday. Worley was suspended indefinitely from the team after an altercation at a Morgantown nightclub following the Mountaineers victory over...
Morgantown attorneys Dave Jecklin and James Gianola (Gianola, Barnum, Bechtel & Jecklin – Morgantown) released a statement on Friday concerning allegations against West Virginia cornerback Daryl Worley that ended with a misdemeanor battery charge. Worley was accused of grabbing a woman around the neck and taking her to the ground just hours after the Mountaineers defeated Maryland...
Monday night, West Virginia announced that cornerback Daryl Worley had been suspended indefinitely for a "violation of team rules" and would not be suiting up against Oklahoma this Saturday. Wednesday, we learned what led to head coach Dana Holgorsen's decision. According to the Pittsburgh Post-Gazette, a warrant has been issued for Worley in Morgantown, West Virginia, on the...
The Morgantown Police Department has issued a warrant charging West Virginia cornerback Daryl Worley with battery following an incident outside a downtown nightclub on Sunday morning. According to Morgantown police there's surveillance footage showing Worley in an argument with a woman outside Lux Nightclub. Worley allegedly put his hands around the woman's throat and pushed...
It appears initially at least Worley had good intentions and but maybe went a little overboard with it. An arrest warrant is to be issued for West Virginia cornerback Daryl Worley this afternoon, according to MetroNews' Hoppy Kercheval. Worley was suspended on Monday night by Head Coach Dana Holgorsen, but no other comment was made at the time. What EerSports has learned – and...
West Virginia starting cornerback Daryl Worley has been suspended indefinitely for violating team rules, Mountaineers coach Dana Holgorsen announced Monday night. Worley, a sophomore, ranks third on the team in tackles with 17 and has intercepted two passes through three games this season.
West Virginia cornerback Daryl Worley has been suspended indefinitely for a violation of team rules. Worley's suspension comes at a critical...
Daryl Worley. Photo via wvmetronews.con.West Virginia has placed cornerback Daryl Worley on indefinite suspension for the ever-vague "violation of team rules."No details were given for the suspension, and from the very brief press release on the matter, it would seam Mountaineer head coach Dana Holgorsen isn't really in a talkative mood anout the situation."West...
In a statement released tonight by WVU Dana Holgorsen has announced that Sophomore CB Daryl Worley has been suspended from the program indefinitely for violation of team rules. The statement went on to say that coach Holgorsen would have no further comment at this time. Worley had started all three games for the Mountaineers this season. The sophomore CB had accumulated 17 total...
Daryl Worley In order for WVU to turn things around in 2014, they must slow down the high octane passing attacks of the Big 12. With experience and talent returning at linebacker, the Mountaineers should do well against the run. However, containing the run has not been the problem on defense. All too often defensive backs were out of position and beaten badly by outside receivers...
MORE STORIES >>
College Football News

Delivered to your inbox

You'll also receive Yardbarker's daily Top 10, featuring the best sports stories from around the web. Customize your newsletter to get articles on your favorite sports and teams. And the best part? It's free!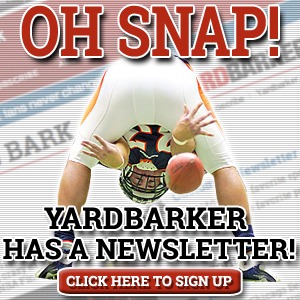 THE COLLEGE FOOTBALL HOT 10