Twitter/@SBN_Wescott The retirement of Texas quarterback David Ash is one of the biggest stories of this young college football season. While Texas fans have to disappointed that they can't watch him play anymore, the fanbase and others in the program have rallied around Ash. The now-former Texas quarterback has issued a letter to those fans who have made his Texas experience special...
AUSTIN, Texas (AP) David Ash had hoped he would be able to play football again. The Texas quarterback knew better than to believe it would happen. Ash spoke Monday for the first time since coach Charlie Strong announced last week that the junior's career was over. Ash figured he could be finished when he called a team doctor in the middle of the night after the North Texas game...
Texas Longhorns head coach Charlie Strong announced Wednesday that former starting QB David Ash would be giving up football. Strong said Ash approached him to let him know and that "we kind of saw this" coming. Ash missed 10 games last season due to concussions and even though he was medically cleared to play, he suffered yet another one during the game with North Texas. There...
It was something that looked obvious from the outside looking in when David Ash sat out most of last season with symptoms of a concussion, but he was eventually deemed healthy and was supposed to be the man for the Longhorns this season. Another concussion in the team's season opener made it painfully clear what had to happpen next.David Ash had to stop playing football.via TwitterRead more »
The news that Texas quarterback David Ash is done playing football due to his concussion history was very tough for the college football world, especially those connected with the Longhorns program. Many fans and others in the college football world have reached out to Ash on Twitter, including a few of the bigger names in Texas athletics. Ash's former coach Mack Brown, and former...
Former Texas Longhorns starting quarterback David Ash has decided to quit his football-playing career, according to head coach Charlie Strong. Ash, who started 22 games for the program over the past four seasons, suffered concussion-like symptoms after the game he and his team played against North Texas earlier in the year. Ash also missed a great deal of time last year due to two...
The Texas Longhorns are having just an absolutely brutal year. Between all the players getting kicked off the team, suspended and David Ash's injury, things are going terribly. Things only got worse against UCLA on Saturday night when Texas elected to kickoff twice. UCLA won the toss and deferred and then Texas chose to kickoff […] The post Texas Botched The Coin Toss, Will Kickoff...
Texas QB David Ash is suffering from a concussion and will miss Saturday's game against BYU. (Image courtesy of USATSI) As media, it's easy to try and tell an athlete what they should be doing instead of letting them live their own lives. When it comes to intercollegiate athletics, it is way too easy to assume this hectoring, lecturing pose. With that being said, I'm probably...
Texas head coach Charlie Strong says his starting quarterback, David Ash, will not be available this weekend for a home game against BYU. Ash apparently took a hit in the first quarter against North Texas on Saturday that raised a caution flag later that night. Sophomore Tyrone Swoopes will now be expected to be the starting quarterback for Texas. Now Texas will be playing its next...
Can David Ash continue to play football? Mandatory Credit: Sue Ogrocki How many concussions is too many? David Ash is toeing the line. Charlie Strong said at a press conference Monday that the Texas Longhorns quarterback will not play in Saturday's game against BYU because of concussion-like symptoms. "We would never jeopardize a young man's health for the good of the football...
MORE STORIES >>
College Football News

Delivered to your inbox

You'll also receive Yardbarker's daily Top 10, featuring the best sports stories from around the web. Customize your newsletter to get articles on your favorite sports and teams. And the best part? It's free!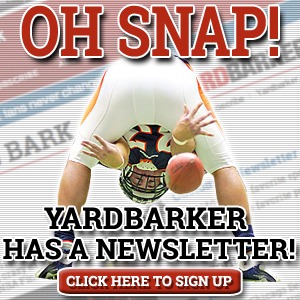 THE COLLEGE FOOTBALL HOT 10