After swapping picks with the Dolphins earlier in the round, the Raiders used the 12th overall pick to select Houston cornerback D.J. Hayden. There was a lot of chatter that the Raiders were think defensive tackle with the pick. Sharrif Floyd and Star Lotulelei would have been available options if the Raiders took that route. There was even a thankfully false rumor spreading around...
PICK: D.J. Hayden, CB, HoustonANALYSIS: When I heard this morning that Hayden was being considered as the first or second CB in the draft, I actually laughed. I knew he might sneak into the end of round one despite being a second round prospect, but I never imagined him going this high. His story and return from a life threatening injury is certainly inspiring, but he just isn...
University of Houston cornerback D.J. Hayden almost died in practice after a teammate's knee hit him in the chest causing a tear in the inferior vena cava in his heart. (Google it, it's insane.) When... Full story at Bob's Blitz ~ http://www.bobsblitz.com
According to ProFootballTalk.com, the Oakland Raiders brought in Houston cormerback D.J. Hayden for a visit.Hayden almost died at a practice during the 2012 season.Fully healed less than five months after a routine hit nearly claimed his life, cornerback D.J. Hayden is visiting the Raiders on Tuesday, per a source with knowledge of the situation.Hayden severed his inferior vena...
Houson CB D.J. Hayden will work out 4/2 w/ Texans. Will do sguttle, jumps and send results to all teams. Has 7 total visits. Rising fast. — Gil Brandt (@Gil_Brandt) March 25, 2013   According to NFL Network's Gil Brandt, the Houston Texans will host hometown product, cornerback D.J. Hayden in a private workout. Hayden graduated from the University of Houston and garnered first...
DJ Hayden CB, Houston 5-11, 191 LBS         TCK          INT        PBU         SCK         TFL           FF 2012 38 4 8 3 1 Houston 2011 66 2 11 1 8 5 11/12 2010 35 3 6 Navarro JUCO 09/10 2009 23 1     *4 INT returned for touchdowns (3 at Houston).   *Missed final...
If you remember the name D.J. Hayden, chances are you remember it because Hayden was the victim of one of the most terrifying and unusual injuries ever suffered by an athlete. Four months ago Hayden, a defensive back at the University of Houston, ruptured the main vein to his heart during a practice. Doctors said this kind of injury is normally associated with car accidents and...
GET WELL SOON
Cougars cornerback D.J. Hayden is in critical but stable condition after undergoing emergency surgery Tuesday evening after suffering a torn blood vessel during practice.
A University of Houston defensive back left a hospital Monday, six days after a hit in practice tore a major vein that feeds his heart and left him in critical condition. The school said cornerback D.J. Hayden was discharged from Memorial Hermann-Texas Trauma Institute in Houston. Hayden and his family won't be available for comment immediately, UH athletics spokesman David...
Houston cornerback D.J. Hayden remains in ''stable yet critical'' condition after tearing a vein during a collision with a teammate during practice. Team physician Dr. Walter Lowe said in a statement from the school Thursday that the senior was taken by ambulance Tuesday to Memorial Hermann Hospital. He had immediate surgery for a tear of the inferior vena cava,...
MORE STORIES >>
College Football News

Delivered to your inbox

You'll also receive Yardbarker's daily Top 10, featuring the best sports stories from around the web. Customize your newsletter to get articles on your favorite sports and teams. And the best part? It's free!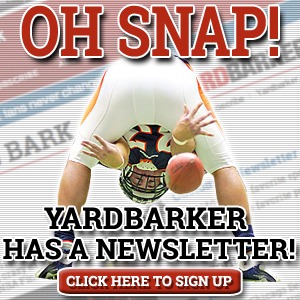 THE COLLEGE FOOTBALL HOT 10