(Photo Credit: Kevin Cook) NORMAN, OK—Sorry Sooner fans; you're going to have to wait another year to see this potential superstar take the field. Junior transfer wide receiver, Dorial Green-Beckham, will not be eligible to play for Oklahoma this season. The school announced Friday that the waiver request entered on behalf of the phenom wide receiver, asking to make him eligible...
Today Oklahoma had no choice but to turn away former Mizzou wide reciever Dorial Green-Beckham. DGB is rated as a top tier wide out and the fourth best wide out in Mike Mayock's class. The post Oklahoma turns away one of the best WR's in the country appeared first on NFL Draft Diamonds.
Back in early August, it was reported that Oklahoma's officials were "confident" that former Missouri star wideout Dorial Green-Beckham, now enrolled at OU, would be granted eligibility by the NCAA to play in 2014. Perhaps they got a little ahead of themselves. Friday, the organization announced that DGB, as he's known, will not be eligible until the 2015 season. Oklahoma...
Former Missouri wide receiver Dorial Green-Beckham has a new home, starting in 2015. The Oklahoma Sooners announced that Green-Beckham, also known as "DGB" has joined their program, and is eligible to play in 2015. In a statement on the team's website, coach Bob Stoops announced the move. "We are pleased to welcome Dorial to the […]
A little more than two years ago, Oklahoma was a major player in the Dorial Green-Beckham sweepstakes. Green-Beckham, a five-star wide receiver prospect considered the nation's best player in the recruiting class of 2012, ultimately picked Missouri and compiled 87 catches, 1,278 yards and 17 touchdowns in two seasons with the Tigers. After two marijuana-related arrests and an...
Back in April, Missouri made a tough call when they dismissed five-start recruit WR Dorial Green-Beckham due to drug and character issues. Since then, there was some speculation that Green-Beckham could transfer to Eastern Illinois for the 2014 season, but there hasn't been any updates regarding this idea since it first surfaced. Jeremy Fowler of CBS Sports is reporting that...
Police announced on Thursday that Missouri wide receiver Dorial Green-Beckham will not be arrested following an incident over the weekend during which he allegedly assaulted several women. According to an incident report obtained by The Columbia Daily Tribune, Green-Beckham forced open the door of an apartment in search of his 20-year-old girlfriend. One woman claimed […]
ST. LOUIS -- Dorial Green-Beckham has a winning lottery ticket in his back pocket, but he hasn't learned. Missouri's standout wide receiver had a breakout sophomore season for the SEC East champion Tigers, who finished 12-2 and ranked fifth in the AP Top 25 and USA Today Coaches Poll. The 6-foot-6, 225-pound specimen, who was the No. 1 prospect coming out of high school,...
University of Missouri sophomore wide receiver and Springfield Hillcrest High School graduate Dorial Green-Beckham was booked in the Greene County jail overnight for suspicion of felony drug possession. According to the Greene County Sheriff's Department website, he was in custody but has not been charged.  He was released from jail a short time later.  Springfield […]The post...
Missouri sophomore Dorial Green-Beckham was one of the highest-rated recruits in the entire 2012 college football class. Tigers fans are starting to see why. DGB made an unbelievable behind-the-defender's-back catch in the third quarter of today's game against Kentucky to give Mizzou its fifth touchdown of the afternoon. It was absolutely disgusting. Here's a still, via...
MORE STORIES >>
College Football News

Delivered to your inbox

You'll also receive Yardbarker's daily Top 10, featuring the best sports stories from around the web. Customize your newsletter to get articles on your favorite sports and teams. And the best part? It's free!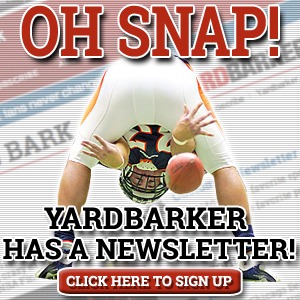 THE COLLEGE FOOTBALL HOT 10