Kent State running back Dri Archer ran the 40-yard dash in 4.26 seconds earlier today at the NFL Combine for the fastest time so far of the 2014 draft season, which came as no surprise to anyone who has covered Archer over the years. When I profiled Archer this offseason, he told me that he has ran the 40-yard dash before in 4.21 seconds and he came just short of that at the combine...
Video of Dri Archer running a scorching 4.26-second 40-yard dash at the NFL Combine. He was just .02 behind Chris Johnson.
Kent State is not known for  being a football powerhouse. To be honest--the Golden Flashes are not very good, but it looks like the team's second most productive running back from last season could earn himself a cool $100K after turning in a blazing fast time in the 40-yard dash.That is, assuming he wore the right cleats...From Bleacher ReportAssuming Kent State running back...
Dri Archer had 138 yards and three touchdowns as Kent State dominated Ohio 44-13 on Tuesday night. The game was close in the first half as Kent State (4-8) took a 17-13 lead into halftime. The Golden Flashes scored two touchdowns in the third quarter to take a 31-13 lead and held Ohio (6-5) scoreless for the entire second half. Kent State rushed for 312 yards and its longest run...
Kent State has launched a comic strip to promote super-speedy running back Dri Archer as a Heisman Trophy candidate. The unique campaign features ''The Archer,'' a cartoon drawn by school alum Chuck Ayers, who has illustrated the ''Funky Winkerbean'' and ''Crankshaft'' comic strips. The weekly strip made its debut on Wednesday and...
The Mid-American Conference equals three BCS conferences- ACC, Big East, and Big Ten - in the number of teams ranked in the latest USA Today Coaches Poll. For the first time since 1973, Kent State was ranked in the Associated Press Top 25 beginning week 12 of this season. Golden Flashes coach Darrell Hazell said, "We are very excited to be in the Top 25, but there are still...
Kent State running back Dri Archer has been one of the nation's top all-purpose players this season and is a key piece in the Golden Flashes' run...
The Kent State Golden Flashes (10-1) edged out the Bowling Green State Falcons (7-4), 31-24, on Saturday thanks in large part to this electrifying run by running back Dri Archer. Watch as the 5-foot-8 Archer runs around, through, and past several Falcons defenders en route to an incredible 74-yard touchdown scamper.Believe it or not, Archer ripped off an even longer touchdown run...
NIUhuskies.com The picture above is a screen shot of the Northern Illinois Huskies football website home screen. Let's just say they want you to vote Lynch for Heisman. Northern Illinois quarterback Jordan Lynch (6-0 216 Jr) is a dual threat with gaudy numbers this year and has accumulated a nice highlight reel, but he is still virtually an unknown in the overall landscape...
Dri Archer ran a kickoff back 98 yards for a touchdown and rushed for two scores as Kent State overwhelmed Towson 41-21 Thursday night in the teams' season opener. Six turnovers hurt Towson, including a first-quarter fumble that set up a 15-yard scoring run by Archer. The Golden Flashes led 17-0 after the first quarter. Archer, whose long return made it 24-7 in the second quarter...
MORE STORIES >>
College Football News

Delivered to your inbox

You'll also receive Yardbarker's daily Top 10, featuring the best sports stories from around the web. Customize your newsletter to get articles on your favorite sports and teams. And the best part? It's free!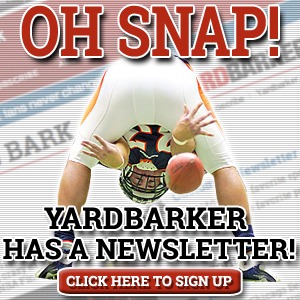 THE COLLEGE FOOTBALL HOT 10