Only days after national signing day and not even time for spring games, the Alabama Crimson Tide are already making national headlines.These are not the good headlines we are used to hearing about from the defending two-time national champions.Four Crimson Tide players have been arrested and charged in an assault, robbery, and weapons charges.Receiver Eddie Williams was first arrested...
What's wrong with these kids? It's only been a month since the Alabama Crimson Tide football team was sitting on top of the world after winning the National Championship, and these 4 knuckleheads decide to go out and do something absolutely stupid. Police arrested defensive lineman Dennis "D.J." Pettway, linebacker Tyler Hayes, running back Brent Calloway and...
The news is starting to come out regarding the arrest of four Alabama Crimson Tide football players, and it's not pretty at all. As we reported earlier,  Brent Calloway, Tyler Hayes, D.J. Pettway, and Eddie Williams, were arrested for robbery and fraudulent use of a credit card. Those details are now available, and its disgusting.  Per Tide Sports, arrest warrants...
POLICE BLOTTER
Four Alabama Crimson Tide football players were arrested on Monday on a variety of charges, including second-degree robbery and fraudulent use of a credit card.
Four Alabama Crimson Tide freshman football players have been arrested on robbery and credit card fraud charges. Linebackers  DJ Pettaway and Tyler Hayes were both charged with second degree robbery, and Brent Calloway, an H-Back, were charged with credit card fraud. Eddie Williams - a safety - was charged with both crimes. And things will look to get worse for Williams, who was...
MORE STORIES >>
College Football News

Delivered to your inbox

You'll also receive Yardbarker's daily Top 10, featuring the best sports stories from around the web. Customize your newsletter to get articles on your favorite sports and teams. And the best part? It's free!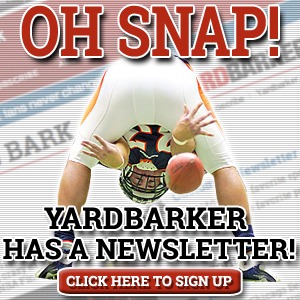 THE COLLEGE FOOTBALL HOT 10