Former Oklahoma Sooners center Gabe Ikard has been to many an Oklahoma City Thunder game. Ikard, who was signed by the Tennessee Titans as an undrafted free agent, is often spotted sitting courtside cheering on Kevin Durant and company. Don't worry, his girlfriend owns the seats. And just to make sure she wasn't providing Ikard […]
Former Oklahoma Sooner center Gabe Ikard has a knack for finding himself in situations that show the true inanity of many of the NCAA's rules. In February, he was one of the Sooners who had to pay back $5 for eating a second serving of pasta at a banquet, and last week, Ikard, who was signed as an undrafted free agent by the Tennessee Titans, revealed that Oklahoma decided to cover...
There's a pasta problem at Oklahoma, but offensive lineman Gabe Ikard can't help that he loves to eat it.   The Sooners' athletic department self-reported a violation of three Oklahoma student athletes taking in too many carbs at a banquet last May. The athletes involved were required to donate $3.83 for the pasta to the charity of their choice. Ikard wasn't shy...
During a graduation banquet last May, three Sooners were called out by there own team, no less, for eating excess pasta. Although the players weren't identified, a couple of offensive lineman cared to share on Twitter. Gabe Ikard and Austin Woods both tweeted that they would gladly confess to eating too much pasta at the all-you-can-eat banquet. Oklahoma issued a statement, saying...
Gabe Ikard's career at Oklahoma may be over, but college rivalries never end. The Sooners center unveiled on Twitter the helmet he plans to wear for Saturday's East-West Shine Game. If you're not familiar with the Red River Rivalry, it's one of the most intense and best in college football. Oklahoma fans are always doing the "Horns down" hand sign and turning...
Alabama has won three of the past four BCS national championships, and came painfully close to being able to play for yet another this season. But Oklahoma starting lineman Gabe Ikard says he and the rest of the Sooners aren't scared to play the Tide in the upcoming Sugar Bowl. In fact, he was hoping he'd get a shot at them this year – he just wanted it to be under different...
Earlier today, it was announced that Oklahoma Sooners offensive lineman Gabe Ikard is the recipient of the 2013 Wuerffel Trophy, given annually to the college football player who best combines exemplary community service with athletic and academic achievement. Ikard graduated last May with a 4.0 and is currently pursuing his second undergraduate degree, in human relations. He is...
There's less than 90 days until football kicks off in Oklahoma. Need something to get you through the summer days? Here are a few Twitter accounts from players and coaches at Oklahoma and Oklahoma State who are worth following: Gabe Ikard (@GabeIkard) About Ikard: The All-Big 12 selection last season has played about every position on the line for the Sooners. Ikard has 37...
Starting center Gabe Ikard was ruled out of No. 14 Oklahoma's game against Baylor on Saturday after doctors did not clear him to play following a head injury. Team spokesman Pete Moris said just before kickoff that Ikard would not play. Ikard had started every game at center for the Sooners, filling in after entrenched starter Ben Habern gave up football at the start of training...
MORE STORIES >>
College Football News

Delivered to your inbox

You'll also receive Yardbarker's daily Top 10, featuring the best sports stories from around the web. Customize your newsletter to get articles on your favorite sports and teams. And the best part? It's free!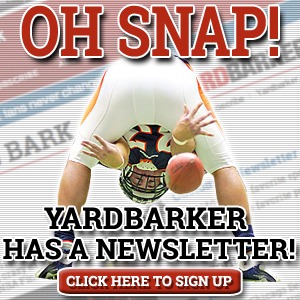 THE COLLEGE FOOTBALL HOT 10