Early in the game against Georgia the Arkansas Razorbacks looked good. Fans couldn't complain about that. The offense took an earl lead, midway through the first quarter and the defense was really flying around trying to make something happen.Like it did here when it put some great early pressure on Bulldogs QB Hutson Mason.@SBNationGIF/TwitterRead more »
Hutson Mason and the Bulldogs pulled out a big win last weekend and this was a nifty little play Mike Bobo and Mason pulled out of the playbook.
As mentioned in an earlier post this week, Georgia Bulldogs QB Hutson Mason didn't exactly wow the fans against Clemson; but he didn't do anything negatively memorable either. He managed the game well, made timely throws when needed, and didn't… Read more → The post Georgia Football: Hutson Mason Needs to Settle Down and Play Ball appeared first on The Lady Sportswriter.
Hutson Mason. Via Macon.com.If you're wanting to give Georgia starting quarterback Hutson Mason a piece of your mind on Twitter or Facebook during the 2014 season, don't expect him to be listening to you. Mason says he's staying off social media during the season."It just helps me stay focused," he (Mason) said. "When you get (negative) stuff like that...
When the college football season ended last year, the realization set in that Aaron Murray, after four years, would no longer be the starting quarterback for the Georgia Bulldogs. That gruesome knee injury that he suffered at the end of the season against the Kentucky Wildcats would be the last we'd ever see of the SEC record-breaker. Luckily for the Georgia coaching staff, there's...
Huston Mason. Via Bulldog Illustrated. Georgia starting quarterback Hutson Mason says that he has been spending the offseason working on improving his footwork. To that end, he's been using an iPad app called "Coach's Eye" to improve in that area. "It's kind of my new best friend," Mason said. "Every little thing I do is just trying to create good habits...
A disappointing 8-5 season has left many Georgia Bulldogs' fans readily anticipating the 2014 campaign. A revamped and healthy offense with Hutson Mason at the helm will hope Todd Gurley, Keith Marshall and Malcolm Mitchell return with a vengeance. Yet with Mitchell entering his final year of eligibility and Gurley not expected to stick around as an early favorite for next year's...
Another season of dashed hopes for the Georgia Bulldogs has ended in an eerily similar fashion. For the second year in a row, the Bulldogs will play the vaunted Nebraska Cornhuskers on New Year's Day. The 2014 version of the Gator Bowl should serve as a perfect venue for two teams derailed by injuries and close losses to vent their frustrations. It will also be another chance for...
The Georgia Bulldogs had an unforgettable matchup with the Georgia Tech Yellow Jackets at Bobby Dodd Stadium on Saturday, and although it may not compare to the Iron Bowl's "Missed Field Goal Return Heard 'Round the World", it was certainly one that Bulldogs' fans will remember for quite some time, as the Bulldogs overcame a 20-0 deficit in the second quarter to ultimately...
The first word on Hutson Mason's reaction to Georgia quarterback Aaron Murray's decision to return for his senior season has come from Hutson Mason himself; while he admits to being "frustrated", he states he isn't considering a transfer —at least not yet. …"Coach Richt is a straight up honest guy. He can't make Aaron's decision for him. Nobody promised me anything...
MORE STORIES >>
College Football News

Delivered to your inbox

You'll also receive Yardbarker's daily Top 10, featuring the best sports stories from around the web. Customize your newsletter to get articles on your favorite sports and teams. And the best part? It's free!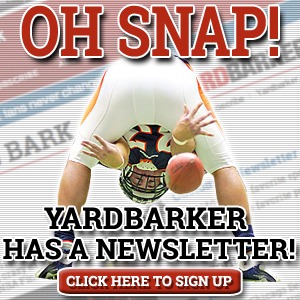 THE COLLEGE FOOTBALL HOT 10