J.W. Walsh will start at quarterback for Oklahoma State when the Cowboys open the season against No. 1 Florida State on Saturday, coach Mike Gundy told ESPN Radio. "J.W. has taken the majority of the [first-team] reps and will be the guy that goes out there and starts for us," Gundy told "SVP & Russillo" on Wednesday. Oklahoma State takes on the No. 1 Seminoles...
STILLWATER, Okla. -- J.W. Walsh found Charlie Moore for a 6-yard touchdown pass with 4:16 left in the fourth quarter to help No. 21 Oklahoma State rally for a 33-29 win over Kansas State. Walsh finished 24-of-38 passing for 245 yards for the Cowboys, who narrowly avoided their second straight loss after a defeat at West Virginia last week. After falling behind 29-23 in the fourth...
There will be no questions about who the starting quarterback is for Oklahoma State next week. J.W. Walsh completed his first 10 passes, finished 24-of-27 for 326 yards and four touchdown throws as No. 13 Oklahoma State beat UTSA 56-35 on Saturday. It's the fourth start for the sophomore Walsh, his first this season after a quick relief performance for Clint Chelf last week...
J.W. Walsh was picked to start at quarterback for Oklahoma State on Saturday against Texas-San Antonio. Clint Chelf started the Cowboys' opener against Mississippi State, but as expected Walsh also played in the 21-3 victory. Coach Mike Gundy named Walsh the No. 1 quarterback on Monday. ''I think he just brought a spark to our team,'' Gundy said. ''...
J.W. Walsh is Oklahoma State's new starting quarterback, and there are no plans for Clint Chelf to rotate in, Cowboys coach Mike Gundy said on Monday morning. "I've never been a big fan of the two-quarterback system, and right now, we would go with J.W," Gundy said. Chelf started Saturday's 21-3 win over Mississippi State, completing 3-of-6 passes for 11...
Wes Lunt's career at Oklahoma State is over before it really got started. On one hand, Lunt deciding to transfer from Oklahoma State is absolutely surprising. How many quarterbacks graduate high school early, leave home to attend spring football practice and win the starting quarterback job only months after stepping foot on campus? Not many, especially at a place like Oklahoma...
Just when Oklahoma State quarterback  J.W. Walsh was starting to get comfortable as the starting quarterback, his season is over just like that. A day after throwing for 415 yards and running for another 46 yard and a touchdown, OSU head coach Mike Gundy announced Sunday night Walsh was done for the season to everyone's surprise. "He just has an injury that I don't think...
Oklahoma State starting quarterback J.W. Walsh will miss the rest of the season after hurting his knee in a 31-10 victory over Iowa State on Saturday, the latest blow in an injury-marred season. Coach Mike Gundy said Sunday night that he believes Walsh was hurt within the first 10 or 20 plays of the game but never complained or came out of the game with the injury that will keep...
Oklahoma State starting quarterback J.W. Walsh will miss the rest of the season because of a knee injury that he was able to play through while throwing for a career-high 415 yards in a 31-10 victory over Iowa State on Saturday. Coach Mike Gundy said Sunday night that Walsh will miss the rest of the season and likely be replaced by freshman Wes Lunt, who had won the starter'...
Oklahoma State freshman quarterback Wes Lunt's third career start lasted all of six plays Saturday against Louisiana-Lafayette (or Louisiana, should I say). Initial reports indicated Lunt suffered a dislocated knee cap, but as it turns out, that may not be entirely accurate. Whatever the diagnosis, it doesn't appear the injury is serious with offensive coordinator Todd Monken...
MORE STORIES >>
College Football News

Delivered to your inbox

You'll also receive Yardbarker's daily Top 10, featuring the best sports stories from around the web. Customize your newsletter to get articles on your favorite sports and teams. And the best part? It's free!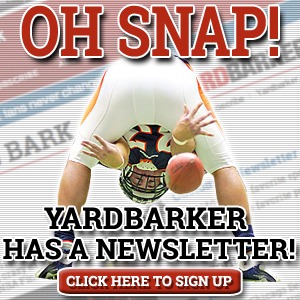 THE COLLEGE FOOTBALL HOT 10