Florida State University has begun a disciplinary investigation of quarterback Jameis Winston in relation to 2012 accusations of rape by a female student. Rachel Axon of USA Today, reported Thursday that Florida State officials interviewed the woman last month.  She initially reported the alleged rape to police in December 2012. "They assured us that the Title IX process...
The Tallahassee Democrat is reporting that Florida State DB Jalen Ramsey was kicked out of practice Sunday for what is being described as involvement in several physical plays, with the last ending with QB Jameis Winston being knocked to the ground. Coach Jimbo Fisher said Ramsey was warned and called it a lack of leadership and character.  Fisher shared, "He was told not to do...
Karlos Williams scored on a 12-yard touchdown run in second quarter of the ACC Championship Game between Florida State and Duke Saturday, but the real story of the run was the poor Duke defender who got absolutely destroyed by two Seminoles. Freshman cornerback DeVon Edwards came running over as the last line of defense between […]
For about a quarter there, we weren't positive that Florida State was going to run away with the ACC title tonight against Duke. But the Seminoles have scored touchdowns on two of their last three possessions and now hold a 14-0 lead just before halftime in Charlotte. The latest score came on a bulldozer-like run by running back Karlos Williams. For the record, it's DeVon Edwards...
Karlos Williams has become a significant cog in Florida State coach Jimbo Fisher's fifth-ranked scoring offense in the FBS. Impressive, considering two weeks ago Williams was holding onto dreams of being a defensive star. Williams switched to offense after the season-opener against Pittsburgh and has rushed for 193 yards and a team-high 11.4 yards per carry in two games. His...
Marcus Mariota (QB-Oregon) - This past Saturday, Mariota led the the Ducks to their third consecutive blowout victory. Oregon is 3-0, ranked No. 2 in the nation and has scored at least 59 points in every game so 
Karlos Williams conversion to running back is paying off. (AP Photo/Chuck Burton) Karlos Williams gives FSU another dynamic playmaker at a skill position After a sluggish start on Saturday, Florida State racked up 377 rushing yards in a 62-7 victory over Nevada in its home-opener. The junior running back combination of Devonta Freeman and James Wilder Jr., known as "Wild and...
It might be time to give Florida State's backfield a new nickname. ''Wild & Free'' worked perfectly when it was a two-man show featuring James Wilder Jr. and Devonta Freeman. But junior Karlos Williams, a safety who switched to running back after the season opener, had a breakout performance in Saturday's 62-7 drubbing of Nevada and could be in the mix...
TALLAHASSEE -- Florida State safety Karlos Williams, a former five-star recruit, will make the transition to tailback in a move that will offer playing time on both sides of the ball. Coach Jimbo Fisher said Williams began practicing a considerable amount at tailback on Wednesday afternoon and addedthe junior often will play defensive back in dime situations. "He's a natural...
For this installment of NoleDigest TV, Florida State junior linebacker Vince Williams talks about being the first member of his family to finish college and how his brother, Karlos Williams, broke his wrist.
MORE STORIES >>
College Football News

Delivered to your inbox

You'll also receive Yardbarker's daily Top 10, featuring the best sports stories from around the web. Customize your newsletter to get articles on your favorite sports and teams. And the best part? It's free!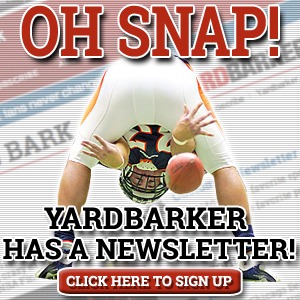 THE COLLEGE FOOTBALL HOT 10