No. 2 Florida State survived a late push from No. 5 Notre Dame and improved to 7-0 on the season with a 31-27 win. The Fighting Irish held a 17-10 lead at halftime, but the Seminoles stormed back in the final two quarters, scoring 21 points in the form of two touchdown runs from Karlos Williams and a passing score from quarterback Jameis Winston.
Top-ranked Florida State fell behind by 17 early against N.C. State on Saturday, but didn't abandon the running game. For that, the Seminoles were able to rally for a 56-41 victory and senior running back Karlos Williams was able to have a career-day. Karlos Williams earns Florida State Football Player of the Week for Week 5 after finishing with a career-high 126 yards rushing...
Florida State had to sweat it out the entire night, but thanks to a 4th down stop in overtime and a Karlos Williams touchdown, the defending National Champions remained undefeated as they chase back to back titles. The Seminoles got this huge stop on 4th down. After getting the ball, Florida State ran the ball two successive times, capping it off with this Williams touchdown. Of...
No Jameis Winston, no problem for Florida State.  The No. 1-ranked Seminoles topped Clemson, 23-17, in overtime at Doak Campbell Stadium in Tallahassee, Fla. Saturday night.  After stopping the Tigers on downs on the first possession of OT, FSU senior running back Karlos Williams scored the game-winning touchdown on a 12-yard rush.  In Winston's absence, redshirt sophomore...
Karlos Williams scored on a 12-yard touchdown run in second quarter of the ACC Championship Game between Florida State and Duke Saturday, but the real story of the run was the poor Duke defender who got absolutely destroyed by two Seminoles. Freshman cornerback DeVon Edwards came running over as the last line of defense between […]
For about a quarter there, we weren't positive that Florida State was going to run away with the ACC title tonight against Duke. But the Seminoles have scored touchdowns on two of their last three possessions and now hold a 14-0 lead just before halftime in Charlotte. The latest score came on a bulldozer-like run by running back Karlos Williams. For the record, it's DeVon Edwards...
Karlos Williams has become a significant cog in Florida State coach Jimbo Fisher's fifth-ranked scoring offense in the FBS. Impressive, considering two weeks ago Williams was holding onto dreams of being a defensive star. Williams switched to offense after the season-opener against Pittsburgh and has rushed for 193 yards and a team-high 11.4 yards per carry in two games. His...
Karlos Williams conversion to running back is paying off. (AP Photo/Chuck Burton) Karlos Williams gives FSU another dynamic playmaker at a skill position After a sluggish start on Saturday, Florida State racked up 377 rushing yards in a 62-7 victory over Nevada in its home-opener. The junior running back combination of Devonta Freeman and James Wilder Jr., known as "Wild and...
It might be time to give Florida State's backfield a new nickname. ''Wild & Free'' worked perfectly when it was a two-man show featuring James Wilder Jr. and Devonta Freeman. But junior Karlos Williams, a safety who switched to running back after the season opener, had a breakout performance in Saturday's 62-7 drubbing of Nevada and could be in the mix...
TALLAHASSEE -- Florida State safety Karlos Williams, a former five-star recruit, will make the transition to tailback in a move that will offer playing time on both sides of the ball. Coach Jimbo Fisher said Williams began practicing a considerable amount at tailback on Wednesday afternoon and addedthe junior often will play defensive back in dime situations. "He's a natural...
MORE STORIES >>
College Football News

Delivered to your inbox

You'll also receive Yardbarker's daily Top 10, featuring the best sports stories from around the web. Customize your newsletter to get articles on your favorite sports and teams. And the best part? It's free!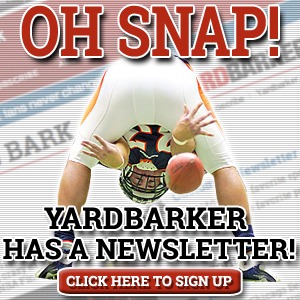 THE COLLEGE FOOTBALL HOT 10