As the 2014 NFL Draft continues to approach us, we will take another look at some options for the San Francisco 49ers. The next in the list of day one 49ers draft prospects is Notre Dame nose tackle Louis Nix. Nix has the prototypical size to play the nose tackle position. He has the ability to be a two gapping, space-eating, block-occupying run stuffer. Nix was a severely disruptive...
Former Notre Dame defensive tackle Louis Nix is an amazing athlete for his size, but that doesn't mean that he necessarily has very good "ups". This past weekend, a video surfaced that shows Nix getting dunked on by a brother at an Indiana frat party. In the clip, you can clearly see that Nix starts his jump late and somehow winds up on the ground, with a lot of people yelling...
Notre Dame defensive tackle Louis Nix made the broad jump look easy at the NFL Scouting Combine Monday. It was just the landing part that proved difficult for him. The 6-foot-2, 331-pound Nix did all he could to stay on his feet after completing the jump, including some impressive arm circles, but gravity was not on his side. The Notre Dame standout fell to the ground hard and terrified...
Bob Diaco developed a defense that ranked the Notre Dame football team in the top 30 nationally in scoring defense four years in a row, something the Irish had only done twice in the previous ten years.  After Diaco's departure to Connecticut, the Irish were in desperate need of a defensive coordinator who could fill Diaco's shoes. They got just that when they hired Brian VanGorder...
Notre Dame's star defensive tackle Louis Nix may actually be better at Twitter than he is at football, which is saying something. Nix is one of the most beloved members of the Fighting Irish, both for his very outgoing personality and his great sense of humor. Nix is a senior at Notre Dame, but can opt for a fifth year with the team if he so chooses. Most people believe that there...
"Irish Chocolate" Louis Nix III looks to lead the Fighting Irish defense to another stellar season in 2013. In part 1 of my Notre Dame 2013 season preview, we took an in-depth look at the Irish offense and the changes and challenges they may face heading into this year. In part 2 of this 3 part series, we focus on the other side of the ball: The defense. As much change as there...
If you've been following here at College Spun, you know we absolutely love Notre Dame's Louis Nix III. Nix is a breath of fresh air in a college football world where we are always hearing about suspensions, NCAA violations, injuries, and more — he's always looking to stay positive and keep fans entertained. As Notre Dame got its fall camp underway this weekend, Nix checked...
Louis Nix and Sam's Club shopper Glen Forshee Notre Dame's Louis Nix III is a very likeable fellow — this past season he dressed up as Santa Claus for South Bend children, and he isn't camera-shy — his celebration dance after the Miami Heat won the NBA Finals is something that everyone has to see. He's known for being extremely approachable and great with fans, and...
Notre Dame Fighting Irish senior defensive lineman Louis Nix III, listed at 326 pounds, lined up as a quarterback in the shotgun formation and scrambled for a 2-point conversion during Saturday's intrasquad Blue and Gold spring football game at South Bend. Nix, playing for the blue team and wearing jersey number 1, got the snap and contemplated passing the ball before just running...
A big piece of the puzzle is put in place for Notre Dame in 2013, as Louis Nix and Zack Martin will both return in 2013. #NotreDame left tackle Zack Martin and nose guard Louis Nix will return to ND in 2013. — Eric Hansen (@hansenNDInsider) December 17, 2012 We have seen just how far Notre Dame has come with Brian Kelly and his emphasis on strengthening both the...
MORE STORIES >>
College Football News

Delivered to your inbox

You'll also receive Yardbarker's daily Top 10, featuring the best sports stories from around the web. Customize your newsletter to get articles on your favorite sports and teams. And the best part? It's free!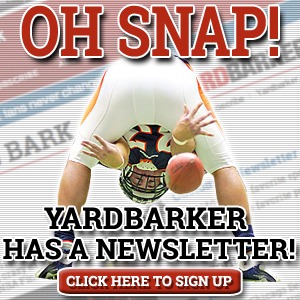 THE COLLEGE FOOTBALL HOT 10