One year ago, when he was in a hospital bed instead of on the football field, Marcus Rios' game-saving moment was one he thought he might never have. It's easy to point to UCLA's three turnovers and say that they were the story in Saturday's win over California. Or you could say that UCLA's first win at California Memorial Stadium in Berkeley in 16 years was the...
With time running out and UCLA up by two points, this happened….. UCLA beat Cal 36-34 after a late interception by Marcus Rios was upheld: http://t.co/nXXCTF7z5d http://t.co/6Uqdz2quJv — Dr. Saturday (@YahooDrSaturday) October 18, 2014 What do you think?
Hoping to play in his first game in nearly two years, UCLA's Marcus Rios couldn't stop grinning. That wasn't the only thing that made him look good. Fighting off a life-threatening fungal infection last year, his 5-foot-11 frame had withered down to 125 pounds. When he stood at Cal State San Bernardino on Tuesday evening after practice, he stood 60 pounds heavier. He credited...
UCLA cornerback Marcus Rios had dreams of shutting down Pac 12 wide receivers and locking horns with USC wide receiver Marqise Lee. Rios now will be in for the fight of his life. The L.A. Times is reporting that Rios will miss six months and probably the whole season with a rare and deadly fungus infection in his sinus area. Rios reportedly has undergone six surgeries to remove the...
UCLA cornerback Marcus Rios will miss the college football season after he was diagnosed with a very rare, deadly fungal infection. Rios, projected to be a starting cornerback for the Bruins, originally had a sinus infection that later developed into something more serious. The infection turned into a fungal infection that was found behind his eye and between his brain. Rios said...
GET WELL SOON
UCLA's projected starting cornerback, Marcus Rios, will miss the season with a rare life threatening fungal infection.
UCLA defensive back Marcus Rios is out six months and likely the season because he is battling a rare sinus infection. Rios has undergone six surgeries since October for the infection, the Los Angeles Times reports. They say he will have another operation in two weeks. Rios told The Times' Chris Foster how deadly the disease can be. "It started as a sinus infection last October...
UCLA cornerback Marcus Rios will undergo a sinus procedure this week and will miss Saturdays game against Arizona State. Rios, a freshman, has been suffering from migraine headaches for three weeks. He has had similar sinus problems in the past. The Bruins have used Rios in five games as a backup to starters Aaron Hester and Sheldon Price, both seniors. Fabien Moreau, another...
MORE STORIES >>
College Football News

Delivered to your inbox

You'll also receive Yardbarker's daily Top 10, featuring the best sports stories from around the web. Customize your newsletter to get articles on your favorite sports and teams. And the best part? It's free!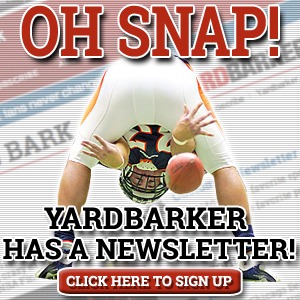 THE COLLEGE FOOTBALL HOT 10