Last week, we saw a Florida State "SEC Champions" ring given to former Seminoles offensive tackle Menelik Watson. This time around, we've got the wrong score on a Holiday Bowl ring the Baylor Bears players received. But this one isn't a mistake. Baylor tweeted out a "49 Days Until Kickoff" promo on Saturday with a photo of the Holiday Bowl ring that reads a final score...
All those Florida State fans who have dreamed about the Seminoles playing in the Southeastern Conference will love this championship ring. Former Florida State offensive lineman Menelik Watson posted a picture of the championship ring he earned by being a part of last season's Atlantic Coast Conference title winners. Problem is it has ''SEC Champions'' engraved...
Imagine former Florida State offensive lineman Menelik Watson's surprise when he received his championship ring, only to find out his beloved Seminoles somehow won the 2012 SEC Championship, despite being firmly ensconced in the ACC? Watson tweeted out a picture of his new bling, which clearly shows the ring maker's egregious mistake… Just got my Championship rings. Apparently...
Menelik Watson received his ring for being part of the ACC Champion Florida State Seminoles. Sounds like a great story except Watson's ring proclaims that FSU was the SEC Champions. Just got my Championship rings. Apparently I'm the only player in #Fsu history to win an SEC Championship! #Legendary pic.twitter.com/MCWmLYyKHi — Menelik Watson (@MenelikWatson71) July 10, 2013...
The Florida State Seminoles enjoyed a very successful 2012 season, taking home the ACC crown with a 12-1 record before spanking Northern Illinois in the Orange Bowl. They did not, however, win the SEC title — despite what offensive lineman Menelik Watson's championship ring might claim. Watson, now a member of the Oakland Raiders, received the ring commemorating FSU's 21-15...
Former Florida State offensive tackle Menelik Watson finally received his ACC Championship Ring from 2012, but there turned out to be a serious misprint on the side.  The side of the ring says SEC Champions and to make matters worse, Watson is saying that he is the only one to receive a ring like that.  Looks like the ring maker made a serious mistake and something tells me that...
If you thought college football expansion was a dead topic in the offseason, you are right. But apparently Florida State had a nice run in the Southeastern Conference championship game last season. Confused? Yes, so was Florida State's right tackle last season, Menelik Watson. Watson took a photo of his 2012 ACC championship ring, something every player received for the December...
Former Seminole Menelik Watson received his ACC Champions ring today and apparently he is the first player in Florida State history to win a SEC Championship against Georgia Tech. Watson was drafted in the second round with the 42nd overall pick by the Oakland Raiders. [via @MenelikWatson71] Related Posts BCS Games Announced: MAC Champion Northern Illinois to play Florida State...
WRONG CONFERENCE
Well, this is pretty interesting. Just over one week ago we showed you the rings that the Florida State players had received for winning the Orange Bowl against Georgia Tech. They were pretty cool and the players loved them — but none more than Menelik Watson, the offensive tackle for the Seminoles (now with the Oakland Raiders). Watson tweeted out a picture of his championship...
In Wednesday's 1st installment, I examined two foreign-born defensive ends who's first love wasn't football. Though Ezekiel Ansah & Margus Hunt play the same position, they couldn't be more different in comparing their playing type or how they should translate to the pros. For the final installment of this series, I have chosen to examine two offensive lineman who share...
MORE STORIES >>
College Football News

Delivered to your inbox

You'll also receive Yardbarker's daily Top 10, featuring the best sports stories from around the web. Customize your newsletter to get articles on your favorite sports and teams. And the best part? It's free!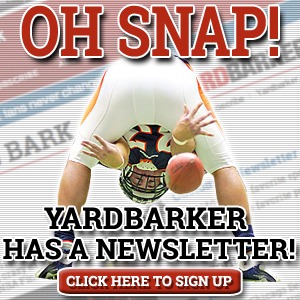 THE COLLEGE FOOTBALL HOT 10