Despite a record setting performance by QB Connor Halliday, Washington State lost against California at home 60-59. We all knew the Cougars had a porous defense but the Special Teams let the Cougars down. Golden Bear returner Trevor Davis with 7:37 left to play in the third quarter took back a kickoff 100 yards for a score. After Wazzu scored on their next possession, Davis was...
Washington State Cougars coach Mike Leach may well have talked about the game of football at his Monday news conference, but it was his dire warning regarding the fate of the entire human species that's still ringing in our ears. No, there was little talk of climate change, meteor strikes or Skynet. But the coach does, however, apparently have major concerns about the future...
Connor Halliday totaled 532 yards and 5 touchdowns of offense and could not beat Rutgers. I do not recall the last time the Cougs won a game at Century Link Field in Seattle. The Defense is the main reason WSU could not win the game. In just about any other game where you pass for 500+n years and 5 TD's you come away with an easy win. Coach Leach will have to look at beefing up...
HOLLYWOOD -- Mike Leach's key to a successful season? "Win one game a week." The never-boring Washington State coach spoke at Pac-12 Media Days at Paramount Studios on Wednesday and gave an update on his busy summer schedule, which included a book tour of his work 'Geronimo: Leadership Strategies of an American Warrior' and the birth of a granddaughter. &quot...
Mike Leach and the Washington State coaching staff reeled in a couple of monster sturgeon on a fishing trip.
Washington State enjoyed a relatively uneventful 42-0 win over Idaho on Saturday night. The Cougars cruised to victory as expected, with the most exciting part of the evening coming after the game when Washington State coach Mike Leach and Idaho coach Paul Petrino met at midfield for their handshake. Petrino was obviously upset with Leach […]
LOS ANGELES -- Mike Leach knows how to make an opening statement. Leach, the Washington State coach, was first up at the Pac-12 Media Day at Sony Studios and, when asked for some comments to start the Q&A session, Leach was short and sweet. "Alright, any questions?" Leach asked. Leach, in his second year as the Cougars head coach, quickly turned his attention to...
Apparently Washington State Cougar Head Coach Mike Leach is in some trouble with DeSoto High School. Apparently he offered a recruit at DeSoto High School and then rescinded the offer. This apparently led school officials to make sure the dread pirate Leach would not be welcome at the local school. According to Dr. Saturday: Washington State offered a full ride to safety Myron Turner...
Washington State's Mike Leach says he intends to be coaching the Cougars again next season. Leach's name has come up in connection with some coaching vacancies across the country, particularly at North Carolina State. But Leach said Wednesday that he's happy in Pullman and not looking for another job. He says he wants to turn the Washington State program around. The...
ANTI-SOCIAL MEDIA
Washington State football coach Mike Leach has banned his players from Twitter. See what inspired him to create the new rule.
MORE STORIES >>
College Football News

Delivered to your inbox

You'll also receive Yardbarker's daily Top 10, featuring the best sports stories from around the web. Customize your newsletter to get articles on your favorite sports and teams. And the best part? It's free!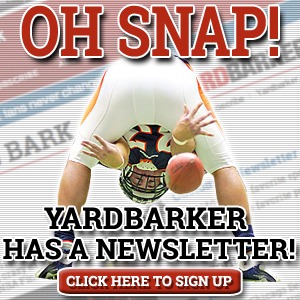 THE COLLEGE FOOTBALL HOT 10