It....is....ALIVE! For years, one of the pillars of fantasy football was to never trust a Mike Shanahan backfield entity, as his derisive game of running-back roulette drove the fantasy community mad. In fact, here's part of my warning against Shanahan in 2011: "You may claim Shanahan's primary objective as coach is to win ballgames; I would counter his sole purpose...
Despite possibly already knowing that they are in the playoffs, Shanahan says the Redskins like playing in do or die games (Credit: AP Photo) After their week nine loss to the Carolina Panthers, the Washington Redskins fell to 3-6. Head coach Mike Shanahan came out and said he was evaluating players for the 2013 season. Since then, the team has won their last six games. According...
Washington Redskins coach Mike Shanahan received criticism following a 21-13 loss to the Carolina Panthers in Week 9 after saying that the Redskins would have a chance to evaluate players for the remainder of the season. Some assumed Shanahan was suggesting that the season was over for a Washington team that dropped to 3-6. The Redskins have won their last two, pulling even with...
It's not the norm for an NFL coach to talk about players auditioning for jobs with seven games to go in the season. Yet that's the picture coach Mike Shanahan has painted for the Washington Redskins after falling to 3-6 following a loss to the Carolina Panthers. After the game, Shanahan said he'll use the upcoming weeks ''to see who obviously is going to be...
Via AP on Fox
Washington HC Mike Shanahan told reporters that he and his staff will begin evaluating players for next season, following the team's loss to the Panthers on Sunday. "Now you're playing to see who, obviously, is going to be on your football team for years to come," Shanahan said, via the Washington Post. "Now we get a chance to evaluate players and see where we're at...
The Washington Redskins are heading into their bye week, but head coach Mike Shanahan might have a hard time motivating his players for the second half of the season. It appears that Shanahan has thrown in the towel on this season, saying the remainder of the year will be used to evaluate the team. Shanahan had proclaimed Sunday's game against the Carolina Panthers as a must win...
Mike Shanahan is getting frustrated with his now 3-6 Redskins, so much so that he's already evaluating the team for next year and beyond. After losing their third straight game, Washington's head coach seems to be planning for another year without making the playoffs. The Redskins lost 21-13 to the Panthers in a game that was deemed Washington's &quot...
Uttering ''disappointed'' or ''disappointing'' no fewer than nine times during his postgame news conference, Washington Redskins coach Mike Shanahan sounded very much like someone ready to write off the season. In what Shanahan insisted beforehand was a ''must-win'' game, the Redskins committed 13 penalties, gave up an 82-yard pass...
Via AP on Fox
You can call him a realist or you can call him a pessimist, but no matter how you look at Mike Shanahan's comments, Redskins fans have to be left disappointed. The Redskins lost at home to the Panthers on Sunday 21-13 to drop to 3-6 on the season. Leading up to the game, coach Mike Shanahan labeled the contest as a "must-win" game. He all but threw in the towel on the 2012...
NOWHERE TO BE FOUND
Washington Redskins defensive end Kentwan Balmer has missed the last two days of training camp and apparently has gone AWOL.
MORE STORIES >>
College Football News

Delivered to your inbox

You'll also receive Yardbarker's daily Top 10, featuring the best sports stories from around the web. Customize your newsletter to get articles on your favorite sports and teams. And the best part? It's free!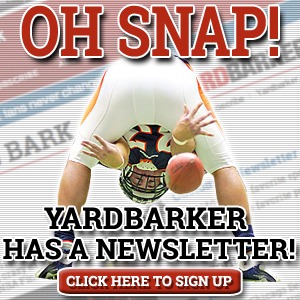 THE COLLEGE FOOTBALL HOT 10