Auburn University quarterback Nick Marshall has been cited for 'marijuana possession of less than one ounce' according to Reynolds Police Chief Ronnie Holder. The news comes from a report from WSFA 12 in Georgia. Marshall's vehicle was pulled over due to a possible tint violation, and the officer smelled marijuana on him, but was only […]
The Georgia Bulldogs had an excellent National Signing Day on Wednesday, officially adding twenty-one players to the roster. This batch of recruits, which includes in-state players such as Norcross defensive end Lorenzo Carter and Cedartown running back Nick Chubb, has gained a great deal of praise from the various recruiting websites, earning the #8 spot by Rivals, #8 by 247Sports...
A come-from-behind victory for the Georgia Bulldogs was in sight in Auburn, Alabama on Saturday afternoon, but a miracle 73-yard touchdown pass from Tigers quarterback Nick Marshall to Ricardo Louis on fourth and eighteen thwarted Georgia's chances with just twenty-five seconds left in the game. Quickly forgotten was the Bulldogs, led by quarterback Aaron Murray, outscoring the...
Hail Mary? More like Hail Marshall. After Georgia crawled their way back against Auburn, overcoming a 20-point fourth-quarter deficit courtesy of three straight Aaron Murray touchdown drives, the Tigers staved off their ferocious rally with a miraculous play of their own. With the Bulldogs up 37-36 with less than a minute remaining, Auburn was facing a fourth-and-18 situation from...
The Auburn Tigers kept their visions and hopes of a BCS title game alive after it looked like they had given away a big lead to the Georgia Bulldogs. With the game in the balance on a fourth down late in the fourth quarter, Auburn QB Nick Marshall heaved a bomb down field that was tipped by a couple of Bulldogs defenders. The ball somehow managed to fall into the hands of the intended...
Auburn is still a legitimate national title contender, and the Tigers just showed why by demonstrating some extreme resiliency against the Georgia Bulldogs. Auburn trailed 38-37 with less than two minutes to save their season following Aaron Murray's third touchdown of the quarter. The offense took the field with confidence, but the comeback drive didn't start off the way they...
Auburn should win. Lets get that out front. The seventh-ranked team Tigers have played very well in big games and established themselves as a ground-control offensive force capable of controlling the clock, just the sort of thing needed at home against Georgia on Saturday. Plus, the Tigers are sitting where no one thought they would be: one win away from the biggest Iron Bowl...
The Georgia Bulldogs took care of business against the struggling Appalachian State Mountaineers on Saturday, overcoming a slow start that saw the team hold a slim 7-6 advantage through the start of the second quarter to outscore the Mountaineers 38-0 the rest of the way. Games of the Southern Conference variety tend to be forgetful, but Bulldogs' fans may very well remember this...
AUBURN, Ala. -- The program featured a smiling Gus Malzahn in an orange visor and orange polo shirt with the headline "It's A New Day" stretched across the cover. The slogan, which the new Auburn coach himself has used more than a time or two in his short tenure, has popped up across Alabama, appearing on 50 billboards and it's led to one fan putting Malzahn'...
For alleged theft of money from other players...The HQ is working to confirm that...But two of the names are Georgia heavyweight high schoolers...Special teamer Nick Marshall from Wilcox County High and Chris Sanders from Tucker High, along with Lee County grad Sanford Seay are all gone.CMR sent out his standard release that said in part that "It's a privilege to play college...
MORE STORIES >>
College Football News

Delivered to your inbox

You'll also receive Yardbarker's daily Top 10, featuring the best sports stories from around the web. Customize your newsletter to get articles on your favorite sports and teams. And the best part? It's free!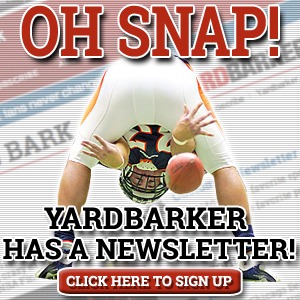 THE COLLEGE FOOTBALL HOT 10