For football fans that might be wary of turning on an NFL Thursday night and finding out who was arrested, college football offers a primetime matchup of two Top 20 teams to start the weekend. The game features the fifth ranked Auburn Tigers traveling to take on 20th ranked Kansas State Wildcats. Auburn head coach Gus Malzahn hopes to high-five his quarterback Nick Marshall often...
My home state, Arkansas, ruined a possible second consecutive perfect week of picks by quite literally running over Texas Tech in Lubbock.  No worries, I'm back again with a small, but difficult set of games to decipher this week. All three games could go either way, but let's get to the official picks:  Last week: 8-1 (.888) Overall: 25-2 (.926) Auburn 34, Kansas State...
KANSAS CITY, Mo. -- For the record, Nick Marshall's grandmother dug Bill Snyder. A lot. Heck, she still does. "She had mixed feelings (about Auburn) because she really liked Coach Snyder," Mark Ledford, the football coach at Wilcox County High in Rochelle, Ga., tells FOXSportsKansasCity.com. "You can see why an old-fashioned country grandma would like Coach Snyder...
Coming into the season, the Auburn Tigers' coaching staff was answering a lot of questions about who would be starting behind center for the team. With two weeks in the books, quarterbacks Nick Marshall and Jeremy Johnson have been providing answers—and playmaking—on the field. Though Nick Marshall did not start the team's first game at quarterback, after he received a marijuana...
Arkansas hangs with the defending SEC Champs for a half and then Auburn turns it on to win easily 45-21.  Jeremy Johnson started the opening game instead of Nick Marshall who stood by watching the game from the sidelines.  Johnson passed for 243 yards and two TDs in place of the partially suspended Heisman candidate.  Marshall, who led Auburn to the SEC title last season and the...
It's been known for a while that Auburn quarterback Nick Marshall will not start the team's season opener against Arkansas. However, in the team's first depth chart of the 2014 season, Auburn head coach Gus Malzahn made a peculiar decision: he decided to put Marshall as his top quarterback, with Jeremy Johnson — who will start the game — listed as his backup. Visual of...
Twitter/Marshall Yep, it's about that time of year. The time when college football players, extremely hyped to get the season underway, make very bold statements about either themselves, their teammates, or their program. Auburn backup quarterback Jeremy Johnson, according to AL.com's Brandon Marcello, took his turn this weekend. Johnson doesn't just think that his teammate...
During the SEC Media Days, Auburn coach Gus Malzahn was asked how he would handle his starting signal caller was cited for possession of marijuana. The Tigers coach revealed that Nick Marshall would not be starting the opener against Arkansas on August 30. Malsahn was not clear about how long his Heisman candidate would be on the bench, but I don't believe it will be a lengthy...
Auburn Tigers head coach Gus Malzahn said his star quarterback, Nick Marshall, will be punished after he received a citation for marijuana possession. "Up until last Friday, Nick has been a model student, a model teammate and a model citizen," Malzahn said via Al.com at SEC Media Days. "But he made a mistake, and he's going to have to suffer the consequences for that mistake...
AUBURN, Ala. -- Johnny Football is gone. So too is one half of college football's hottest couple. The most prolific passer in SEC history? He's NFL-bound too. The conference, so deep at the most glamorized position on the field last season no longer has Johnny Manziel, AJ McCarron, Aaron Murray, Zach Mettenberger or Connor Shaw. In all, seven of the top eight passers from...
MORE STORIES >>
College Football News

Delivered to your inbox

You'll also receive Yardbarker's daily Top 10, featuring the best sports stories from around the web. Customize your newsletter to get articles on your favorite sports and teams. And the best part? It's free!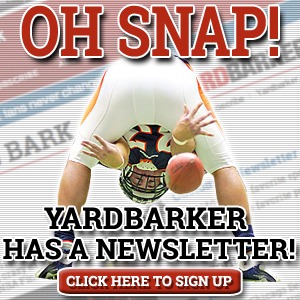 THE COLLEGE FOOTBALL HOT 10