Auburn's trek to get back to the national championship game is going fairly smoothly so far this fall. The Tigers, at 5-1, 2-1 in the SEC, are ranked No. 5 in the country and appear to be in prime position to secure a berth to the College Football Playoff if they can win out.  Nick Marshall is leading the Tigers, throwing for 964 yards and 10 touchdowns and rushing for 492 yards...
Auburn traveled to Manhattan, Kansas and beat a mistake prone Wildcats team 20-14. Auburn QB Nick Marshall threw for 231 yards and two touchdowns and 1 Int. The Tigers forced three turnovers, including an interception in the end zone. What did not not help the Wildcats was that their kicker Jack Cantele missed three field goal attempts. While Auburn did not have a great night...
Twitter/Marshall Yep, it's about that time of year. The time when college football players, extremely hyped to get the season underway, make very bold statements about either themselves, their teammates, or their program. Auburn backup quarterback Jeremy Johnson, according to AL.com's Brandon Marcello, took his turn this weekend. Johnson doesn't just think that his teammate...
During the SEC Media Days, Auburn coach Gus Malzahn was asked how he would handle his starting signal caller was cited for possession of marijuana. The Tigers coach revealed that Nick Marshall would not be starting the opener against Arkansas on August 30. Malsahn was not clear about how long his Heisman candidate would be on the bench, but I don't believe it will be a lengthy...
Auburn Tigers head coach Gus Malzahn said his star quarterback, Nick Marshall, will be punished after he received a citation for marijuana possession. "Up until last Friday, Nick has been a model student, a model teammate and a model citizen," Malzahn said via Al.com at SEC Media Days. "But he made a mistake, and he's going to have to suffer the consequences for that mistake...
HOOVER, Ala. -- "My first thought was, 'I need to get a suit as soon as possible,'" a smiling C.J. Uzomah said. "So I called my mom." Sunday night, the Auburn tight end received word that he would be attending Monday's opening session of the SEC Media Days, filling in for quarterback Nick Marshall, who was pulled following a citation for possession...
AUBURN, Ala. -- Johnny Football is gone. So too is one half of college football's hottest couple. The most prolific passer in SEC history? He's NFL-bound too. The conference, so deep at the most glamorized position on the field last season no longer has Johnny Manziel, AJ McCarron, Aaron Murray, Zach Mettenberger or Connor Shaw. In all, seven of the top eight passers from...
Nick Marshall knows where he's going. The college football regular season, save the Army vs. Navy game next Saturday, came to a wild conclusion late last night. Ohio State's loss to Michigan State in the Big Ten title game opened the door for Auburn (which won the SEC) to sneak into the BCS National Championship Game, where the Tigers will take on ACC champion Florida State....
Auburn Tigers quarterback Nick Marshall was spotted wearing a "STFU" wrist band during the Iron Bowl. It's not clear whether he wears that all the time or if he is just wearing it for the Iron Bowl, either way it's certainly an interesting fashion choice. [@SBNation]
I'm not sure if Auburn quarterback Nick Marshall is looking to silence himself or the Alabama Crimson Tide today, but regardless, he's wearing an arm bracelet with the hashtag #STFU at today's Iron Bowl matchup. If it stands for what we think it stands for, it's quite a statement to make. Here's a photo, via SBNation: Look at Nick Marshall's wristband — hey does anybody...
MORE STORIES >>
College Football News

Delivered to your inbox

You'll also receive Yardbarker's daily Top 10, featuring the best sports stories from around the web. Customize your newsletter to get articles on your favorite sports and teams. And the best part? It's free!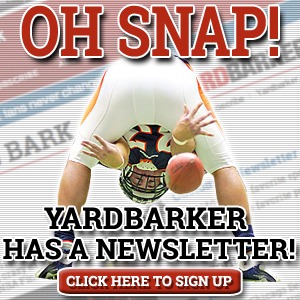 THE COLLEGE FOOTBALL HOT 10